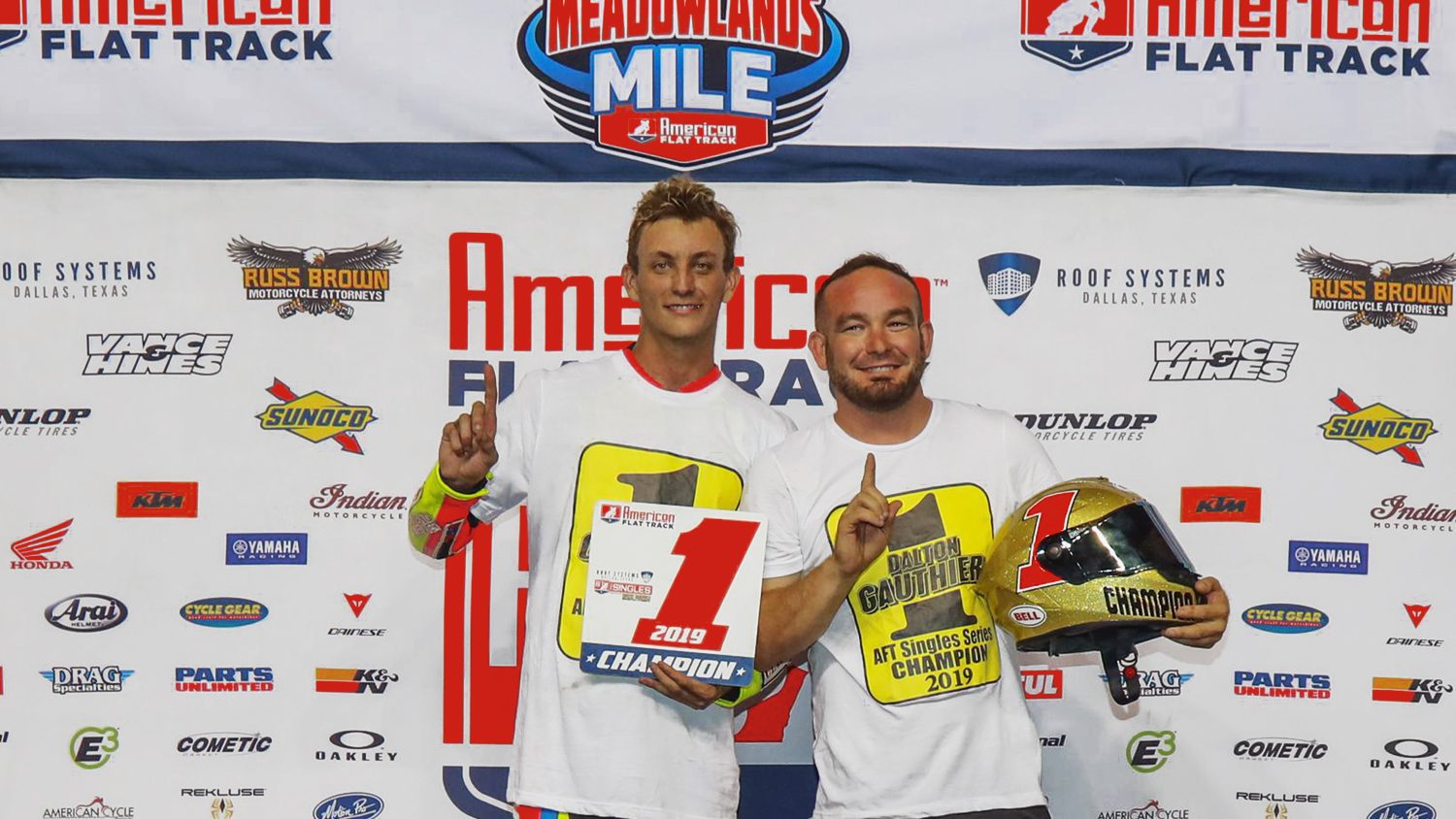 Courtesy of American Flat Track
Dalton Gauthier (No. 122 D&D Cycles/Gobert Smash Husqvarna FC450) completed his remarkable comeback season with an uncharacteristically quiet ride to 14th at Meadowlands. But sometimes quiet is good, as that was more than enough to lock up the 2019 Roof Systems AFT Singles presented by Russ Brown Motorcycle Attorneys championship.
"I don't think a lot of people saw me as a champion in this class coming into the season opener," Gauthier said, "'Robby-Bobby' McLendon and me worked together all year. There was a lot of stress and a lot of ups and downs, but we worked through it. I can't thank him enough as well as my parents and everyone else who supported us."
"I believed in myself, and every weekend I gave it 110%. I really struggled today. I was stressing out all day, but I pulled it together for the Main, I guess you could say. I was way behind, but I just wanted to bring home the championship. This season has been awesome and one I'll never forget."
2018 AFT Singles champ Dan Bromley (No. 1 Red Bull KTM Factory Racing 450 SX-F) gave a valiant effort in hopes of repeating. He gave his all in a three-way tussle for the race win with Mikey Rush (No. 15 RMR Honda/Red Riders Rewards Honda CRF450R) and Ryan Wells (No. 94 Estenson Racing Yamaha YZ450F).
Bromley, who needed to win to have any chance at the crown, finished a close third with Rush out-dueling Wells on a thrilling final lap to claim the victory.
The win was Rush's fourth of the season to equal Gauthier for most in class on the year. It was also his third win in four attempts on a Mile in 2019, and actually bumped him ahead of Bromley in the final championship order (Gauthier 286, Rush 280, Bromley 277).
Rush said, "My Honda CRF450R ran on point tonight. American Honda came on board with the Richie Morris Racing team this year and helped build me awesome strong engines for these Miles."