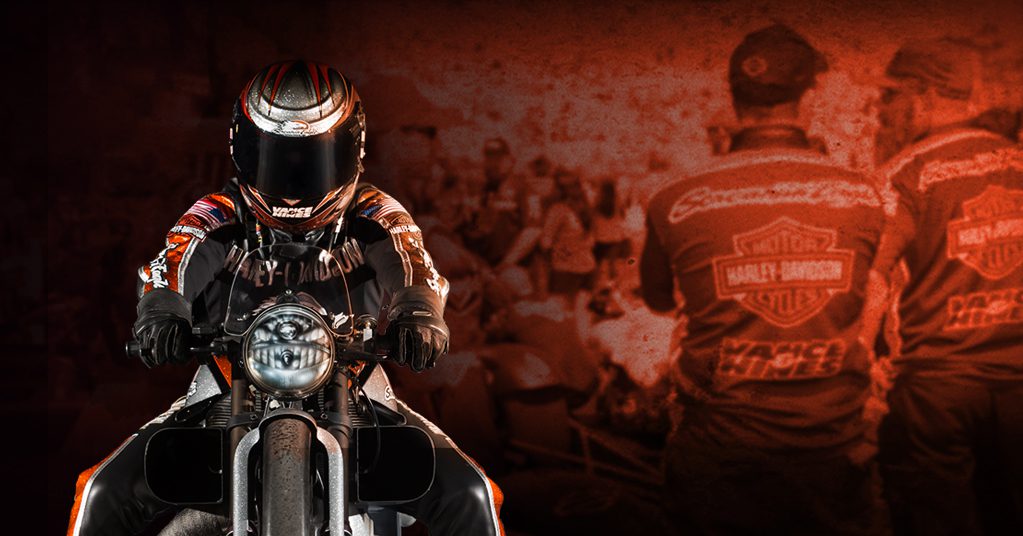 Courtesy of Harley-Davidson
Andrew Hines Leads Pro Stock Motorcycle Field Heading into the NHRA Season's Final Race
MILWAUKEE (November 12, 2015) – The Pro Stock Motorcycle championship will be on the line when Harley-Davidson® Screamin' Eagle®/Vance & Hines riders Andrew Hines and Ed Krawiec hit the drag strip this weekend at the 51st Annual Auto Club NHRA Finals in Pomona, Calif. The event is the sixth and final round of the NHRA Mello Yello Countdown to the Championship playoffs. Hines arrives in Pomona in first place with a 46-point lead. Krawiec stands in third place, 83 points behind Hines.
Krawiec is a three-time champ on Pro Stock Motorcycles. Hines, the defending Pro Stock Motorcycle champion, will be gunning for his fifth championship and would be the first rider to win five Pro Stock Motorcycle titles since the late Dave Schultz in 1994. Schultz holds the record with six NHRA motorcycle championships.
The Screamin' Eagle/Vance and Hines team will roll out its menacing Harley-Davidson® V-Rod motorcycles in Pomona for the first rounds of qualifying Friday and Hines expects to get right down to business.
"Being a two-bike team helps both Ed and me because we can push other competitors down the order and help each other with a win on Sunday," said Hines. "Key for us both will be to stay aggressive and up front in qualifying. Ed needs to get some of the bonus qualifying points to get his deficit down below 80 points. I'd like to keep my lead over second place above 40 points, so it takes three rounds to beat me in eliminations on Sunday."
Each of four elimination rounds on Sunday is worth 20 points. Another 20 points is available for a rider who sets a new Pro Stock Motorcycle national Elapsed Time record.
Harley-Davidson V-Rod, Andrew Hines
"This weekend is going to be exciting and stressful, one of those races where everyone is doing the math on points after every session," said Hines. "We like racing at Pomona because it's a bit of a down-hill track, the elevation drops about 15 feet from start to finish, and that helps our bikes. We also have really good gearing options for our V-Rods at this track."
Hines has won four times in the final round this season, including three crucial victories in the Countdown races. Hines raced his V-Rod to a big win in the final round of eliminations at the NHRA Toyota Nationals in Las Vegas on Nov. 1, a victory that resulted in a 40-point swing over his closest rival. The team's truck and the V-Rod motorcycles stayed in Las Vegas after that event and will meet the riders in Pomona.
"We're happy to be in this position," said Hines. "We feel good and Pomona should play really well into our tune-up to win the championship."
Learn more HARD-CHARGING HARLEY RACERS IN HUNT FOR DRAG TITLE on VANCE & HINES NEWS