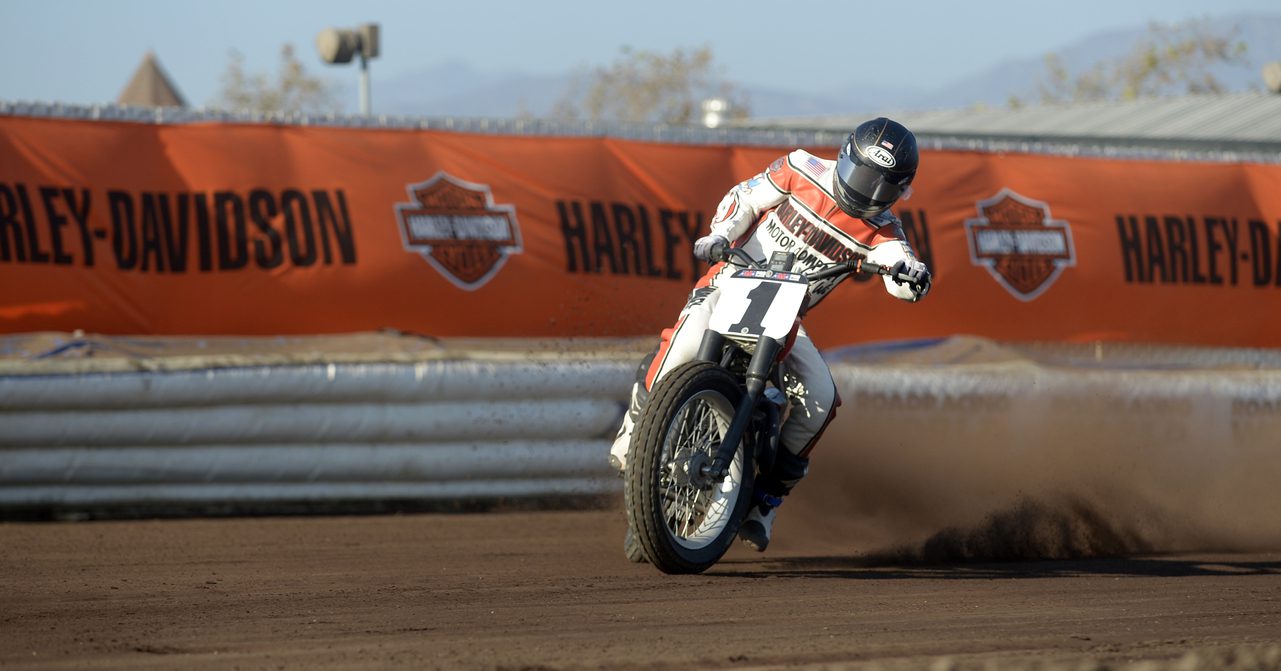 Courtesy of AMA Pro Racing
DAYTONA BEACH, Fla. (March 18, 2015) – AMA Pro Racing is pleased to announce Harley-Davidson Motor Company as the new entitlement sponsor of AMA Pro Flat Track's premier GNC1 class for the 2015 season.
The best flat track racers in the world will compete for the title of Grand National Champion, an illustrious distinction dating back to 1954, in the Harley-Davidson GNC1 class presented by Vance & Hines.
The agreement includes a $100,000 bonus fund which will be available to all riders in the Harley-Davidson GNC1 presented by Vance & Hines class and paid out on a per-race basis. An additional $25,000 bonus fund has also been established for riders utilizing Harley-Davidson equipment.
"Harley-Davidson is an iconic brand and represents the tradition, history and lifestyle that has been synonymous with dirt track racing for decades," said Michael Gentry, Chief Operating Officer of AMA Pro Racing. "We are focused on growing AMA Pro Flat Track while honoring the long tradition of the sport, and Harley-Davidson is a company we want to be associated with as we continue our journey. Their support is greatly appreciated, and we expect this to be a successful relationship for years to come."
Harley-Davidson has roots dating back to 1903 and is one of the most iconic brands in America, let alone motorcycles and motorcycle racing. It is also the most successful brand of motorcycle in the AMA Pro Flat Track series, with 668 GNC1 main event wins to its credit. Current GNC1 champion,Jared Mees, piloted a Harley-Davidson XR750 in 2014 and will try to repeat aboard the same machine in 2015.
"Stemming from our deep roots in the history of flat track racing, Harley-Davidson is excited to step up our involvement this year as the GNC1 title sponsor," said Harley-Davidson Racing Manager Kris Schoonover. "The loyal flat track fans coupled with our success on the track is all the reason we need to support the passionate racers that engage in the adrenaline of this sport, now and into the future."
Following Round 2 from DAYTONA Flat Track in Daytona Beach, Fla., on Friday, AMA Pro Flat Track will head to Springfield, Ill., for the historic Springfield Mile, where the Harley-Davidson GNC1 presented by Vance & Hines riders will make their 2015 twins debut.
For more information on Harley-Davidson, please visit: https://www.harley-davidson.com/.
Every round of the 2015 AMA Pro Flat Track season will be available live, in high definition and free of charge for fans to watch online at www.FansChoice.tv.
AMA Pro Racing is the premier professional motorcycle racing organization in North America, operating a full schedule of events and championships for a variety of motorcycle disciplines. Learn more about AMA Pro Racing at www.amaproracing.com.
Learn more HARLEY-DAVIDSON NAMED TITLE SPONSOR OF AMA PRO FLAT TRACK'S PREMIER GNC1 CLASS on VANCE & HINES NEWS