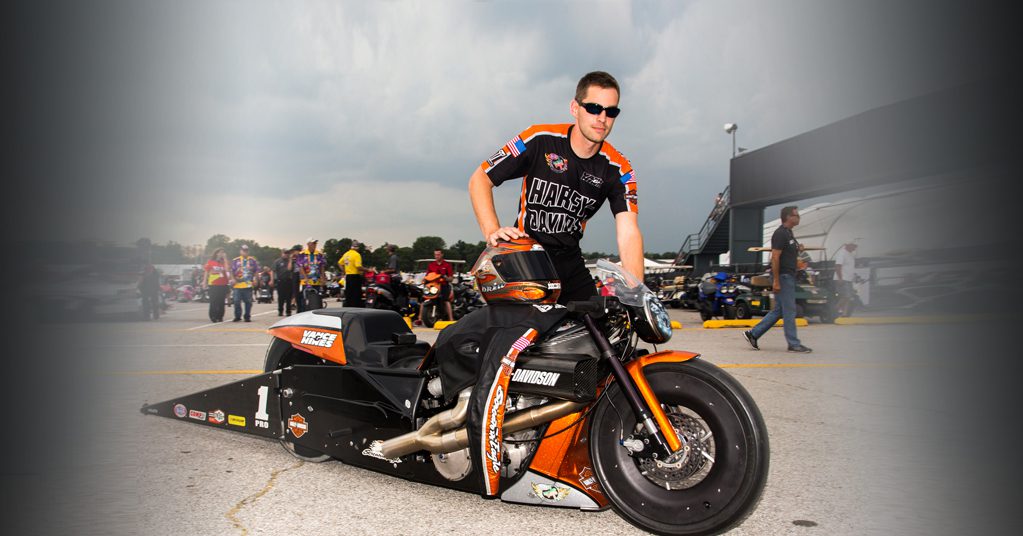 Courtesy of Harley-Davidson
Andrew Hines Leads Pro Stock Motorcycle Field Heading into the NHRA Season's Final Race
Harley-Davidson® Screamin' Eagle®/Vance & Hines rider Andrew Hines blasted to a win in the Pro Stock Motorcycle final at the NHRA Toyota Nationals in Las Vegas and leads NHRA Countdown to the Championship playoffs with one race left on the schedule. Hines, the defending and four-time class champion, raced a Harley-Davidson® V-Rod motorcycle through the Pro Stock Motorcycle field and won for the third time in five 2015 Countdown races.
"This was a team win all the way," said Hines, who now has 42 Pro Stock Motorcycle final-round wins in his career. "My V-Rod really performed when I needed it most in that last round."
Hines now holds a 46-point lead over second place heading into the NHRA Finals in two weeks. Harley-Davidson® Screamin' Eagle®/Vance & Hines rider Ed Krawiec lost in the second round at Las Vegas and is now in third place, 83 points behind Hines.
Harley-Davidson V-Rod, Andrew Hines
"The key for me at the NHRA Finals is going to be good performance in qualifying," said Hines. "I want to get some of those bonus points and keep our lead over 40 points, so it will take a swing of three rounds of eliminations on Sunday to beat us."
The sixth and final round of the NHRA Countdown to the Championship takes place Nov. 12-15 at the 51st Annual Auto Club NHRA Finals at Auto Club Raceway in Pomona, Calif.
Learn more HARLEY-DAVIDSON V-ROD CHARGES TO VICTORY IN LAS VEGAS on VANCE & HINES NEWS