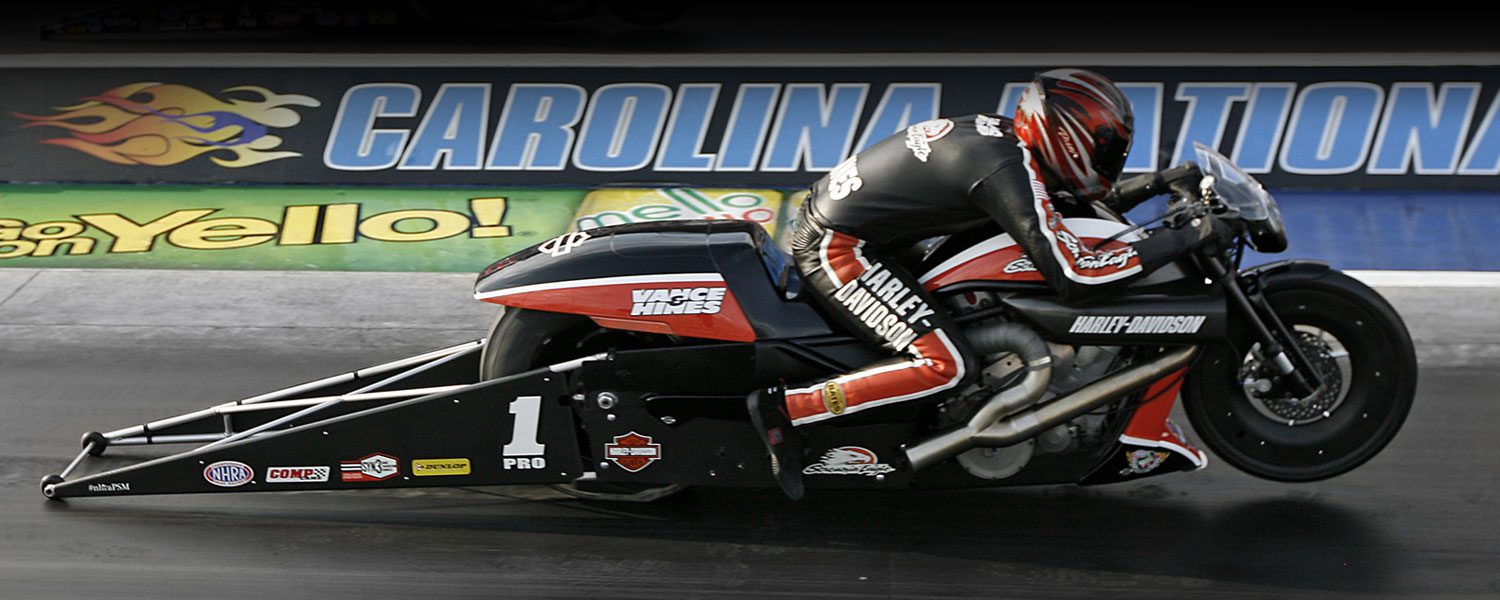 Courtesy of Harley-Davidson
Big Win in Charlotte Propels Defending Champion to Top Spot in Pro Stock Motorcycle Title Chase
Harley-Davidson® Screamin' Eagle®/Vance & Hines rider Andrew Hines opened the defense of his NHRA Pro Stock Motorcycle title at zMax Dragway with a final-round win at the NHRA Carolina Nationals, the first race in the NHRA Countdown to the Championship playoffs. Aboard a Harley-Davidson® V-Rod motorcycle, Hines scored his third final-round win of the season.
The victory boosts Hines past his Harley-Davidson® Screamin' Eagle®/Vance & Hines teammate Ed Krawiec and into the Countdown points lead. Krawiec, the top seed for the Countdown, lost in the second round on Sunday.
Harley-Davidson V-Rod Powers Hines to NHRA Countdown Lead
"This was a big day to use my V-Rod to capitalize," said Hines, a four-time NHRA Pro Stock Motorcycle champion. "I had a chance to move up and take out some of the other top teams. This Pro Stock Motorcycle class is so tight right now that you need to take advantage of every chance you get."
After the first of six rounds in the Countdown playoffs, Hines leads the Pro Stock Motorcycle field with 2,193 points. Krawiec is second with 2,173 points.
Krawiec was the top seed for the event in Charlotte, posting a best Elapsed Time of 6.851 seconds in the final round of qualifying on Saturday. Hines qualified third at 6.869 seconds.
"I had a V-Rod fast enough to take the number one spot," said Krawiec. "But in round two my rear tire spun due to the track being greasy. Both Screamin' Eagle bikes are performing well, and I will bounce back."
Hines advanced with three wins and defeated Matt Smith in the final to claim the 41st event win of his career and his fifth win at the zMax Dragway track.
The NHRA Countdown to the Championship continues September 25-27 at the 4th Annual AAA Insurance NHRA Midwest Nationals at Gateway Motorsports Park in Madison, Ill.
About Harley-Davidson Motor Company
Harley-Davidson Motor Company produces custom, cruiser and touring motorcycles and offers a complete line of Harley-Davidson® motorcycle parts, accessories, riding gear and apparel, and general merchandise. For more information, visit Harley-Davidson's website at www.h-d.com.
Learn more HARLEY-DAVIDSON V-ROD POWERS HINES TO NHRA COUNTDOWN LEAD on VANCE & HINES NEWS