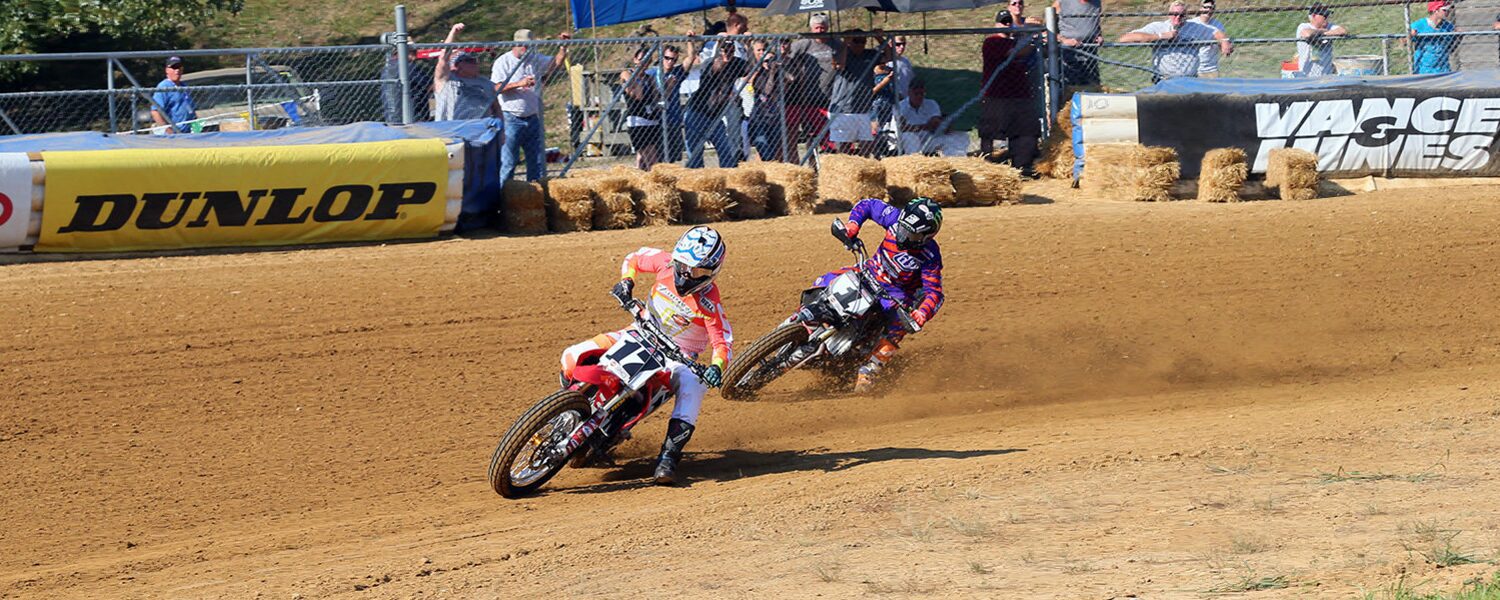 Henry Wiles did exactly what everyone expected him to do on Sunday, Aug. 16 at the Peoria Motorcycle Club, and his 1.342-second win over Jared Meesstamped his name in the AMA Pro Flat Track record books, forever.
Wiles' 11th straight Peoria TT main event victory extends his consecutive win record at the Midwest venue, and his win also gave him 16 TT (Tourist Trophy) victories, the most by any rider to ever compete in the Grand National Championship.
Like he has done numerous times over the last decade, Wiles took the holeshot on lap one of the main event. However, unlike many Peoria TTs in the past, this one had to be earned. Wiles was shadowed by a hard charging Mees for the entire race. The two stars quickly gapped the field by more than 10 seconds, began lapping riders on Lap 12 and eventually lapped all but four of 16 other competitors in the race.
Mees, aboard the No. 1 Montgomeryville Cycle Center Honda, gave Wiles a good run, and even qualified faster than him earlier in the day, but when it came down to it, Wiles was just too fast.
Wiles' victory propelled him to eighth in the Harley-Davidson GNC1 presented by Vance & Hines point standings, while Mees' second-place finish helped him extend his lead in the standings to 29 points over Bryan Smith, who finished 11th in the race aboard his No. 42 Crosley Radio Kawasaki.
Closing out the podium for his best finish of 2015 was Dominic Colindres, and the No. 66Y Babe Demay Yamaha pilot let everyone know he was on top of his game early on when he took the Heat 1 victory over Mees and the rest of the field.
Perhaps the biggest surprise of the day was J.D. Beach's fourth-place finish in the Peoria TT main event. The 2015 Moto America Supersport champion made the most of his rare appearance in the flat track world on Sunday, and he looked sharp all day aboard the No. 95 Yamaha USA machine.
No. 14 Rod Lake Racing Honda rider, Briar Bauman, earned his second-consecutive top-five finish on Sunday with an impressive fifth-place finish.
Riding the backup bike of Jared Mees, Jake Johnson piloted the No. 5 Montgomeryville Cycle Center Honda to a sixth-place finish on Sunday in his first AMA Pro Flat Track race since the Daytona opener in March.
Sammy Halbert, sporting the No. 69 Vans Yamaha machine in honor of his late brother, Jethro Halbert, finished ninth on Sunday.
Up Next
The stars of AMA Pro Flat Track head to Charlotte, N.C., for the Don Tilley Memorial Charlotte Half-Mile on Aug. 29 at Charlotte Motor Speedway. For tickets and information regarding the event, fans are encourage to visit https://www.charlottehalfmile.com/.
Learn more HENRY WILES MAKES HISTORY WITH 11TH STRAIGHT PEORIA TT VICTORY on VANCE & HINES NEWS