Well, that didn't take long! After sitting out the first two NHRA Camping World Drag Racing Series races at Gainesville and Las Vegas, six-time Pro Stock Motorcycle champion Andrew Hines and four-time titleholder Eddie Krawiec will return to competition for the balance of the NHRA Camping World Pro Stock Motorcycle season.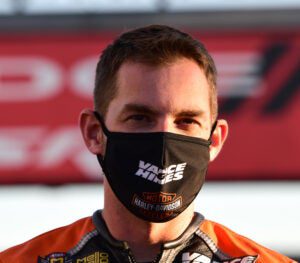 They won't be riding Suzuki 4-valve motorcycles, leaving that assignment to three-time champ and teammate Angelle Sampey, along with others in the Pro Stock Motorcycle community, and they won't be racing the Harley-Davidson bikes with which they achieved their championships, but rather working with a new combination that Vance & Hines has been developing.
The duo will race using the newly-announced VH160VT engine developed in-house and NHRA-approved Buell 1190X bodywork and a Vance & Hines chassis, beginning this weekend at the final NHRA race to be held at Atlanta Dragway, located north of Atlanta. "Both Eddie and I had our hands full at the RDC, Vance & Hines' Racing Development Center," said Andrew Hines.
"It was important for the business that we launch our two new racing engines and the components that our customers need," he said. "When we went to the NHRA events in Florida and Nevada, it was great to see our engines perform, but I really wanted to grab my gear and be on the track."
Hines and Krawiec Back on the Bikes!
"We both felt like fish out of water," Krawiec admitted. "As cool as it is to create two new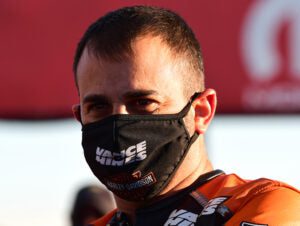 motors for the racing community, it's even more exciting to be on the track using the new V-Twin engine."
Both Hines and Krawiec were instrumental in the creation and development of both the Suzuki and new V&H V-Twin Pro Stock Motorcycle engines. Vance & Hines announced the new Suzuki-based drag race engine in February, and it made an auspicious debut at the Amalie Motor Oil Gatornationals at Gainesville in March, where Sampey joined the 200mph club in her first race on the new bike and earned No. 1 in qualifying. She became the first Suzuki rider to achieve a 200mph lap.
Two weeks ago, V&H announced its new VH160VT V-Twin engine, which will be available to any team in NHRA Pro Stock Motorcycle that wishes to compete using the engine. This engine can run up to 160 cubic inch displacement and has a 60-degree angle. It's a two-valve, pushrod engine; all told, this new motorcycle must weigh 640 pounds, making it equal to the EBR currently being used by reigning champion Matt Smith and his teammates, along with most recent winner, Ryan Oehler.