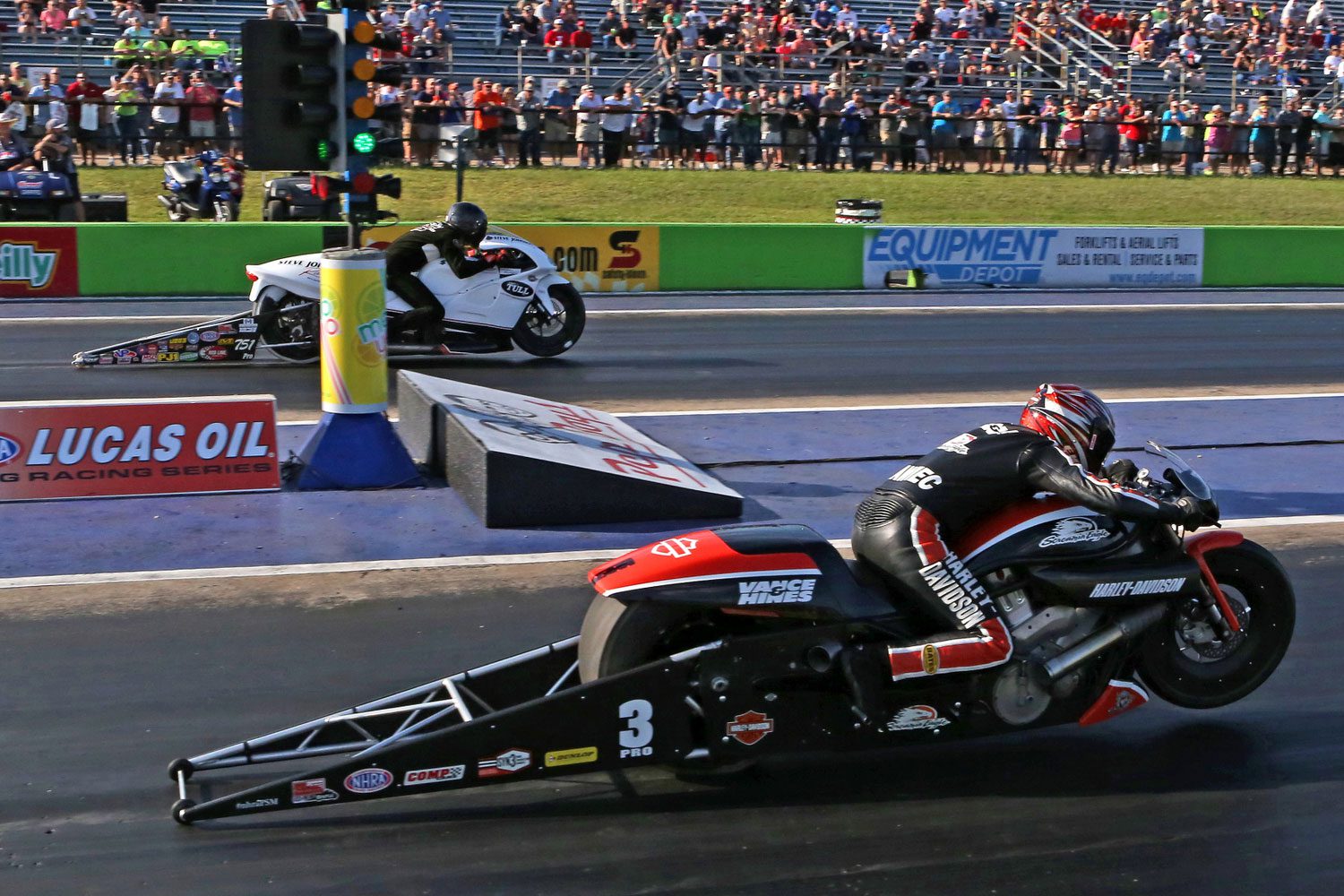 Hines and Krawiec Sit 1-2 in NHRA Pro Stock Motorcycle Countdown Playoffs
Harley-Davidson® Screamin' Eagle®/Vance & Hines rider Andrew Hines padded his Pro Stock Motorcycle points lead with a run to the final round of eliminations at the AAA Insurance NHRA Midwest Nationals at Gateway Motorsports Park on Sunday. Hines lost the final to Jerry Savoie on the Savoie's Alligator Farm Suzuki, but now holds a 57-point lead over his teammate Ed Krawiec in the NHRA Mello Yello Countdown to the Championship playoffs with three races left on the schedule.
"My Harley-Davidson V-Rod ran well all weekend," said Hines. "It's really responding to tune-up changes and I think we are ready to race well for the rest of the season."
It was Krawiec who topped qualifying, posting a best Elapsed Time (E.T.) of 6.810 seconds to pace the Pro Stock Motorcycle field. Hines qualified fourth at 6.863 seconds.
"I had a good V-Rod all weekend, but we slowed as the day went on Sunday," said Krawiec. "I think we kind of fell out of our window of tune, but we'll freshen everything up and be ready for next weekend."
In Sunday eliminations, Hines advanced to a semi-final match with Krawiec when both Kandy Racing Buell rider Angie Smith and Steve Johnson on the Billingsley Towing Suzuki fouled at the start line. Krawiec got wins over PiranaZ Racing Buell rider Shawn Gann and ProtecttheHarvest.com/MAVTV Buell rider Adam Arana. Hines used a 0.004 reaction time to squeeze out a hole-shot win over Krawiec to advance the final.
"For me personally, that win in the semi-finals over my closest rival was huge," said Hines. "We had to change a valve spring between round two and three, and I really wondered how the engine would perform, so I went for a quick light and it worked out."
In the final, Savoie combined a 0.005 reaction time and a 6.871 ET to best the 0.037/6.881 effort of Hines and win the first Pro Stock Motorcycle final-round match of his career.
After three of six Countdown events, Hines leads the Pro Stock Motorcycle class with 2,400 points. Krawiec is second with 2,343 points, followed by Lucas Oil Buell rider Hector Arana Jr. with 2,256 points. Johnson is fourth with 2,253 points, followed by Nitro Fish Buell rider Matt Smith with 2,202 points.
Learn more HINES PADS POINTS LEAD WITH RUN TO FINALS IN ST. LOUIS on VANCE & HINES NEWS