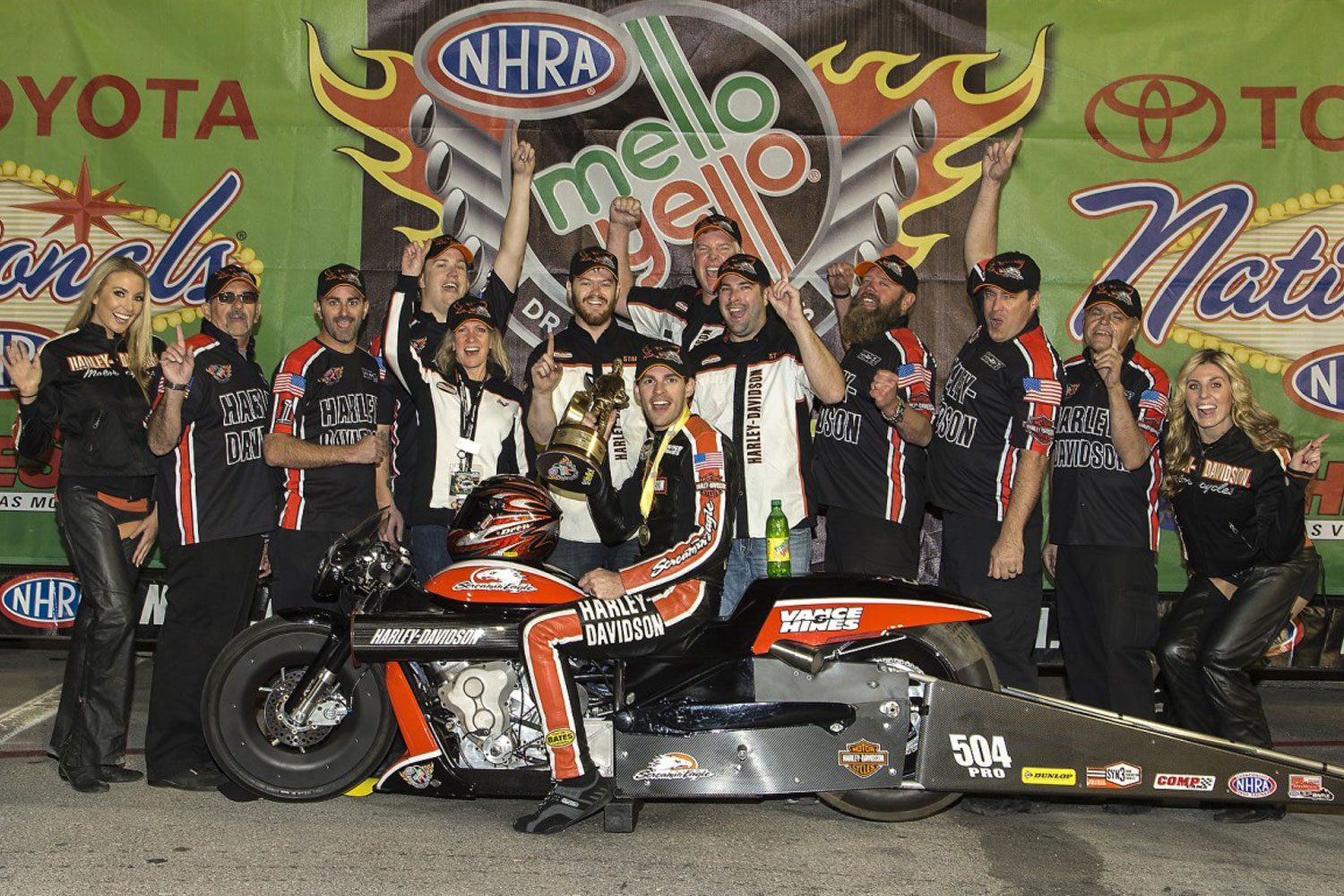 Courtesy of Harley-Davidson
With 92-Point Lead, Hines Closes In on 4th Pro Stock Motorcycle Championship
LAS VEGAS (Nov. 2, 2014) –Harley-Davidson® Screamin' Eagle®/Vance & Hines rider Andrew Hines extended his lead in the NHRA Mello Yello Countdown to the Championship playoffs by winning the Pro Stock Motorcycle final at the NHRA Toyota Nationals at The Strip at Las Vegas Motor Speedway. Hines rode a Harley-Davidson®V-Rod® motorcycle to lead qualifying for the event and charged through three rounds of eliminations on Sunday before defeating Nitrofish Buell rider Matt Smith in the final. With one race remaining on the Countdown schedule, Hines holds a 92-point lead over his teammate, Ed Krawiec.
"I'm in way better shape for points now than I was starting this weekend," said Hines, who led Krawiec by just 25 points before the Las Vegas event. "I had a bad light in the first round and made that a close race, but we worked on the tune-up all day and the field seemed to come to me. Everyone else was slowing down and we stayed the same."
Hines took the top qualifying spot for the first time since 2012 with an Elapsed Time (ET) of 6.856 seconds in the final qualifying round on Saturday afternoon. Krawiec qualified fourth with a 6.893-second pass on the team's other Harley-Davidson® V-Rod® motorcycle.
On Sunday, Krawiec advanced in the first round of eliminations when Lucas Oil Buell rider Hector Arana Jr. fouled at the start. A loss in round two to Savoie's Alligator Farm Suzuki rider Jerry Savoie ended the day for Krawiec and dealt his hopes for winning a fourth NHRA Pro Stock Motorcycle championship a severe blow.
"I had my best run of the weekend in the first round, and then it fell way off in the round two," said Krawiec. "We had trouble with consistency all weekend. This absolutely was not the result I needed today."
Hines defeated Matt Smith Racing Buell rider John Hall, Chaz Kennedy on the Star Racing Buell, and Savoie to reach his seventh final round of the season. Hines knocked off a 6.955-second ET to better the 6.971-second effort of Smith and claim his sixth win of the season and 38th of his career.
Hines, a three-time Pro Stock Motorcycle champion from 2004-2006, heads into the NHRA Auto Club Finals with a big points lead and solid chance to claim his fourth championship.
"We'll go to Pomona and race one round at a time, just like we did this weekend," said Hines, "and let it all fall into place."
After five of six Countdown events, Hines leads the Pro Stock Motorcycle class with 2,607 points. Krawiec is second with 2,515 points, followed by Smith with 2,377 points. Lucas Oil Buell rider Hector Arana Jr. is fourth with 2,348 points, followed by YourVelocity.com Suzuki rider Steve Johnson with 2,317 points.
The NHRA Countdown the Championship concludes Nov. 13-16 at the 50th annual NHRA Auto Club Finals at Auto Club Raceway at Pomona, Calif.
About Harley-Davidson Motor Company
Harley-Davidson Motor Company produces custom, cruiser and touring motorcycles and offers a complete line of Harley-Davidson® motorcycle parts, accessories, riding gear and apparel, and general merchandise. For more information, visit Harley-Davidson's website at www.h-d.com.
The Harley-Davidson Screamin' Eagle/Vance & Hines Pro Stock Motorcycle team is sponsored by Dunlop.
Learn more HINES RIDES HARLEY V-ROD TO NHRA VICTORY IN VEGAS on VANCE & HINES NEWS