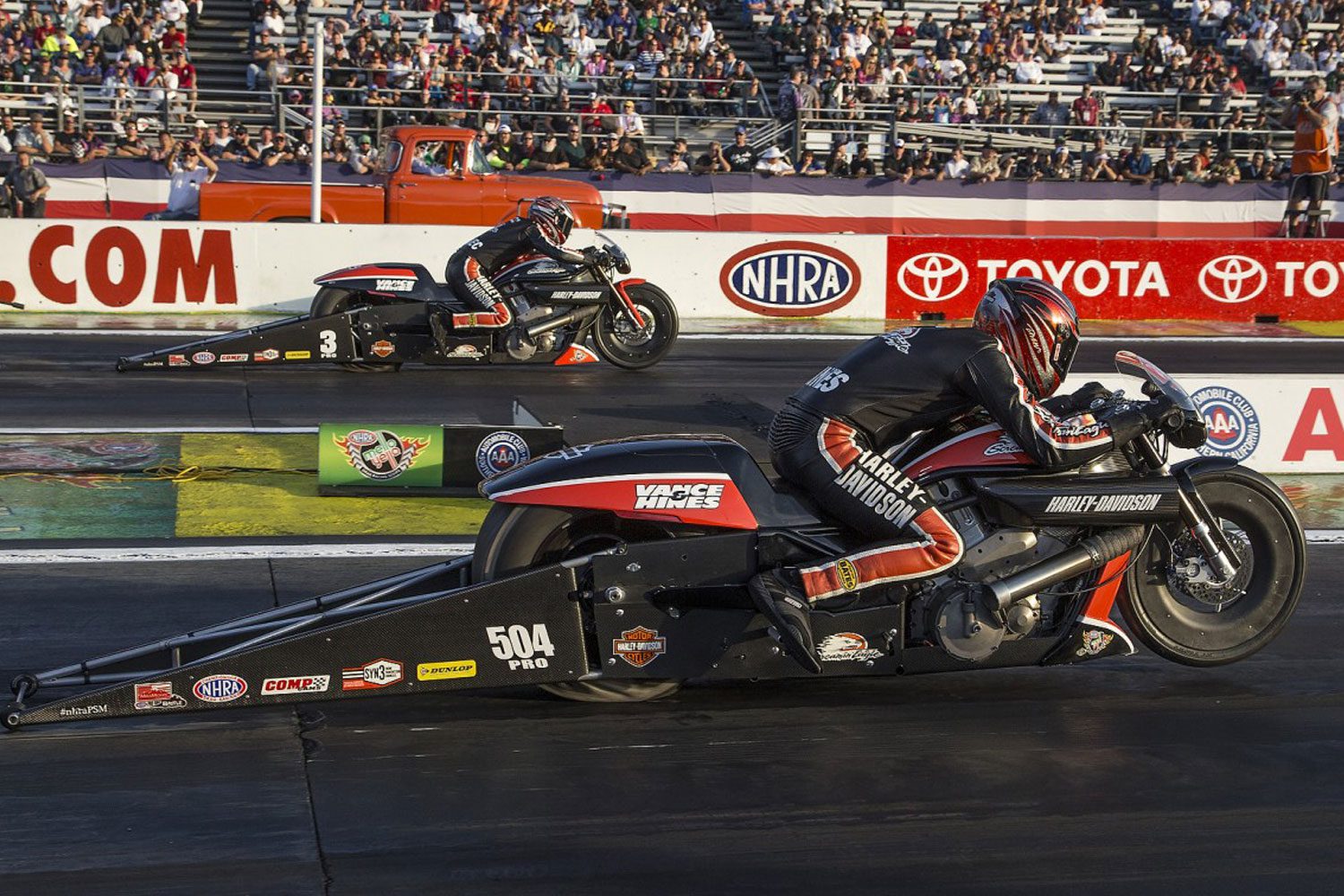 Courtesy of Harley-Davidson
A Fourth NHRA Mello Yello Pro Stock Motorcycle Title for Hines
POMONA, Calif. (Nov. 16, 2014) –Harley-Davidson® Screamin' Eagle®/Vance & Hines rider Andrew Hines earned his fourth NHRA Mello Yello world championship with a win in the first round of Pro Stock Motorcycle eliminations at the NHRA Auto Club Finals at Auto Club Raceway.
Hines started the weekend with a 92-point lead over his teammate, Ed Krawiec, maintained an 89-point lead through qualifying, and clinched the title with a win over Tough Girl Design Suzuki rider Katie Sullivan in the first round on Sunday. Riding a Harley-Davidson® V-Rod® motorcycle, Hines becomes just the second rider to win four Pro Stock Motorcycle championships.
"Twelve years ago I was given a chance by Harley-Davidson to ride a second V-Rod motorcycle for this team, and today I can't thank Harley enough for all of the support we've received," said Hines, who won the Pro Stock Motorcycle title three times from 2004-2006. "This team has worked so hard over the past two years to get back into contention, and I'm glad we had a no-drama day today. When I saw that win light in the first round I knew we had earned the Mello Yello trophy."
Since its creation for the 2002 season, the Harley-Davidson® Screamin' Eagle®/Vance & Hines team has won seven NHRA Pro Stock Motorcycle world championships.
Hines enjoyed one of the best seasons of his career in 2014, with six wins and a 42-10 elimination-round record for the season. He earned the number-one seed for the six-race Countdown to the Championship playoffs, and then won twice in three final-round appearances during the Countdown. Only the late Dave Schultz, who claimed six series titles before his death in 2001, has won more Pro Stock Motorcycle championships.
"It's great to get that big trophy and that big check, but the biggest trophies I have are my wife, Tanya, and my kids, Declan and Rion," said Hines. "My brother and crew chief, Matt, and our team never stopped thinking of ways to make our program better. I'm also thankful for a great teammate in Eddie Krawiec. He's a three-time champion, and he pushes me to better myself."
Krawiec qualified his Harley-Davidson® V-Rod® motorcycle in second position for Sunday eliminations at Pomona, and advanced to his eighth final-round appearance of the season with wins over Pirana Z Racing Buell rider Shawn Gann and Adam Arana on the ProtecttheHarvest.com/MAVTV Buell before defeating Hines in the semi-final round. Krawiec lost in the final to Lucas Oil Buell rider Hector Arana Jr.
Krawiec wrapped up the season with five wins in eight final-round appearances, a second seed for the Countdown, and second place for the season, 69 points behind Hines.
"I felt confident we had a good bike going into the final but the track got tight and the bike shuddered off the line," said Krawiec. "I can't complain after this season. I think I've been to the Pomona final seven straight years, and have either gone home with a big Wally for the championship or the little Wally for the race. This year I got no Wally, but I do have the number 2 plate, and I'm already on to 2015 and ready to race for another title."
Hines wins the Pro Stock Motorcycle Countdown to the Championship with 2,689 points. Krawiec is second with 2,620 points, followed by Hector Arana, Jr. with 2,472 points and Nitro Fish Buell rider Matt Smith with 2,416 points.
Learn more HINES RIDES HARLEY V-ROD TO NHRA WORLD CHAMPIONSHIP AT POMONA on VANCE & HINES NEWS