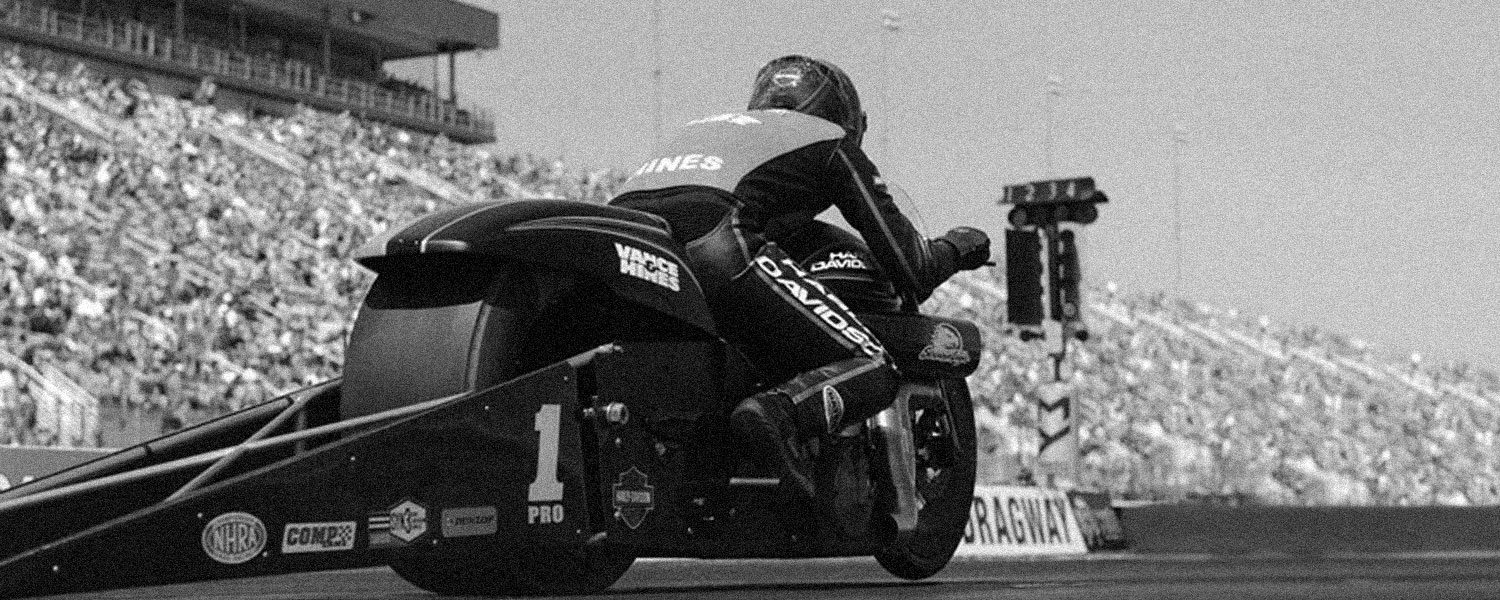 Krawiec and Hines face off in another all-Harley Pro Stock Motorcycle final
ENGLISHTOWN, N.J. (June 1, 2014) – Harley-Davidson® Screamin' Eagle®/Vance & Hines rider Andrew Hines notched his second Pro Stock Motorcycle event win of the season, defeating teammate Ed Krawiec in an all-Harley final round at the Toyota NHRA Summernationals at Old Bridge Township Raceway Park. Hines currently leads the series in points.
"We had some cool air and highest barometric pressure we've recorded in ten years this weekend," said Hines. "That's Mother Nature giving us horsepower because these V-Rod engines really responded. It was great to take advantage of the weather, because we don't always run so well when it gets hot."
For the third consecutive event, both Screamin' Eagle Harley-Davidson® V-Rod® motorcycles lined up for the final round of eliminations, and for the second weekend in a row Hines and Krawiec dominated the Pro Stock Motorcycle field. Krawiec set a new Pro Stock Motorcycle track record with an Elapsed Time (ET) of 6.747 seconds to top qualifying on Saturday. Hines qualified third at 6.778 seconds.
In Sunday eliminations, Krawiec advanced to the finals with wins over Kandy Racing Buell rider Angie Smith, Savoie Alligator Farms Suzuki rider Jerry Savoie, and defending Pro Stock Motorcycle champion Matt Smith on the Matt Smith Racing Buell.
Hines got a pass in round one when Adam Arana had a mechanical issue on the ProtecttheHarvest.com / MAVTV Buell, and then defeated Gottspeed/Star Racing Buell rider Michael Ray in round two, and Lucas Oil Buell rider Hector Arana Jr. in the semi-finals to make his first final-round appearance at Englishtown since 2007.
In the final, Hines left the line 0.002 seconds ahead of Krawiec, but was behind at 60 feet and had to pass his teammate to get the 34th final-round win of his career. Hines posted an ET of 6.828 seconds; Krawiec had a 6.837-second run.
"Nobody really loses when you race your teammate," said Krawiec. "I was thinking about 2012 and hoping for another win in front of my hometown crowd here at Englishtown, but I got just a little crossed up and had to correct my bike and that was probably the difference in the race. We have got a couple of very fast V-Rod motorcycles right now."
After four of 16 events on the 2014 NHRA Pro Stock Motorcycle schedule, Hines holds the series lead with 402 points. Krawiec is second with 382 points. Matt Smith Racing Buell rider John Hall is third with 285 points, followed by Arana Jr. with 263 points and Quality Tire Buell rider Scott Pollacheck with 252 points.
The Harley-Davidson Screamin' Eagle/Vance & Hines team will be back on the track June 19-22 at the 2nd annual Auto-Plus NHRA New England Nationals at New England Dragway in Epping, N.H.
About Harley-Davidson Motor Company
Harley-Davidson Motor Company produces custom, cruiser and touring motorcycles and offers a complete line of Harley-Davidson® motorcycle parts, accessories, riding gear and apparel, and general merchandise. For more information, visit Harley-Davidson's website at www.h-d.com.
The Harley-Davidson Screamin' Eagle/Vance & Hines Pro Stock Motorcycle team is sponsored by Dunlop.
Learn more HINES TAKES NHRA WIN AS HARLEY V-RODS STORM ENGLISHTOWN on VANCE & HINES NEWS