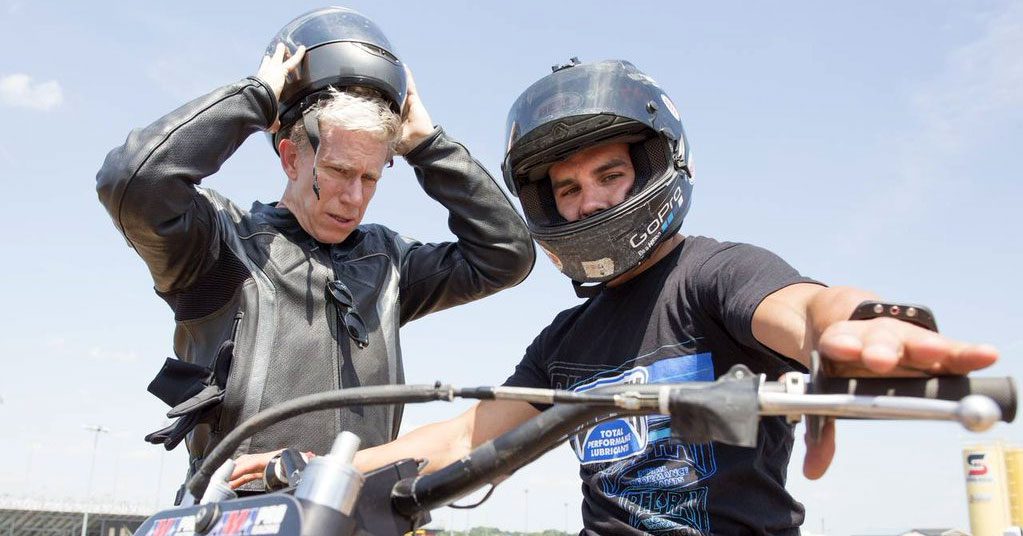 Courtesy of Dan Neil | The Wallstreet Journal
Midlife male overreach strikes men in their prime—around 56, say—when they discover that some previously attainable physical feat is now quite beyond them. I am a survivor.
It happened suddenly. A public relations guy cold-called me with an offer to test two-time AMA Pro Flat Track Racing champion Jared Mees's Harley-Davidson XR750 at a half-mile dirt track near Charlotte. "Yes, yes," I rushed to get the words out. "What's flat-track racing?"
One of the signs of MMO is pathological optimism, aggravated by symptoms of burning ignorance.
This weekend Mees, with a No. 1 on his leathers, will race for his third championship at the season finale in Las Vegas (free and live on fanschoice.tv). His fans needn't worry that this reporter's loser-y stink might be upon his bike. He will be riding his short-track bike, a Honda.
And insofar as he could not have won the season without the Harley that I did not crash, all credit to me.
But the truth is Mees's bike was never in much jeopardy. I rode like a small, careful child.
Among the oldest American motor sports, with roots in barnstorming and high-bank board-track racing, pro flat track is now dominated by the France family's AMA Pro Racing organization in Daytona Beach, Fla. (Why doesn't anybody make an "Empire" style miniseries event around them, I wonder?)
The top category is GNC1, in which Mees's wildly anachronistic, four-gear, no-brake, gyrocopter-sounding torque pig of a Harley-Davidson is state of the art.
"The bike basically hasn't changed since '70s," Mees told me when we met by his transporter at the track. As a design connoisseur I respect the timelessness of the XR750 in flat-track trim. Anything nonessential has fallen off decades ago. For example: the front brakes. The XR750 has a single rear disc brake, a vestigial mechanism mostly for low-speed maneuvering in the pits.
My goal in this was to learn the flat-track's marquee move: blasting through a sweeping low-bank turn, with the bike laid sideways and fully crossed up, throttle-pinned, back wheel sawing, with my left boot skimming the dirt clay for balance like a Hawaiian outrigger. On mile tracks these bikes hit 130 miles an hour. But it's OK because I had a Honda dirt bike 40 years ago.
Before getting on the bike, I put on a Lightshoe, a single steel overshoe that straps to the rider's left boot, a slipper for a gothy Cinderella. Soon I was zipped into my street leathers and seated aboard the champ's bike, still on a stand, while Mees talked me through the controls.
Then we hit a glitch. The publicist had told me I would be testing the man's backup bike.
"Dude, I don't have a backup bike," Mees said, and he stressed he would be needing this one back in one piece very soon.
"And this is most important," Mees said, his chin-filled face right in my helmet. "Be very gentle with the gear box. Shift like you have an egg between your toe and the [right-mounted] shifter." To confound muscle memory a bit more, the XR750 uses a racing gearshift pattern (one up, three down).
"And," Mees reminded me, "no front brakes."
Filled with confidence, I found the foot pegs (the left peg is well back of the right) while the crew chief fired up the engine with a stinger starter.
Right off, the sound of the engine makes me laugh, the idiomatic whump-whump of a Harley under the plashing of race-prepped internals, a 9,500-rpm pushrod V-twin, an Olympian hog.
With a wobbly push, and after an obligatory stall in the parking lot, I managed to direct Mees's stinky, oily thoroughbred racer to the track entrance. The Don Tilley Memorial Half-Mile is a shallow bowl of tangerine dirt with about a 6% grade in the broad corners. Just as with cars, track preparations require complex wetting and grading to form a sticky hardpan that collects rubber, the line where there's more traction. None of that had been done for my ride.
About a dozen AMA staffers, moto-heads and track workers— and one member of the France family—gathered to watch, some standing near the track's new, inflatable crash barriers.
As Mees explained, the secret to the high-speed turn is timing and posture. Riders check up on the throttle (some riders use the brake more than others) to help get the bike turned, while leaning back with the left leg extended, a sideways stride across the bike. Proper form means pointing the left handlebar straight at the ground, in a pose like the moment of harpooning a whale and just railing on the throttle.
Now warmed up and in its element, the XR750 is begging me to go faster. BUUURRAPPP! PAP PAP PAP! But when the time comes to commit to the first corner at speed, I … just can't do it! I lean in moderately and the bike squirms and wiggles like it's making for the exits, spokes first. Oh no! I roll out of the throttle and drift up the track at an ignominious pace.
Next lap, I grit my teeth and lay on more coal, and lay out my leg like Claudette Colbert hitching a ride. My left boot is kicking up its own red-clay rooster tail, but I cannot lean into the corner more. I have run out of will.
"You're doing fine," Mees said during one of my pit stops. Really? Because I feel like the water trucks are going faster.
After 20 or so laps, each averaging a freaking eternity, I brought the bike in, as much to end my hosts' embarrassment as my own puny display.
So I'm not a flat-track Cinderella. At least I got to try on the steel slipper.
Learn more I FOUGHT THE HOG AND THE HOG WON on VANCE & HINES NEWS