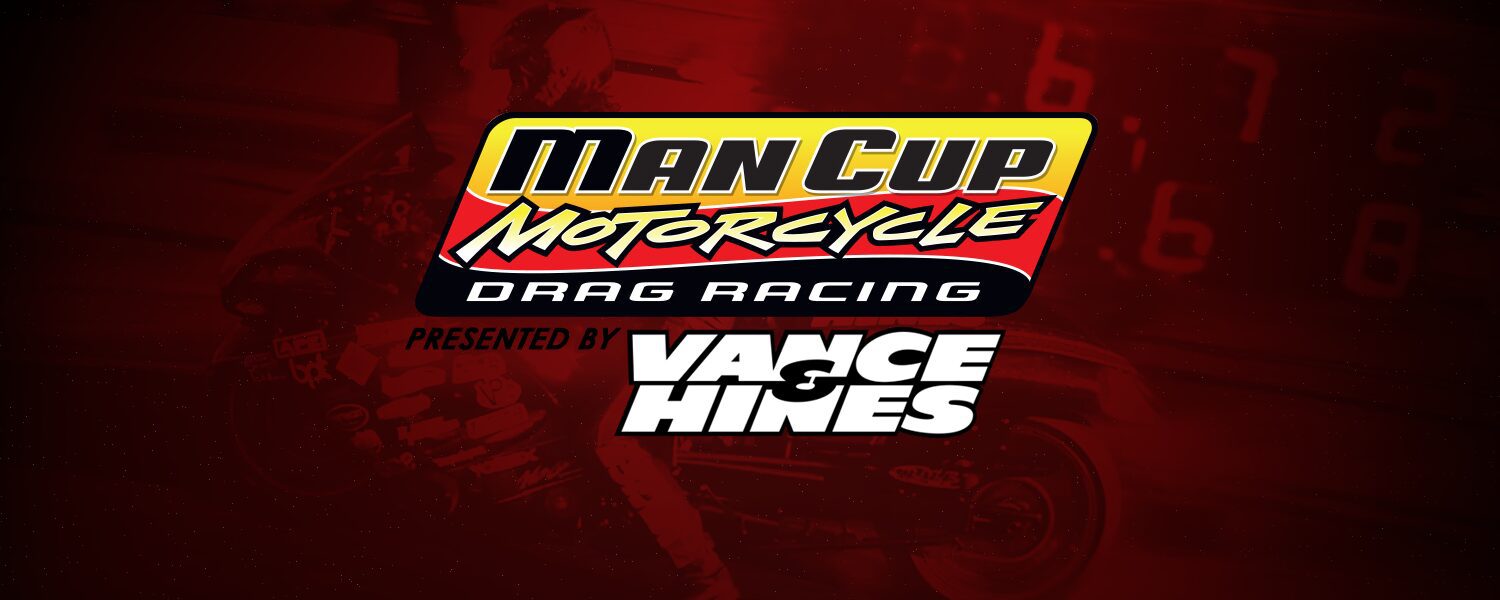 Courtesy of Eat My Ink
The finest two-wheel racing surface and most organized staff are a given when the Mickey Thompson International Drag Bike League™ (IDBL) brings the world's largest motorcycle drag racing series to Maryland International Raceway™ (MDIR). But when unanticipated rain and an unforeseen plague of bracket bike oildowns hit qualifying at the Pingel Spring Nationals, special leadership was called for.
That's when former MDIR owner and current IRG Sports + Entertainment (IRGSE) chief operating officer Royce Miller rolled up his sleeves and took control. And in the midst of the nation's torrid election campaign, the silver haired Miller looked downright presidential as he directed staff, made quick decisions, scraped the track and oversaw prep for the world's quickest streetbikes.
And that prep was second to none, as the April 22-24 season opener produced the world's first-ever all-6.80 Orient Express Pro Street semifinal. Three-time champion Joey Gladstone, his DME Racing teammate Terence Angela, Williford Racing's Ehren Litten, and DAS Performance's Tony Ficher flung their 650 horsepower Suzuki Hayabusas down the Budd's Creek quarter mile for what had to have been the most stirring two pairs of competition in the history of the class.
Gladstone and Litten were the two that came out alive, setting up a showdown that was a rematch of the Manufacturers Cup final in Valdosta just two weeks earlier. Gladstone had lost that one on a holeshot and seemed determined to get the best of his former DME teammate this time around.
Litten, likewise, was equally bent on keeping his winning mojo on a roll. His tuner— three-time champ Rodney Williford—is well known for turning the power volume up to 11 when the trophy is on the line. It was gonna be spin or win for Litten.
And spin it was, right at the hit, as Gladstone trucked straight down the groove in the other lane to a 6.78 at 214.38 mph. That was quick enough to back up Gladstone's earlier 6.74 at 218.90 for a new international ET record.
"I had a tough holeshot loss to Ehren at Valdosta, so I can't tell you how nervous I was in this final," said Gladstone. "My biggest fear is letting my team down. Times are changing and these guys are nippin' at our heels. Everybody else is steppin' up and it's pushing the class to a whole new level.
"I really gotta thank the IDBL for giving us a platform to race on and Orient Express for sponsoring the class."
That win and record MIGHT have made up for Gladstone's first round -.002 redlight on his number 1 qualifying all-motor 'Busa in DME Racing Real Street. The beneficiary of Gladstone's miscue was last place qualifier Justin Fernandez, competing in his first ever Real Street race. Fernandez's next opponent—veteran racer and drag racing educator Ashon "Capo" Dickerson—had a lurid redlight, and the virgin Real Street racer was on his way to the final.
And in the final is where Fernandez's dream was penetrated by the painful sting of reality. Class champion Anibal "Cannibal" Merced was cool as a cucumber (as he is at all times), politely and tactfully clicking off the light and ET necessary on his nitrous-huffing Kawasaki ZX14 to subdue Fernandez's mid-8 second turbo 'Busa. Flush with a taste of glory, Fernandez was soon seen on the manufacturers midway looking to spend his runner-up winnings on go-fast parts and services to make that 'Busa quicker. And thus is how the racing world goes 'round.
Ronnie Procopio has been putting go-fast parts to good use for longer than Fernandez has probably been alive. Procopio has detuned his Pro Extreme Motorcycle to run the index in Vance & Hines 4.60, and beat 2014 champion Eran Pielert in the semifinal.
Current 4.60 champ Tyler Cammock beat number 1 qualifier Michael Ostrowski in the other semi, but was slow off the starting line when it counted and lost the final to Procopio.
Long time legendary racer Rickey Gadson continues to ply his trade in sportsman classes as well as the Real Street pro class. Gadson won Crazy 8s at least year's Finals and added an FBR Shop 5.60 win to his resume at the Spring Nationals. Despite giving up .037 at the tree, Gadson beat 2014 5.60 champ Ostrowski in a double breakout final round. Ostrowski beat number 1 qualifier Ben "Hardest Working Man in MC Drag Racing" Knight in the quarterfinals.
"The pro class is my main concentration, but like Richard (Rickey's nephew, the now equally famous Richard Gadson) said, when I lose Real Street, I get real serious about winning something," said Rickey. "Getting down to one bike to concentrate on makes a big difference in how well you can race it.
"Nobody knew what to expect this weekend with all the changes at the IDBL, then the rain definitely scared everybody. But I should've known that Royce Miller knew what to do with the track and how to manage time. He totally pulled it out, and now people know IDBL is still for real."
Possibly the biggest story of the weekend happened when longtime racer Ronnie Reece won Saturday's Shinko Pro ET final (delayed to Sunday morning by Saturday's rain). Reece was in a very serious street accident less than a year ago, with he and his motorcycle both ending up completely inside a van in the grizzly crash. Reece made his comeback complete by slapping a .002 light on Knight at the tree and taking the win in a double breakout final.
David Ashton won Sunday's Pro ET final after Matt Davidson took the tree by a wide margin but didn't run his number.
MDIR is where Carpenter Racing Crazy 8s was born, and 55 bikes entered the class in this year's Spring Nationals. Number 1 qualifier Spencer Claycomb lost to BAMF Dustin "Tennessee" Lee in the quarterfinals. But Lee was having an uncharacteristically tough weekend, and the finishing blow came in the Crazy 8s final against winning Robert Parker in a double breakout race.
Trac King Clutches Top Sportsman boiled its 32-bike field down to two of the quickest—MDIR homeboy Chris Clontz and veteran Delaware racer Jay Windsor. Both were riding 7-second dragbikes. The final was decided at the tree, where Windsor jumped the gun by -.049.
Connecticut Kingpin Bon Carlson was slow off the line against Wardell Pinkney in Sunday's Brock's Performance Street ET final, but took the stripe as Pinkney bumped up against his rev limiter multiple times. Mark Southaed took a super-tight Saturday final (run Sunday morning) over Maryland regular Jimmie Miller.
Grudge was mostly test and tune, with HTP Performance bikes "Redskin" and "Django" leading the way with riders Lavar "Lil' Charlie" DeLee and Jeremy Teasley in the saddle.
IDBL and the MDIR staff are thrilled to have the 2016 season underway and look forward to welcoming everyone back for the inaugural Dragbike.com All-Star Shootout May 20-22.