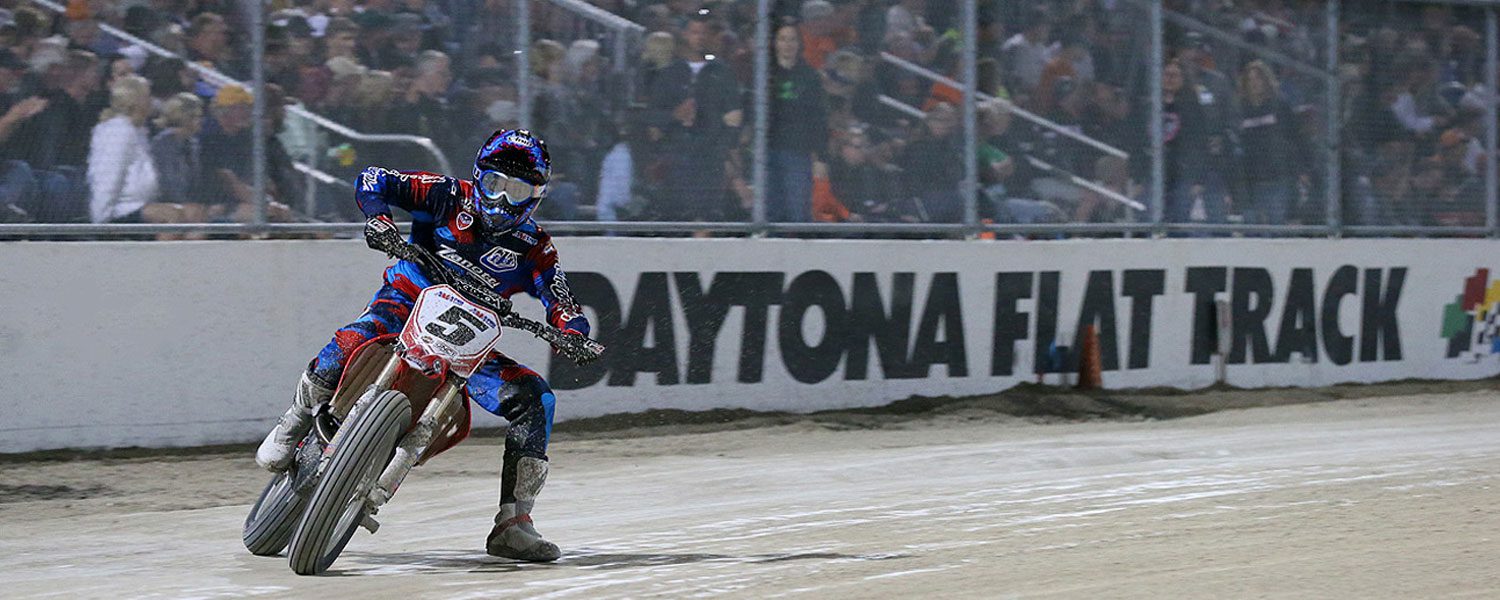 Jake Johnson (No. 5 Honda CRF450R) came out on top in a two-lap tussle with Sammy Halbert (No. 69 Yamaha YZ450F) in the opening stages ofFriday night's Harley-Davidson GNC1 presented by Vance & Hines 25-lap main event at the DAYTONA Flat Track to score his first AMA Pro Flat Track race victory since his 2011 Grand National Championship season.
Johnson led teammate Kenny Coolbeth Jr. (No. 2 Honda CRF450R) across the finish line by 1.851 seconds to give Zanotti Racing a one-two finish in the second and final main event of the season-opening AMA Pro Flat Track doubleheader on the quarter-mile DAYTONA track.
Johnson won in GNC1 for the first time since 2011's season-ending race on the Pomona Half-Mile in California, his fourth victory in that year's title-winning season.
"It's been a while since I've won a race," Johnson said. "It's been since 2011 and oddly enough it was one of the last times that I rode for Zanotti. I kind of had a dry spell but we got back together and we did it again. It's awesome to go one-two with my teammate. It was nice enough of Kenny to let me have this one. He has had a couple of wins the last couple of years. But it hasn't sunk in yet for me, it almost feels like my first win. I want to thank everybody that's stuck behind me the last couple of years. It's good to win again."
Coolbeth, who won round two at DAYTONA last year, was happy to share the podium with his teammate this time around in a Zanotti one-two finish.
"I'm super proud," Coolbeth said. "Dave Zanotti puts his heart and soul into our program and it shows. He's a hell of a guy and he would do anything for us. It was a good race. I had to work for it. I got a terrible start and we should've been right there with Jake. He was probably on cruise control and determined."
Halbert, who won Thursday night's opening round of the DAYTONA doubleheader, finished third and took an early season GNC1 championship lead with 40 points, three ahead of Johnson's 37 points.
"I'm the only guy up here on the podium two days in a row, so stoked with that, and I've got to give it up to my whole team," Halbert said. "Jake and I had a good battle there for a minute. He passed me and I kind of gave it back to him a little bit and he really gave it back to me, so that was cool. I'm sure it made it exciting, I was just doing the best that I could in second there but Kenny was coming and I tried to hold him off but he got me."
Halbert now rides with No. 69, the number his late brother Jethro Halbert raced in competition. Jethro Halbert, who passed away last August from injuries sustained in a 2014 accident at the Calistoga Half-Mile in California, was remembered by race fans and the AMA Pro Flat Track community in a beachside memorial service in Daytona Beach earlier this week.
"I really didn't know what to expect with the track today," Halbert said. "It was so different than yesterday. I didn't really have a game plan going in like I did last night, but I just did my best to channel my inner Jethro and get calm, and I was stoked to get the 69 up on the box again, so I'm really happy overall."
In addition to the victory, Johnson swept the majority of the GNC1 main event partner bonus awards. He earned the Öhlins Fastest Lap Award when he made what proved to be the winning pass on Halbert on lap four with a time of 19.285 seconds. He remained up front and, on the 13th lap, took the McElroy Packaging Lucky 13 Award as the race leader at the halfway point.
Thursday's third-place finisher Brad Baker (No. 6 Honda CRF450R) was fourth on Friday after advancing to the main from the third and final transfer spot in his semi. He started on the last row in 17th but went on to improve 13 positions to capture the MotoBatt Hard Charger Award.
JD Beach (No. 95 Yamaha YZ450F), who posted the fastest GNC1 qualifying time on Fridayafternoon, finished fifth in the main.
In the 16-lap GNC2 main event, Dylan Morin (No. 26E Kawasaki KX450F) made the final by winning his semi and then charged from 14th on the grid to his first AMA Pro Flat Track victory. Riding a high line around the DAYTONA Flat Track, Morin passed Justin Jones (No. 19B Honda CRF450) on lap 11 for the lead and took the checkered flag with a 0.612 of a second margin of victory. His charge to the front saw him improve the most race positions to earn the NERGIA Fast Moving Award.
"It's a dream come true to be standing here on the top of the box," Morin said. "This is my first win and I am freakin' pumped. I can't believe it right now, that semi was pretty rough, and getting up here from the last to win in the main, I just can't believe I did that."
Jones earned runner-up honors for the second night in a row while Thursday night's winner Dalton Gauthier (No. 14A Yamaha YZ450F) also doubled up on GNC2 main podiums at DAYTONA with a third-place showing.
In preliminary race action, Briar Bauman, Coolbeth and Johnson won GNC1 heats while Cory Texter and Jake Constantine split the GNC1 semis.
Gauthier, Jones and Parker Norris won GNC2 heats while Andrew Luker joined Morin in taking the semi victories.
Next up for AMA Pro Flat Track is round three at Circuit of The Americas (COTA) on Saturday, April 9, where the series will make its debut during the Red Bull Grand Prix of the Americas race weekend.
Learn more JAKE JOHNSON WINS ROUND TWO OF SEASON-OPENING AMA PRO FLAT TRACK RACE ON THE DAYTONA FLAT TRACK on VANCE & HINES NEWS