Courtesy of American Flat Track
James Rispoli was knocking on the door in his quest to return to the top of the podium for what felt like forever. Three consecutive AFT Production Twins second-place finishes to open his 2020 Progressive American Flat Track campaign only served to underline that impression.
It was well publicized that 'the Rocket's' last dirt track victory had come more than a decade earlier, earned in the opening weekend of the 2009 season en route to being named that year's GNC2 runner-up.
While interesting trivia, that's not exactly a fair representation; Rispoli transitioned to road racing full-time shortly thereafter and quickly built himself into a two-time AMA Pro SuperSport National Champion, earning back-to-back titles in 2011 and 2012.
Following a promising rookie season in the hotly contested Daytona SportBike class in 2013, Rispoli embarked on an international career in the mega-popular British Superbike series, where he would spend the next five seasons.
There, he did exactly what he did everywhere else; he brought his infectious energy to the party, established himself as one of the paddock's most popular riders, and battled up front and fought his way onto the podium on multiple occasions.
Funny thing though; the New Hampshire native's last race win still dated back to his dominant '12 SuperSport campaign, so while the 'more than a decade' line was somewhat misleading, eight years is eight years.
Tired of knocking on the door, Rispoli at last smashed it down at the Indiana State Fairgrounds last month. Taking out years of frustration on the opposition, he blasted his No. 43 Latus Motors Racing Harley-Davidson XG750R to a 12-second winning margin that also served as a public service announcement to those same title rivals: The balance of power had just been altered.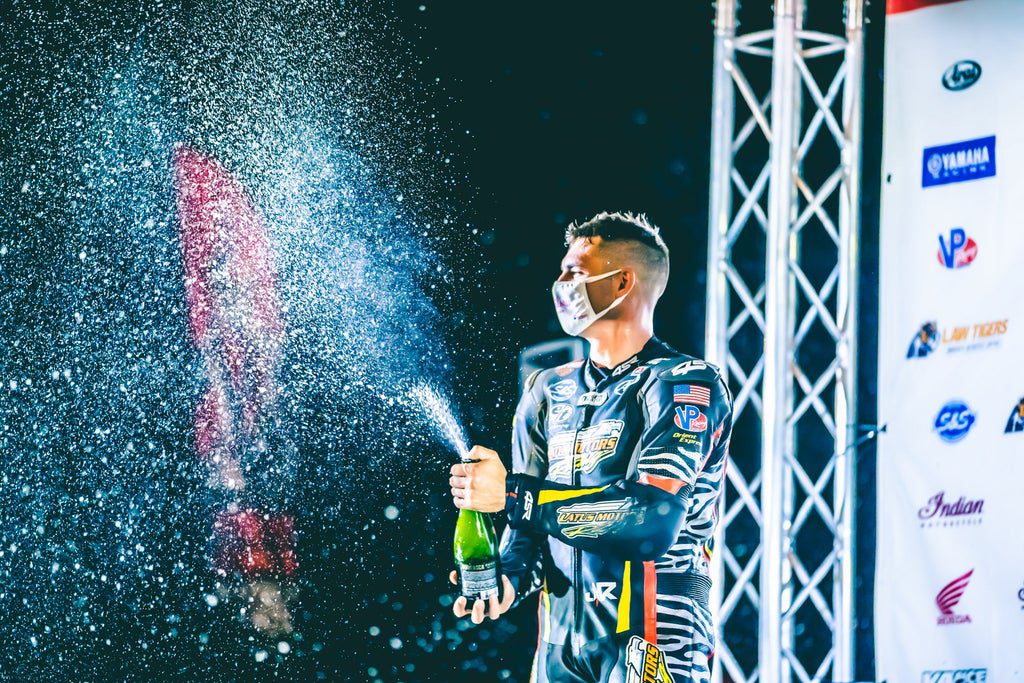 Photo: Kristen Lassen, American Flat Track
"It was crazy," Rispoli said. "That win was very important, and we did it in huge fashion. I don't think I'll ever forget it. That's got to be one of the best victories I've ever had just by pure dominance.
"It was incredible. It was due. I got a lot of second place finishes over in England, but I never won one. The one race I was going to win, I had three seconds in the rain and crashed in the last corner on the second to last lap."
With the figurative door that had blocked his path relegated to a scattering of metaphorical splinters, Rispoli racked up a further three wins over the next four races and is now threatening to bring this AFT Production Twins championship battle to an early end unless the likes of Cory Texter, Ryan Varnes and Ben Lowe find some sort of answer and in a hurry.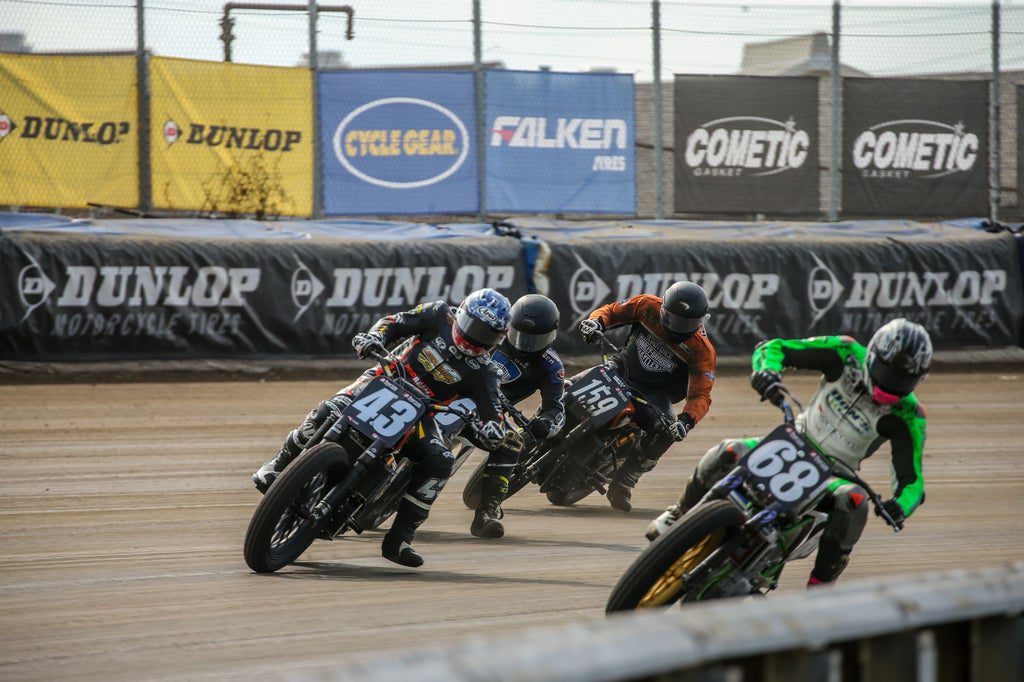 Photo: Scott Hunter, American Flat Track
What's happened that's transformed the 2019 Rispoli, who earned four podiums (three thirds and a second) in ten races into the one who started 2020 with three straight second-place finishes, and more recently blossomed into the current incarnation who appears to be nigh-invincible?
"The biggest thing is finally everything just clicked," Rispoli said. "Everybody always talks about just finding a flow. This is something we've been working toward the last two or three years — even since 2018, when I was trying to come back and get some results as a wild card and start from there.
"Last year we saw glimpses of hope, and when I got on the Harley we really did a lot of work. I put a lot of effort into that motorcycle. I was able to get on the same bike this year with a different crew and do some of the stuff we weren't able to last year now being under our own outfit.
"I said if I can win one, I think we can go on a run…and it's starting to happen. This is literally an identical situation to when I won my second SuperSport championship. The first year I won a championship with two wins. The second year I won it with eight wins and 16 podiums.
"That same kind of belief and momentum is happening now; I've got the same trainer as I did then. In fact, every single person that I could get back in my program from when I won that championship is with me now. That gave me the confidence that I needed to believe I could do it again, and now I've got the motorcycle and team behind me to do it.
"The floodgates are open. I want to win all the rest of the races."
While a number of familiar faces have returned to the program, perhaps the most important voice who's helped to unleash Rispoli is a new arrival — none other than 2000 Grand National Champion Joe Kopp, who serves as Team Manager for the Latus Motors Racing AFT Production Twins effort.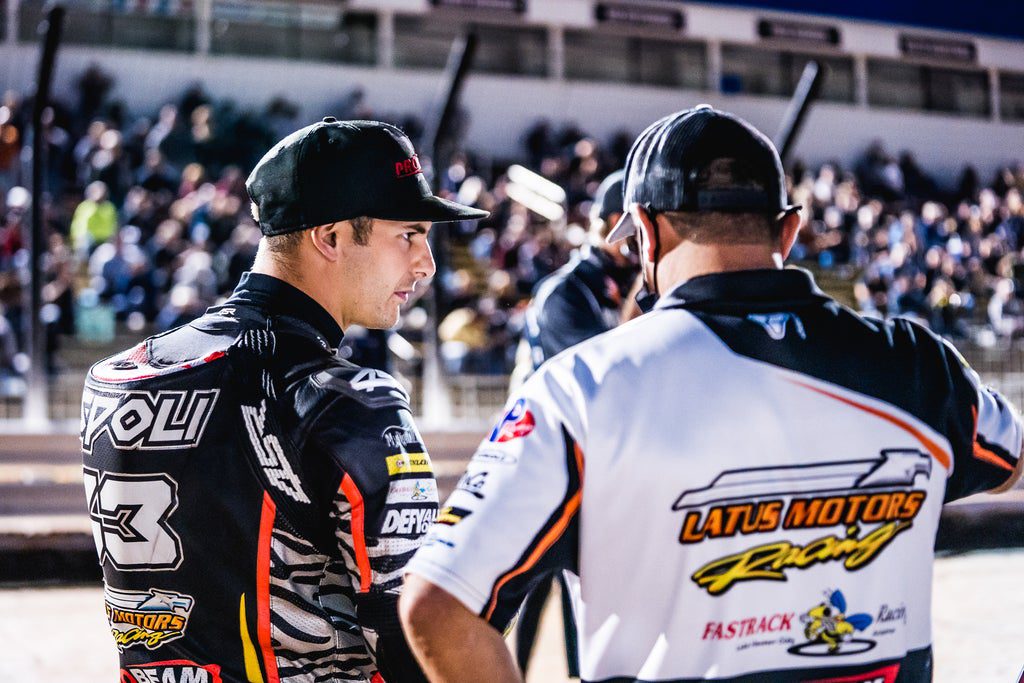 Photo: Kristen Lassen, American Flat Track
Rispoli said, "Joe and I, ever since our first conversation, we've just clicked. I don't know if it's because we're kind of cut from the same cloth or what.
"He had to work really, really hard to climb his way to the top of the sport. He wasn't one of the golden boys who had it all handed to him. I feel like we're in the same boat in that sense. I always had to outright work for the rides that I've had. I've never gotten a phone call from a team owner asking me to ride a bike; I've always had to make the phone calls.
"Joe told me some of his best years came long after he won his championship and shortly before he retired. He said that was because it's all mainly between the ears. We're really in sync. He keeps me super calm and I trust him a lot.
"I know we do some changes that are a little bit different than what other people do, but we don't change things just to change things. We always have a reason. I think with the information I give him and the knowledge he has, we've been able to figure things out that are crazy. Springfield II was an insane race. We came up with our plan over the restart of how we were going to win it, and it worked out.
"Same thing with Williams Grove I. From day one, my first conversation with (Team Owner) George (Latus) and Joe, I said if Williams Grove is on the calendar, that'll be our Achilles heel. I said if we could get out of there with a podium, we could have a hand on the championship. We were so bad there last year.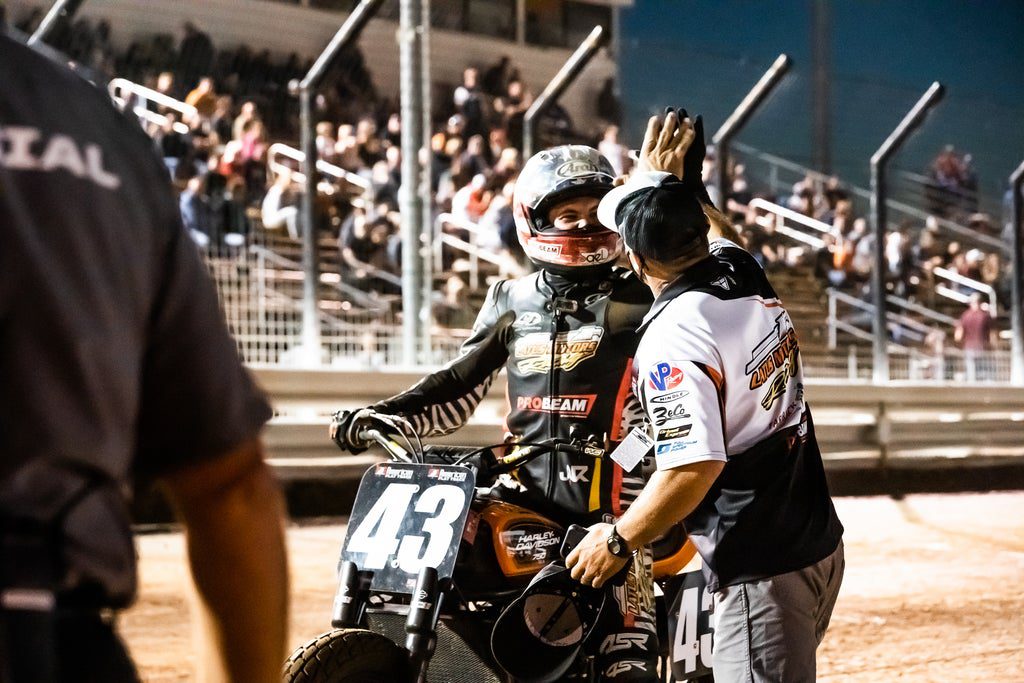 Photo: Kristen Lassen, American Flat Track
"And this year, as the first night went on, we had no shot at the win, but we came up with a plan before the Main, and we made it happen. For us to change things around and to win double there is insane. Joe has been amazing to work with. I really hope that we can stay together in the future.
"I think the combination of having him in my corner with the perspective of George as owner is very cool. George is very involved but doesn't put any pressure on us. He lets me and Joe just do our thing while at the same time backing us to do what we need to do to win."
The continued development of the Harley-Davidson XG750R has obviously proved to be a major factor in Rispoli's rise as well. There, too, it comes down to the details.
"We put a lot of work in last year," he said. "Everybody knows that I was spearheading the development of the AFT Production Twins bike. We've basically taken that motorcycle into this year and just tweaked it. There haven't been major things — just little tweaks to electronics, suspension, geometry, where we're running wheelbases and so on. All those little things have taken that bike from where we were last year to a now dominant motorcycle.
"On track, you see there is a difference between mine and Chad (Cose)'s motorcycle, but it's just down to the geometry. The engine is the same, the ECU is the same…They are two identical bikes, but we just run our set-ups a little bit differently."
'All those little things' have also turned that bike into one with a 30-point championship lead as the 2020 season enters its second half. But despite that significant advantage, Rispoli feels zero temptation to shift his focus to babying his gap. Instead, he remains committed to racking up every possible win, especially after going years between victories.
"I'm not thinking about the championship at all," he confirmed. "We've got to win races. We don't have enough points to just cruise. We need a 50-point lead before we approach the finale to feel safe, so that's the goal right now.
"Cory is 30 back, and I've got 40 on Varnes, which is very tasty because I thought he was going to be the rider to beat this year. But Cory has kind of made a charge lately; it'll be interesting to see who tries to step up to the plate.
"I went to the track in their backyard (Williams Grove) and absolutely smashed them, so hopefully they're in their sorrows at the moment."
While now embroiled in a title chase, around this time last year, Rispoli came across as a rider caught between two worlds. His roadracing gig had come apart at the seams, which fast-tracked an eventual plan to return to his dirt-tracking roots. Still, he would have certainly perked up if a top-line British Superbike ride had been floated in his direction.
At this point, he comes across as much more firmly planted in the dirt.
"I haven't touched a roadrace bike since Brands Hatch 2018," he confirmed. "I'm a dirt tracker. Chris Carr came over and said I'm starting to look like a dirt tracker, so that's got to be worth something.
"I think we're doing really well. I'm pretty close to like sixth to tenth when you compare my times to the AFT SuperTwins guys already. That's kinda cool.
"I've learned a lot this year, and I think I've got a place here to stay. It'll be interesting to see what happens with rides and everything. I'm really looking forward to the rest of this year and what's ahead after that. I think we should be in a good position to move up to AFT SuperTwins in the future."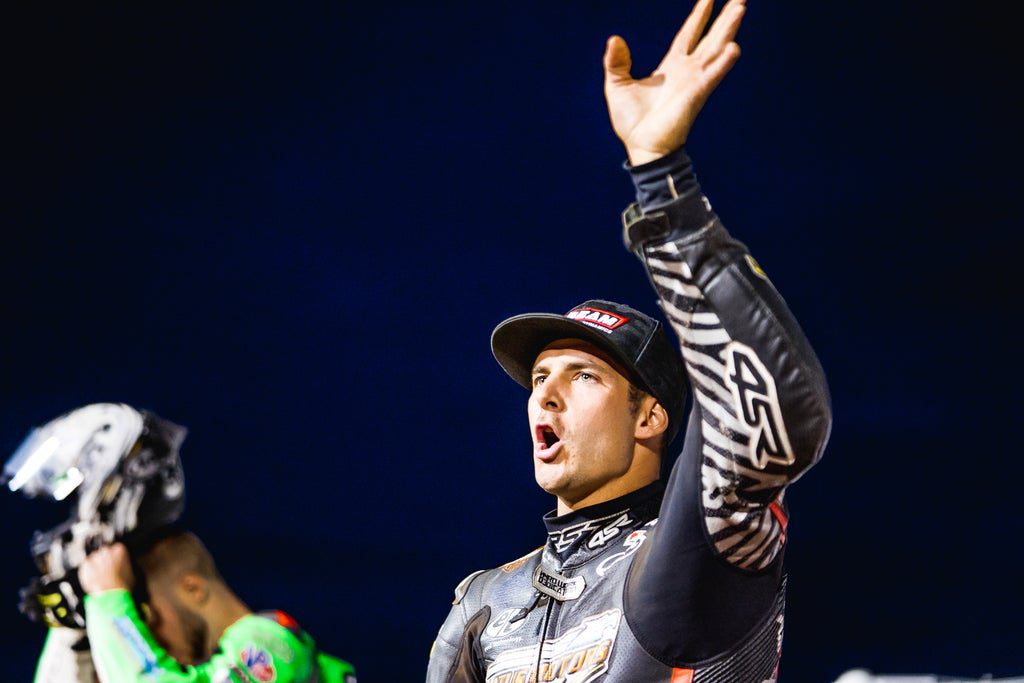 Photo: Kristen Lassen, American Flat Track