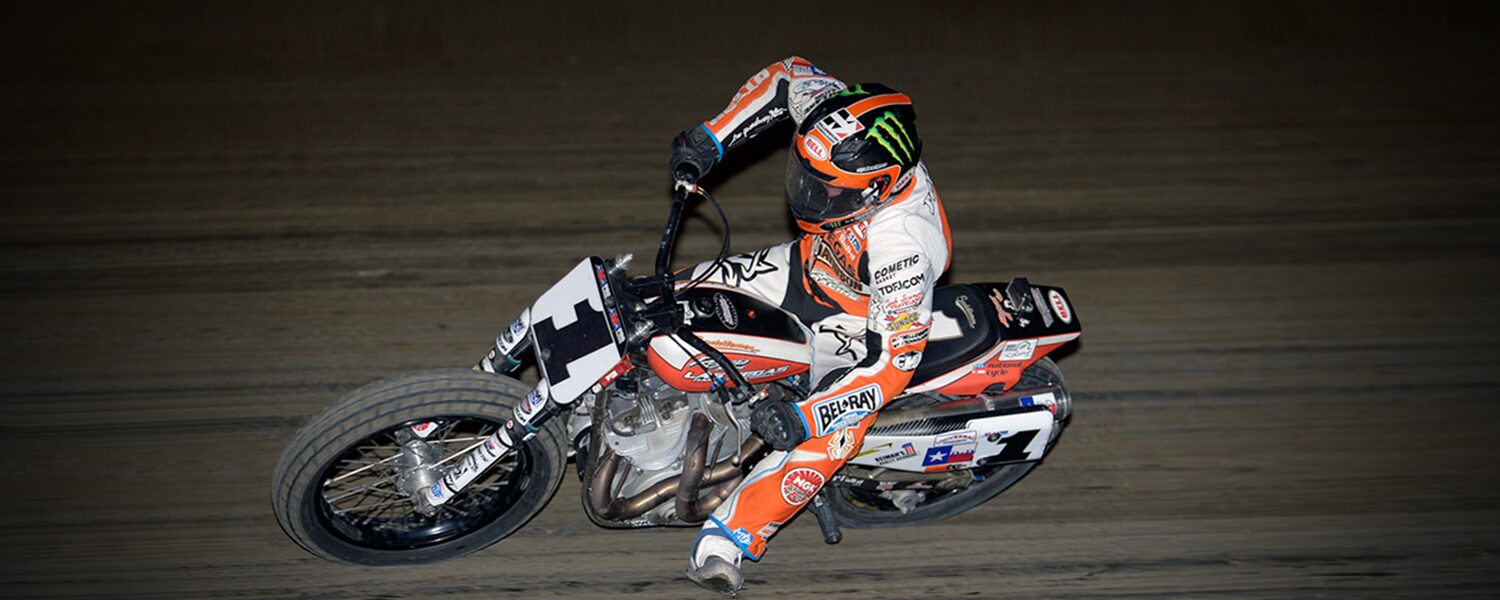 Courtesy of AMA Pro Racing
Defending Grand National Champion Jared Mees was perfect during Tuesday night's Black Hills Half-Mile. The No. 1 Las Vegas Harley-Davidson pilot opened up a 10 bike-length lead on lap one of the Harley-Davidson GNC1 presented by Vance & Hines main event and went wire-to-wire for his 16th career victory.
"I just really wanted to win one so bad," said Mees. "All I've been hearing lately is 'Hey, he hasn't won his race yet' and you know, it feels really good to get this first win off my back in 2015. How cool to do it here at the 75th Annual Sturgis Motorcycle Rally. This track was so awesome. For Terry Rymer to bring us back and to win here tonight is just special."
Mees closed the door on the holeshot of the main event after starting from second on the grid. Though second-place finisher Kenny Coolbeth Jr. closed the gap on multiple occasions, the No. 2 Zanotti Racing Harley-Davidson rider was never really a threat to beat Mees tonight, Aug. 4 at Black Hills Speedway in Rapid City, S.D.
With the win, Mees extended his lead in the Harley-Davidson GNC1 presented by Vance & Hines point standings and now leads by an 18-point margin over No. 42 Crosley Radio Kawasaki rider Bryan Smith.
As much of a lock as Mees had on the one position all race, Coolbeth had an equal stronghold on second. The three-time champion rebounded nicely after a lackluster 15th-place effort last round at the Indy Mile and now sits fourth in the point standings.
The most intense battle of the evening was the fight for third place, and it was Briar Bauman, piloting the No. 14 USC/Hart Racing Kawasaki who came away with his second third-place finish of 2015.
Bauman has looked impressive all season sporting his new Hart Racing leathers and he now sits seventh in the point standings.
Stevie Bonsey put together an impressive run, as he finished fourth aboard the No. 80 Cliff Racing Harley-Davidson. It was the Californian's best effort since his Round 1 victory at Daytona and he now sits 11th in the point standings.
Finishing fifth was Sammy Halbert. The No. 7 Briggs Auto Harley-Davidson rider has been consistent all year long, having finished inside the top ten in every race so far in 2015. He currently sits third in the point standings.
Learn more JARED MEES DOMINATES BLACK HILLS HALF-MILE on VANCE & HINES NEWS