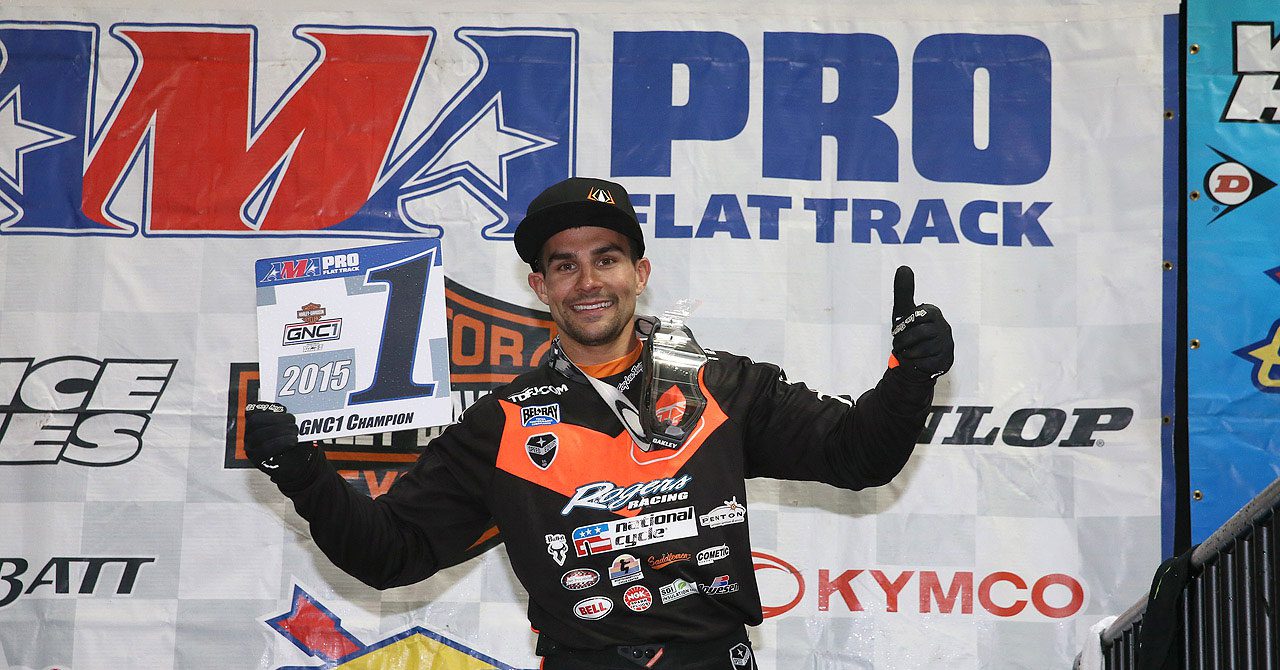 Jared Mees finished third in the AMA Pro Flat Track Season Finale on Friday night at the Orleans Arena in Las Vegas, but it didn't matter, as he had already clinched the 2015 Harley-Davidson GNC1 presented by Vance & Hines championship before the main event had even started.
Mees was able to secure his third Grand National Championship in four seasons on Friday night a lot easier than he had expected going into the event. He held a mere seven-point lead over rival Bryan Smith and the two have been the center of attention leading up to the Flat Track Season Finale in Las Vegas. However, Smith failed to secure a spot in the main event through his heat race and then he crashed during his Semi, which resulted in him missing the final race altogether.
Although he missed his chance at winning his first Grand National Championship, Smith still put together a stellar 2015 campaign. He finished with 181 points, 23 shy of Mees.
Consistency has always been the name of the game for Mees, and this season proved to be no different. The Clio, Mich., native notched nine podiums and a single victory this season, which are numbers that reflect his previous champion-winning seasons almost to a tee.
"It's awesome to get this championship," said Mees. "Last year when I won it, I remember saying that that one meant the most to me. But now here I am and it just gets sweeter and sweeter every year. There was a lot of pressure coming into this race tonight. It's a short track and what ended up happening to Bryan was my biggest fear of happening to me. Anything can happen in this type of race. I've run a lot of these types of races and I've felt what it's like to run into some bad luck. I'm just glad I was able to come away with this championship, it feels awesome."
There's no doubt that Mees owned the majority of the limelight and attention on Friday night, and deservedly so, but the second biggest story of the evening was about the man who finished on top of the box Friday night. Briar Bauman won his first race of 2015 and he looked incredible from start to finish in doing so.
Bauman got the ever-so-important holeshot out of the gate and led for the duration of the race. It was a great ending to a great season for the young rider, who finished third or better in three total races this season, making 2015 far and away his best season in GNC1 yet.
Bauman shows great promise for himself and for the sport of AMA Pro Flat Track racing, as he's not only a rising star on the track, but a well-rounded soul off the motorcycle as well, as evidenced by his quote during the post-race press conference where he dedicated his win to the late Jethro Halbert.
"This win was for Jethro Halbert," said Bauman. "He was an awesome friend and you can bet all the money you got that he would have been running with all of us at the front. This was his kind of race track and he would have been glass smooth. I rode with him all night. This was for Jethro."
Bauman's win on Friday ensured him a spot in the highly-anticipated Superprestigio of the Americas on Saturday night.
Finishing second on Friday night and making a surprise visit to AMA Pro Flat Track competition was Joe Kopp. Kopp, a 22-year veteran of the sport, made his only start of 2015 in Vegas and his second-place finish is a clear indication that there's still a lot left in the tank for the 46 year old.
Finishing fourth on Friday night was Sammy Halbert, who capped off a solid 2015 campaign by finishing third in the standings.
Jake Johnson continued his impressive run of solid finishes during the back-half of the season with a fifth-place finish on Friday.
Learn more JARED MEES EARNS THIRD HARLEY-DAVIDSON GNC1 PRESENTED BY VANCE & HINES CHAMPIONSHIP IN FOUR YEARS on VANCE & HINES NEWS