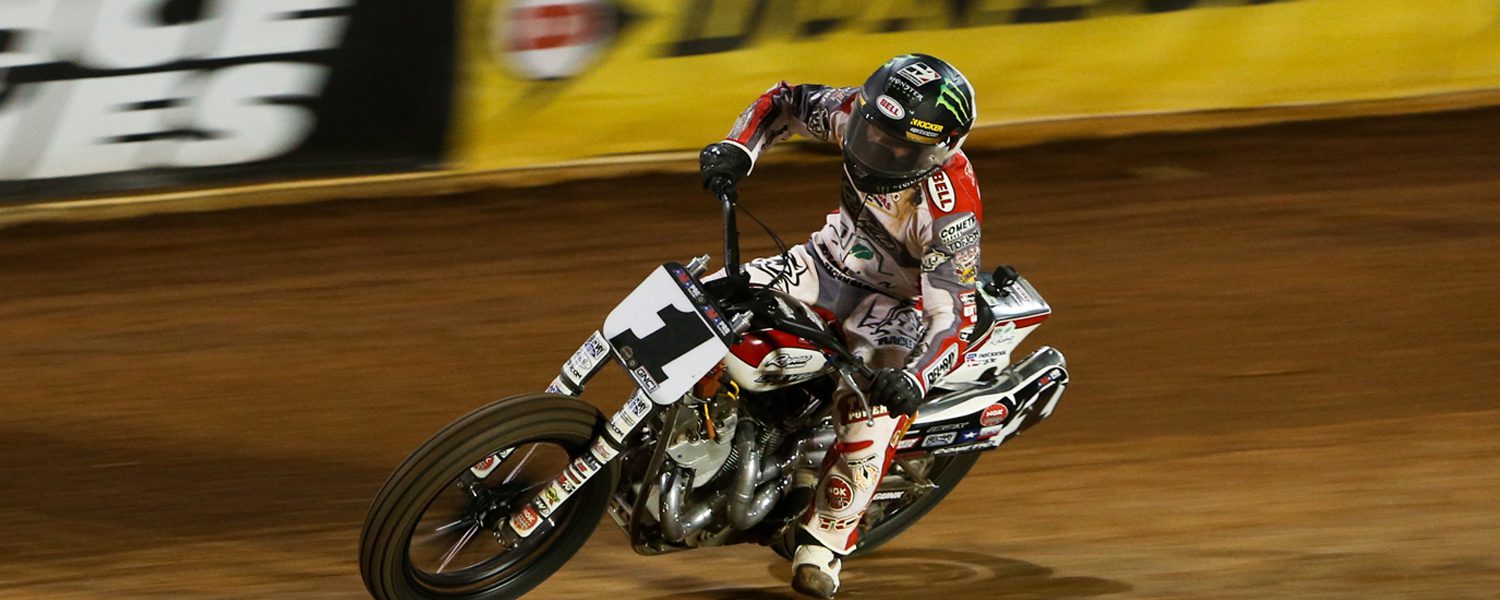 No. 1 Jared Mees has struck gold, yet again, in the Harley-Davidson GNC1 presented by Vance & Hines class at the 2016 Carolina Harley-Davidson Dealers Association (CHDDA) Charlotte Half-Mile on Saturday, July 30, at The Dirt Track at Charlotte Motor Speedway. Mees took first place over last round's winner No. 44 Brandon Robinson who came in second and Harley-Davidson Screamin' Eagle rider, No. 2 Kenny Coolbeth, Jr. who finished third.
Mees, who powers the Rogers Racing Harley-Davidson XR750, led the pack of GNC1 riders for an impressive 16 laps of the 25-lap Main Event after passing No. 69 rider Sammy Halbert on the 10th lap. Mees held the lead for the remainder of the half-mile sprint with 0.160 of a second margin of victory over Robinson on the final lap.
"This year has been nothing but redemption, with the X Games and now Charlotte," Mees said. "It's been really good. We got a decent start and then Halbert kind of rolled around the outside and I was on him for a bit and I couldn't seem to get by because I didn't want to run the same line that he was running. So I kind of made an aggressive pass but kind of took his line away, he was burning it in and was low in the middle and was taking a long time to gather the middle up. So I kind of just stuck it in there and took the line away and I didn't look back until we started running into lappers. All-in-all it paid off."
Second place finisher Robinson faced an upset after coming off of a win at the last round in Lima, OH; however, the Kennedy Racing rider is sitting in third in the overall GNC1 point standings with 120 points just under No. 42 Bryan Smith.
"I was pushing as hard as I could," Robinson said. "I was going a little bit and losing a little bit. I made a little mistake here and then I'd gain him. Those lappers really helped me quite a bit there at the end and I was hoping maybe they'd make it a little more interesting but regardless it was an awesome effort. Coming off of second after Lima is great. It was a great race by Jared and it was flawless."
At the end of the evening, Coolbeth Jr. showed consistency by landing another third place finish in Charlotte on the Zanotti Racing's Harley-Davidson XR750. The Floridian started in the 11th spot on the grid and climbed his way to third to close out the night.
"I got a pretty good start on the second row," Coolbeth, Jr. said. "I kind of put my head down there in the beginning just to keep up with these guys and kind of got a wild card there when Sammy broke, but hey, it's racing. The Zanotti team works hard. They go through those bikes with a fine tooth comb."
In the GNC2 class, the "Flying Tomato," No. 36B Kolby Carlile (Honda CRF450R), took home his career-first win Saturday night over GNC2 points leader No. 94B Ryan Wells (Honda CRF450R) and Dalton Gauthier who sports the No. 14A Yamaha YZ450F, who finished third.
"I've been dreaming of this for three years now, at least," Carlile said. "Ever since I've turned professional, I knew this day would come. I didn't quite think it was going to take this long but golly I can't thank my parents enough because they've stuck behind me through it all. It means so much. They're my biggest supporters and they always will be. I can't thank them enough. I'm just super glad to get my dad the first win. It's awesome."
Up next, AMA Pro Flat Track returns to Rapid City, S.D. to compete in the Sturgis Half-Mile onTuesday, August 9, at the Black Hills Speedway. Tickets can be purchased in advance athttps://www.blackhillshd.com/.
Award Updates
Harley-Davidson GNC1 presented by Vance & Hines:
Harley-Davidson Pole Award: No. 1 Jared Mees
McElroy Packaging Lucky 13 Award Winner: No. 1 Jared Mees
MotoBatt Hard Charger Award Winner: No. 65 Cory Texter
Öhlins Fastest Lap Award Winner: No. 6 Brad Baker
Sunoco "Go The Distance" Award Leader: No. 42 Bryan Smith (276.25 miles completed)
Learn more JARED MEES TAKES HOME THE GOLD AT THE 2016 CHDDA CHARLOTTE HALF-MILE on VANCE & HINES NEWS