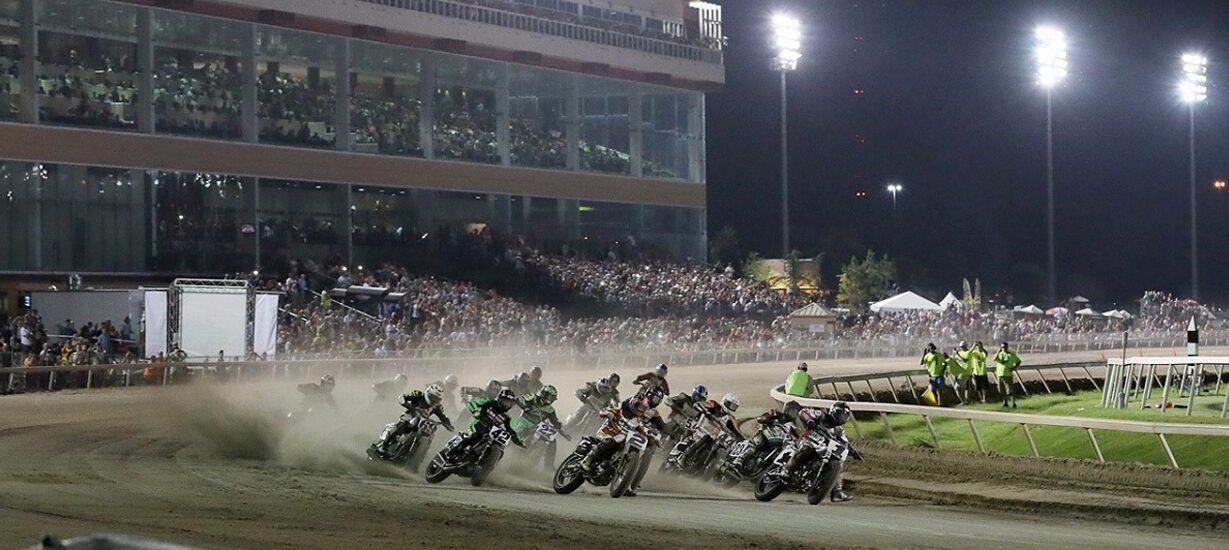 No. 1 Jared Mees dominated the inaugural Oklahoma City Mile at Remington Park on Saturday, June 18, making it his first Mile victory of the 2016 AMA Pro Flat Track season. Mees had the victory in sight for the entire 25-lap main event, commanding the field to win by an impressive margin of 2.114 seconds over second place finisher No. 42 Bryan Smith and third-place No. 17 Henry Wiles.
The Michigander boosted to a strong lead from the outset on his Las Vegas Harley-Davidson XR750, pulling away to an 11.870-second lead over major rival Smith on Lap 20 before a red flag came out to recover the No. 69 BriggsAuto.com Harley-Davidson XR750 of Sammy Halbert. On the restart, Smith grabbed the point and held it for two laps, but Mees wasn't going to surrender. The defending champ made a comeback on the 23rd lap and held on to take home the victory.
"It feels amazing," Mees said. "I knew in practice that we could actually get it on in the corners and kind of go where we wanted to go. I thought, 'Man, we can give him a fit today and he's not going to be able to control the race.' It was great. I got a great start and just hit my marks. It was cool and I'm so excited. Winning a Half-Mile is cool but everybody wanted to see this bike beat that Kawasaki. So we put the American muscle to the test. Let's get it on!"
Smith came to Oklahoma City on the heels of three Mile victories aboard his Crosley/Howerton Kawasaki Ninja 650, but wasn't able to continue his streak.
"He was just better than me through the middle of the corner," Smith said about Mees' performance. "I could get in and come out with him but in the middle, he was just dialed in on both ends. I thought I caught a lucky break there for a minute and got in the lead when he missed his shift off the line but he was just better today. I'm looking forward to Lima. I love Lima and I've won there before and have been on the podium a bunch of times."
Third place finisher, Wiles, made his first podium appearance of the season on Saturday riding his Kawasaki Ninja 650, finishing just in front of No. 54A Dan Bromley.
"The team worked really hard," Wiles said. "We broke our good bike early on today. We had a lot of fun out there and I think it was Brandon Robinson who really helped my program out there on the restart but we broke early on. A lot of guys broke in the Main event and it's kind of a tradeoff. I'm just happy to be up here on the box because I know how hard my team works."
In the GNC2 class, No. 16S Tristan Avery once again proved his dominance on a Mile circuit over second place finisher No. 28J Charles Gerencer. No. 27U Jamison Minor came in third.
"It feels great to win a third National," Avery said. "With Father's Day being tomorrow, it was definitely a special one because right before we were getting ready to go out I actually asked my dad if he wanted a victory lap tonight; he got one and I think we are all going home happy. I can't believe I won another one but I definitely had to work for this one, that's for sure. Gerencer definitely put on a great battle."
Up next, AMA Pro Flat Track returns to Lima, Ohio to compete in the Lima Half-Mile on Saturday, June 25, at the Allen County Fairgrounds. Tickets can be purchased in advance at https://www.limahalfmile.com.
Award Updates
Harley-Davidson GNC1 presented by Vance & Hines:
Harley-Davidson Pole Award: No. 2 Kenny Coolbeth, Jr.
McElroy Packaging Lucky 13 Award Winner: No. 1 Jared Mees
MotoBatt Hard Charger Award Winner: No. 17 Henry Wiles
Öhlins Fastest Lap Award Winner: No. 1 Jared Mees
Sunoco "Go The Distance" Award Leader: No. 42 Bryan Smith (229.75 miles completed)
Learn more JARED MEES WINS FIRST MILE RACE OF THE 2016 AMA PRO FLAT TRACK SEASON AT THE INAUGURAL OKLAHOMA CITY MILE on VANCE & HINES NEWS