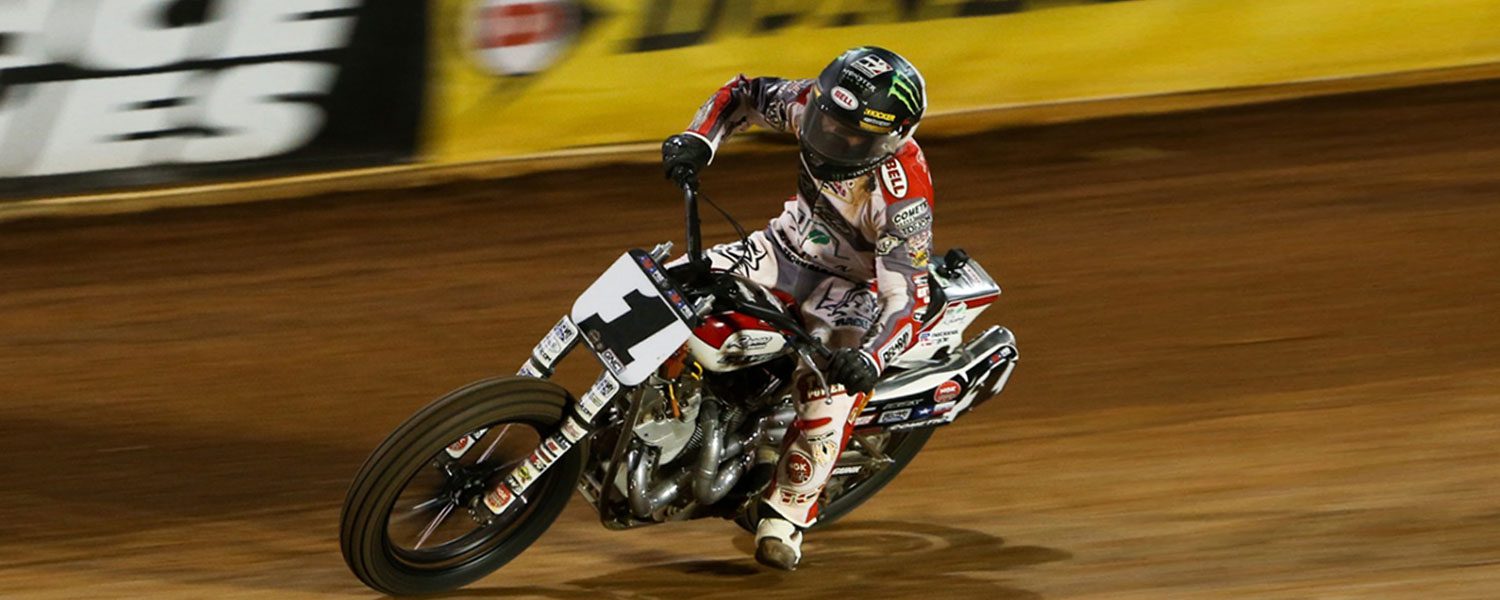 Defending Harley-Davidson GNC1 presented by Vance & Hines Champion Jared Mees put on a masterclass performance in front of a packed house at the Rolling Wheels Raceway Park on Saturday, Aug. 20 to score his fourth win of the season and extend his championship lead to 16 points over Kawasaki's Bryan Smith. Joining the pair on the podium was Jeffrey Carver, Jr. for his first podium of the season.
As time runs out in the Harley-Davidson GNC1 presented by Vance & Hines Championship, Mees knew going into the Central New York Half-Mile that he had to pad his points lead before the series went into the final two rounds on Smith's favored Mile tracks. The No. 1 Rogers Racing Harley-Davidson XR750 rider did just that, even though it looked as though Smith on the No. 42 Crosley/Howerton Kawasaki Ninja 650 had the speed to beat Mees.
Mees credited his 1.555-second victory to what he learned from the Heat Races earlier in the day and the experience of his team behind him.
"Just not overriding the race track," Mees said simply. "I knew watching the Heat Races what a good start and running your own race, not trying to push so hard to catch the guy in front of you and make more mistakes… So I wanted to go there and I clicked my laps over and over and over again. We made a few changes for the Main Event. It's phenomenal what we're doing this year, honestly. I mean Bryan (Smith) was the guy to beat; he was. All day long, he was so tough. I'm like, man he is really riding strong on these Half-Miles lately and I knew I needed to get a good start and just run my own race."
The master plan worked. Smith got caught up behind Carver, Jr. on the No. 23 BriggsAuto.com Harley-Davidson XR750, and even when Smith got past him, Mees had too much of a lead. Although it wasn't a major points loss to his rival, Smith was disappointed not to leave with a win after having a strong day.
"It didn't feel very good because Jared (Mees) beat us," Smith said. "I need to beat him. No matter what place it's for. I knew he'd be tough in the final, he always is. I just got stuck back in the beginning. I got kind of shuffled back the first couple laps and by the time I got into second, Jared just had too big of a gap. I'm bummed. I wanted to win. I was the guy to beat all day and I gave it away in the final."
On the flipside, Carver, Jr. was quite pleased to score his first podium of the season for his new team. The self-made and former privateer racer's confidence continues to grow now that he only has to worry about riding the bike. But podiums aren't going to satisfy him for long. Carver, Jr. and championship tuner Johnny Goad are looking for that win and thought they could have had it in New York.
"It feels great," Carver, Jr. said. "These types of slick tracks just come to me. I really thrive on them. It feels really good to get up on the box. I definitely know that there was a chance for a win but you know the better guys beat me tonight. I was really happy with it. I got seventh the last three weekends in a row with the new team and it's just stellar, really. I'm just stoked about it."
While the battle for the GNC1 Championship rages on, the GNC2 title was clinched early. Ryan Wells' second-place finish was all that was needed for the No. 94B Parkinson Brothers Racing Honda CRF450R rider to seal the deal back in his home state of New York.
"A new team, great people – guys who just want to win at the race," Wells said about his Parkinson Brothers Racing squad. "To get three races this season – a fourth would've been cool – but man, this Championship is not going to get old and I am beyond excited. I just can't thank those guys enough. It all paid off. I'm just too excited.
"It's been five years, took a little longer than we wanted, but me and Parkinson Brothers Racing, we wanted this thing. So I can't thank them enough and can't thank everybody else enough that helped me to get me here. I'm stoked!"
As Wells said, the only thing that would have made it sweeter would have been a win, but he wasn't going to be too greedy. Early on, it looked as though Wells was on track for that win, but Dalton Gauthier on the No. 14A DGR Motorsports Yamaha YZ450F wasn't going to let him have it. He stayed right on Wells' tail and once Gauthier got past Wells, he built himself a healthy lead to score his third win of the season.
"I didn't really get off to a good start," Gauthier said. "Ryan (Wells) got the hole shot on me and I knew I just had to stay away from him the whole race and I can make my move. My dad had the bike working amazing and it was getting better and better as the race went on, and I ended up passing Ryan. We had a nice little battle going on and I just saved myself for the end of the race and that's what I needed to do."
No. 99J Ben Evans Honda CRF450R rider Kevin Stollings finished third, his fourth podium of the season.
In a few weeks time, AMA Pro Flat Track heads to Springfield, Ill. for the penultimate round of the Championship at the legendary Springfield Mile II on Sunday, September 4. Tickets can be purchased in advance at https://www.springfieldmile.org/Tabs/Events/EventList.aspx.
Award Updates
Harley-Davidson GNC1 presented by Vance & Hines:
Harley-Davidson Pole Award: No. 23 Jeffrey Carver, Jr.
McElroy Packaging Lucky 13 Award Winner: No. 1 Jared Mees
MotoBatt Hard Charger Award Winner: No. 20 Jarod Vanderkooi
Öhlins Fastest Lap Award Winner: No. 42 Bryan Smith
Sunoco "Go The Distance" Award Leader: No. 5 Jake Johnson (352.79 miles completed)
ThreadBeast "Beast on the Track" Award: No. 55 Jake Shoemaker
Learn more JARED MEES WINS THE CENTRAL NEW YORK HALF-MILE on VANCE & HINES NEWS