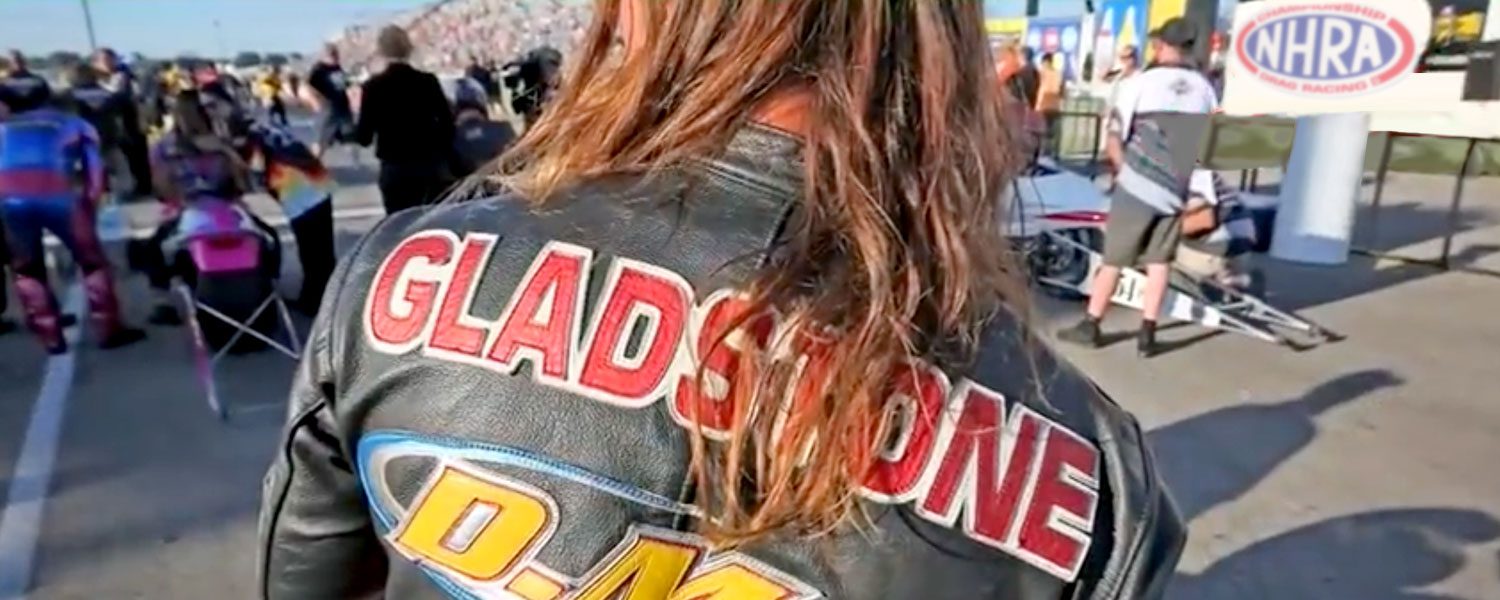 Courtesy of Eat My Ink
Joey Gladstone has won multiple Pro Street championships in the MIRock Superbike Series, International Dragbike League, and Manufacturers' Cup. Pushing 700 turbocharged horsepower through street legal rubber to almost 220 mph in 6.74 seconds on the quarter mile while winning championships year after year would be laurels enough to make the career of nearly any motorcycle drag racer, but 25 year-old Gladstone is too young to settle. He wants more—like plying his trade on a Pro Stock Motorcycle in front of the packed stands and vast TV viewership of the NHRA Mello Yello Series.
So when Joe Riccardi called up looking for a replacement rider on his San Marino Excavating Suzuki (while regular rider Brian Pretzel recovers from shoulder surgery), Gladstone jumped at the chance.
The pair tested at Lucas Oil Raceway just outside of Indianapolis a few weeks ago, then unloaded there again this past weekend for the mega-huge NHRA Chevrolet Performance U.S. Nationals.
And while they were in good company in not qualifying for the ultra-competitive field, they turned a lot of heads while there—including three-time NHRA champion Eddie Krawiec.
Krawiec, rider of a Vance&Hines/Screamin' Eagle Harley-Davidson, helped make the connection between Gladstone and V&H customer Riccardi. "Just trying to help out and make sure he starts on the correct foot," Eddie said about Gladstone. "When I started here I had great info and help. So if I can pass on what I've been told and shown to someone that will appreciate it, I am happy to help.
"Some people may be really great racers but can't afford to do it and just need a little bit of a break. I was lucky and it happened to me, so if I can make it happen for someone else, I'm happy to help if they're hungry enough to go after it.
"He rode well and did a great job. He got better each lap and it was great to see him make a dream come true. Next time out will be a lot easier and I expect to see better results now."
And the next time out for Gladstone and the San Marino Excavating Suzuki will be September 23-25 at Gateway Motorsports Park, followed by NHRA races at Maple Grove and Las Vegas. In between will be busy race weekends at IDBL and Man Cup events.
Watch this video detailing Gladstone's US Nationals weekend: https://youtu.be/cMf9RMn2sdE
After the weekend in Indy, Joey went to his local barbershop and trimmed down his well-known "long hair horsepower," donating the mane to Pantene's Beautiful Lengths—a cancer patient wig provider.
This report was prepared by Tim Hailey. Enjoy everything there is to read, see and watch about motorcycle drag racing and more at https://www.eatmyink.com
Learn more JOEY GLADSTONE'S U.S. NATIONALS WEEKEND on VANCE & HINES NEWS