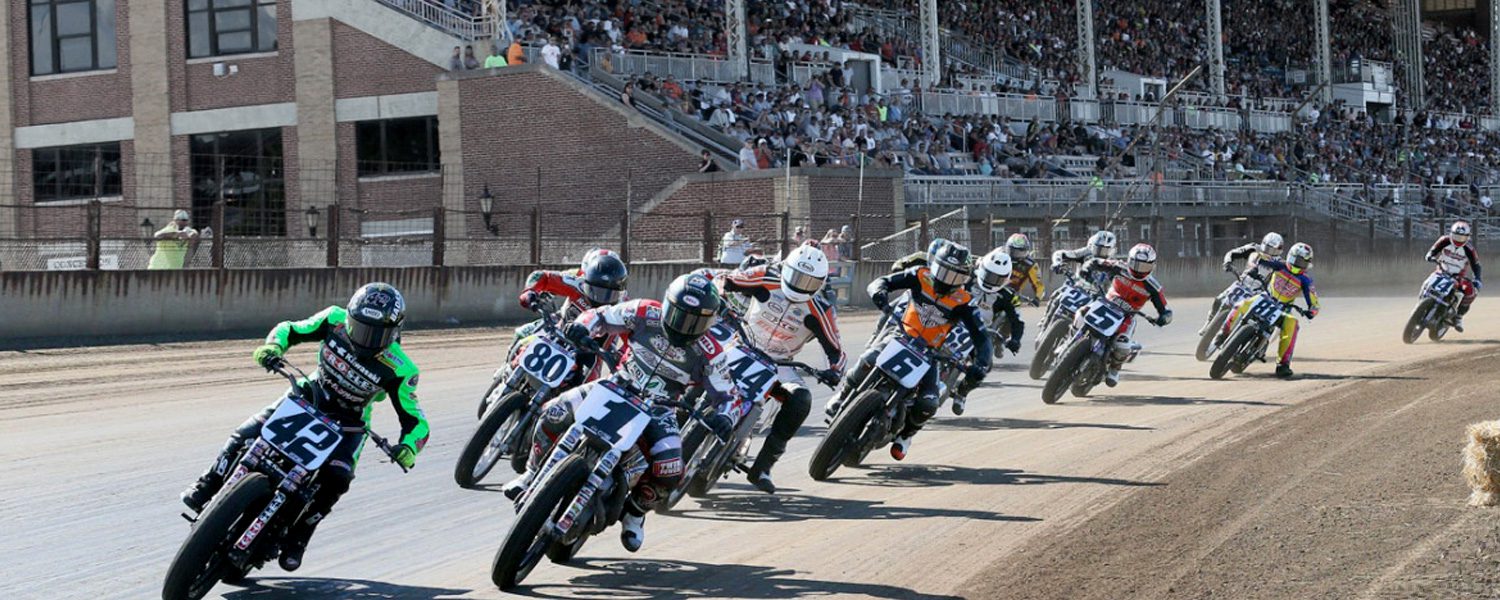 Bryan Smith proved his dominance at the Springfield Mile I on Sunday, taking home his third consecutive Mile victory of the 2016 AMA Pro Flat Track season. This Mile win didn't come as easily, as the Michigan native had to fight to the finish with a pack of riders every lap, topping second place finisher No. 1 Jared Mees by a margin of 0.119 of a second at the conclusion of the race.
Smith, who pilots the third-generation No. 42 Crosley/Howerton Kawasaki Ninja 650, wrestled tirelessly with Harley-Davidson-mounted riders, Mees, eventual third place finisher No. 6 Brad Baker and No. 2 Kenny Coolbeth, Jr. and was officially scored with leading 16 of the 25-lap Main Event. The win was also Smith's third consecutive Springfield Mile victory, having won both of last year's contests at the historic venue.
"It feels pretty awesome," Smith said. "To have three Miles back-to-back and win them all. I don't care what kind of track it is, it's awesome. But to win the Miles that I love, obviously to have three in a row at a historic venue like Springfield, is great. There's not just one thing that was going through my mind through the last lap. There was a million thoughts of what to do, what not to do, go fast, not too fast, spin the tires, just a million thoughts. I was able to get just enough of a draft off of turn four in that last lap and just barely squeak by Jared."
Three-time and reigning Grand National Champion Mees expressed his desire to win the coming races over the "Mile Specialist" but shared his appreciation for the bar-to-bar racing that went down during Sunday's race.
"It's definitely getting old finishing second on the Miles to the same guy," Mees said. "But hats off to those guys. They're working hard and that thing is fast. It's hard to get it before the finish line but the team is working really hard and we're trying to find more and more power and reliability. I felt like we had a little bit more than last year but you know, it is Mile racing at its best and a close finish is normal at the Springfield Mile."
Baker officially led three laps during the Main by using the all-important draft to push past his competitors. The Washington native took home the final spot on the podium.
"It feels really good," Baker said. "I've had the speed the last three races or so but it feels good to be here on the podium. It was a really fun race and the end of the race was an all-out battle."
Baker's Factory Harley-Davidson teammate No. 67 Davis Fisher had a lot to prove with the competition debut of the next generation Harley-Davidson XG750R, and the rising star did not disappoint. Fisher experienced a mechanical issue in his Heat race but earned his Main Event starting spot thanks to a photo finish in his Semi race for the final transfer position. After picking off riders throughout the Harley-Davidson GNC1 presented by Vance & Hines Main Event, Fisher earned the new machine its first Top 10 result with his eighth place finish.
"Davis is doing a great job of developing the new bike and moving forward with it but we know the XR is proven and capable of winning," Baker continued. "Now we know the XG is capable of getting into the top 10 and now we have to see if it is capable of getting on the podium and winning. Until it gets to that point, I'm going to keep on the old, faithful XR750 that's been around for 44 years and then eventually going to be jumping onto that thing when it's ready. I want that bike to get better because if it gets better than the XR that means I'll have a weapon to try to get on the top spot or the box on these Miles instead of always nipping at the heels of the Kawasaki."
Smith now leads the Harley-Davidson GNC1 presented by Vance & Hines point standings by 16 points over No. 69 Sammy Halbert, 110-94.
In the GNC2 class, No. 94B Ryan Wells was unrelenting as he duked it out for his first Mile win of the 2016 season with second place finisher No. 99J Kevin Stollings and third place No. 23F Jeffery Lowery.
"It's my first Mile (win) and it's awesome," Wells said. "Especially at the Springfield Mile, the biggest Mile you could win, and for it to be a typical Springfield Mile ending, winning by half of a tire, it's cool. I would have liked to win by more but it's awesome. I wish I wouldn't have seen a red flag with two laps to go but it all worked out and I'm happy. I knew I had a fast bike but I was drafting Stollings earlier in the race, and the kid's real small and lightweight, so I knew if anybody could get by me before the line it would be him. I came out of turn four and I heard somebody; I peeked down underneath my handlebars and I saw the red bike and I knew it was him. I got as small as I could and was watching our front wheels go across the line and I was pretty pumped about it."
Wells now leads the GNC2 point standings by 18 points over No. 14A Dalton Gauthier, 103-85.
Up next, 20 of the top AMA Pro Flat Track riders head to ESPN's Summer X Games in Austin, Texas for the Harley-Davidson Flat-Track race on Thursday, June 2 at Circuit of The Americas. Be sure to purchase your tickets in advance at https://www.xgames.espn.go.com/xgames or tune in to ESPN on Thursday at 10:00 p.m. ET (7:00 p.m. PT).
Award Updates
Harley-Davidson GNC1 presented by Vance & Hines:
Harley-Davidson Pole Award: No. 42 Bryan Smith
McElroy Packaging Lucky 13 Award Winner: No. 1 Jared Mees
MotoBatt Hard Charger Award Winner: No. 67 Davis Fisher
Öhlins Fastest Lap Award Winner: No. 73 Doug Lawrence
Sunoco "Go The Distance" Award Leader: No. 65 Cory Texter (197.5 miles completed)
Learn more KAWASAKI'S BRYAN SMITH WINS THIRD CONSECUTIVE MILE IN 2016 AT SPRINGFIELD MILE I on VANCE & HINES NEWS