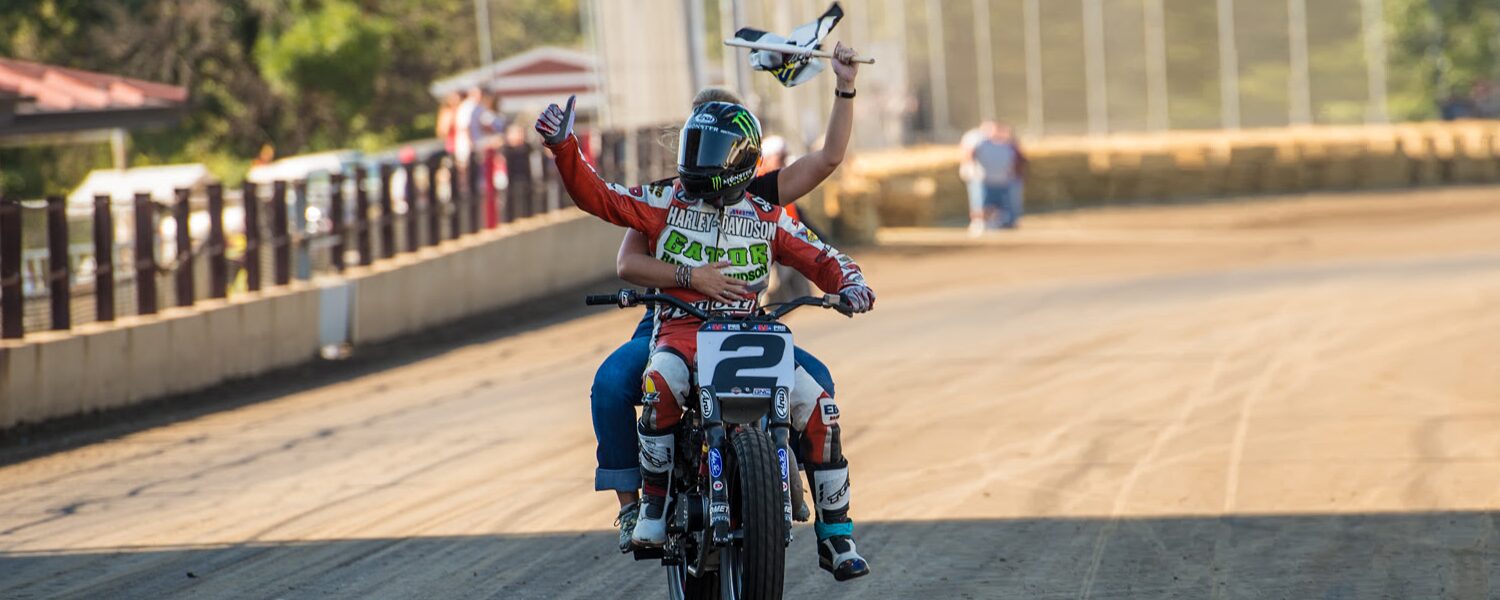 The Springfield Mile never fails to disappoint and this year's second running of the legendary Mile race at the Illinois State Fairgrounds in Springfield, Ill. was no exception. Kenny Coolbeth, Jr. came out on top in a last-lap thriller, taking the win by .009 of a second to end Bryan Smith's win streak at Springfield and shake up the Harley-Davidson GNC1 presented by Vance & Hines Championship.
It also marked the No. 2 Zanotti Racing Harley-Davidson XR750 rider's first win of the season, and Coolbeth, Jr. was overjoyed to get that win at Springfield.
"Harley won Springfield [Woohoo]!" Coolbeth, Jr. said. "It's good. It's been up and down. It's not due to lack of effort, that's for sure. It's just racing. We just keep striving and it's paying off and you know we can carry this momentum to Santa Rosa."
Smith may have been the man to beat at the Springfield Mile II, as the No. 42 Crosley/Howerton Kawasaki Ninja 650 rider topped every session except the final one, but Coolbeth, Jr. knows a thing or two about the Miles himself.
"I tried a little bit (to pass Bryan Smith before the final lap)," said Coolbeth, Jr. "But I knew I wouldn't get all the way around him going down the straightaway like a legit draft pass, so I just buried it off in there just like I did when I beat him the other time and it worked out. I kind of screwed up coming out; kind of a little high and spun up, but it worked out."
Smith knew it was coming too, and he's kicking himself for it.
"He was right there the whole race," Smith said. "When you get beat by somebody you think you're better than it makes you mad. But Kenny is so good and is like a legend at doing stuff like that. You're mad because you didn't beat him, and pumped when you do beat him but when he beats you, he's one of a kind on a flat track bike, so it's kind of alright."
Also taking the sting out of not getting that coveted Springfield Mile win was the gains Smith made in the Championship battle with Jared Mees on the No. 1 Rogers Racing Harley-Davidson XR750. Unfortunately, for the defending GNC1 Champion, Mees suffered his second mechanical of the year at Springfield, moving Smith within 17 points of Mees going into the final round at Santa Rosa.
Taking the third and final spot on the podium was Cory Texter on the No. 65 Cory Texter Racing/Cycle World Kawasaki Ninja 650.
"I felt good all day," Texter said. "This is the best leg we've ever had at Springfield. And we really liked our chances. It feels good. I thought towards the end there I had a shot at the win. I creeped up on those guys, so it feels great. It actually feels a little better than my first one (GNC1 podium) I did earlier in the year. Springfield is the most historic and the track that everyone wants to win a podium at. Another podium feels good but there's two steps left: trying to get that first win."
Meanwhile in the GNC2 class it was a Kawasaki sweep with Ryan Wells taking the top spot with his No. 94B Parkinson Brothers Racing Kawasaki Ninja 650 for the second-time this year at Springfield, also his fourth win this season.
"It started awesome," Wells said. "I got the hole shot and I didn't see anything. I think that was pretty scary, actually. Then, of course, once again on the last lap somebody decides to sneak up on the outside of me and I just wasn't going to budge up from the bottom. This thing brought it home. So I just can't thank Parkinson Brothers enough for giving me a strong steed to get me across the line first."
Wells went into 2016 without a win on the Mile, and now he has two to his resumé. The 20-year-old credits his Mile wins to a guy who knows a thing or two about Miles: training partner Smith.
"I mooched so much off of Bryan Smith," Wells said. "Anything I can feed off of that guy, you know I take it. The guy's awesome here. It definitely has helped me hugely this year. Coming up this year I never would've thought I'd win a Mile. Now that I've won two, it's just incredible. I just can't thank my team enough for giving me the opportunity."
Joining Wells on the podium was Dalton Gauthier on the No. 14A Racing Unlimited Kawasaki Ninja 650 and Tristan Avery on the No. 16A Ron Ayers Motorsports Kawasaki Ninja 650, finishing second and third, respectively.
In a few weeks time, AMA Pro Flat Track heads to Santa Rosa, Calif. for the season finale at the Ramspur Winery Santa Rosa Mile on Sunday, September 25. Tickets can be purchased in advance at https://www.showclix.com/events/22716.
Award Updates
Harley-Davidson GNC1 presented by Vance & Hines:
Harley-Davidson Pole Award: No. 42 Bryan Smith
McElroy Packaging Lucky 13 Award Winner: No. 42 Bryan Smith
MotoBatt Hard Charger Award Winner: No. 81Z Zakk Palmer
Öhlins Fastest Lap Award Winner: No. 24F JR Addison
Sunoco "Go The Distance" Award Leader: No. 5 Jake Johnson (405.79 miles completed)
ThreadBeast "Beast on the Track" Award: No. 81Z Zakk Palmer
Learn more KENNY COOLBETH, JR. WINS SPRINGFIELD MILE II OVER MILE SPECIALIST BRYAN SMITH on VANCE & HINES NEWS