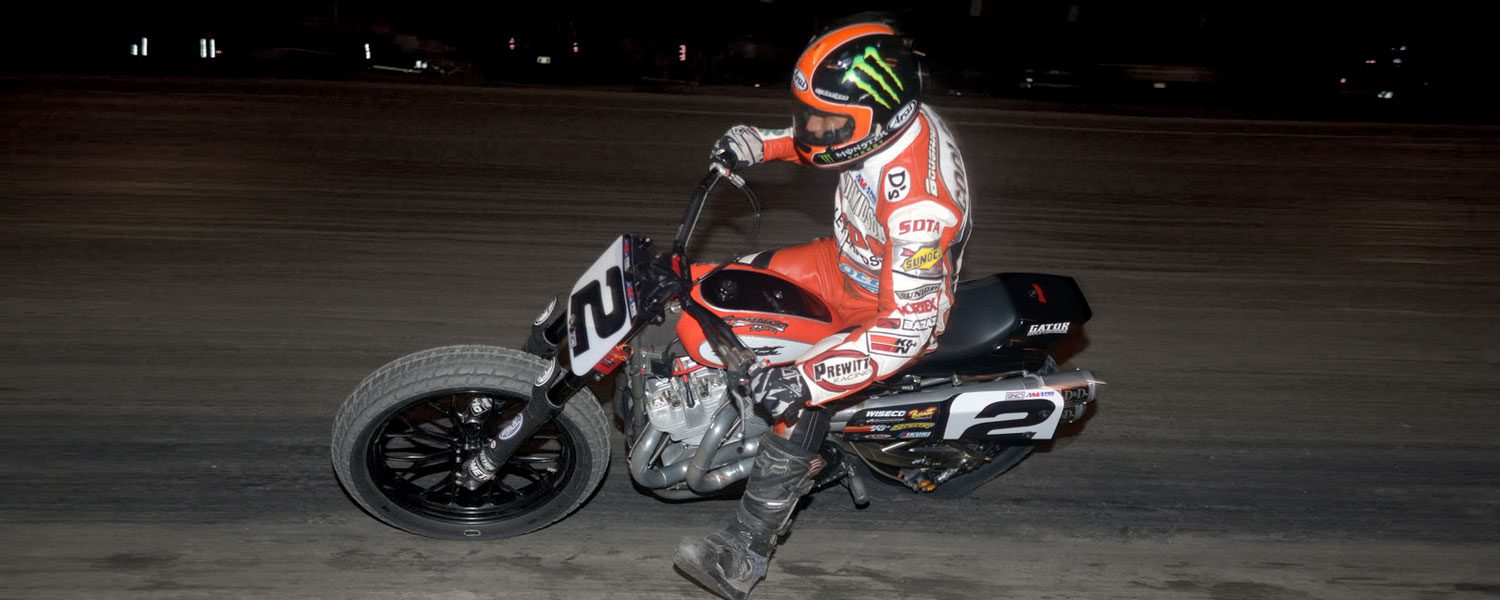 Kenny Coolbeth, Jr. started fast and finished faster on Saturday night at the Roar on the Shore in Delmar, Del. The No. 2 Zanotti Racing Harley-Davidson rider led all 25 laps of the Harley-Davidson GNC1 presented by Vance & Hines main event at Delaware International Speedway to earn his second win of the 2015 AMA Pro Flat Track season.
Coolbeth's victory brought the packed house to their feet when he crossed the finish line 1.661 seconds ahead of second-place finisher Jeffrey Carver, Jr. With the win, Coolbeth now sits third in the Harley-Davidson GNC1 presented by Vance & Hines point standings and the victory marked his 35th in a long and successful career at the top level of the sport.
"This win feels really good," said Coolbeth, Jr. "And it's all due to great people. If it wasn't for the Atherton family and Dave Zanotti, I wouldn't be doing this. It's a dream come true for me to be racing motorcycles and it always has been. I have accomplished a lot in my career and I'm thankful for it. We just need to keep winning races."
Aside from riding a brilliant race in Delaware, Coolbeth, Jr. benefited from two pre-race issues faced by heavy hitters Jared Mees and Bryan Smith.
During his sighting lap, Smith suffered a bike malfunction to his No. 42 Crosley Radio Kawasaki and was forced to switch to his backup bike, which resulted in the "Mile Specialist" having to start from the penalty row. Mees, the defending GNC1 champion and current series points leader, found himself starting next to Smith after jumping the start and being sent back to the penalty row as well.
This was now Sammy Halbert's race to lose. The Briggs Auto pilot, who came into the weekend third in the points, started from the front row and battled hard with the lead pack aboard his No. 69 Harley-Davidson in the early laps of the race. By Lap 13, Halbert had climbed from seventh to fourth and was poised to take over a podium spot from the No. 5 Factory Harley-Davidson of Jake Johnson. In a rare miscue, Halbert went down in between Turns 3 and 4, bringing out a red flag and breaking a handlebar that ended his night.
On the restart, Coolbeth, Jr. resumed his dominant march by continually building his lead from 0.378 of a second on Lap 13 to 1.661 seconds at the end of the race. Mees maintained a respectable eighth-place finish, while Smith was never able to find his groove, finishing an eventual 14th.
Mees now sits seven points ahead of Smith in the standings, 188-181, while Coolbeth, Jr. finds himself in third place just 20 points off the lead.
Carver's impressive runner-up finish aboard the No. 23 Don's Kawasaki machine was his career-best finish aboard a twin-cylinder machine in AMA Pro Flat Track competition. The Alton, Ill., rider now sits 10th in the Harley-Davidson GNC1 presented by Vance & Hines point standings. Jake Johnson was able to maintain his third-place position throughout the main event aboard the No. 5 Factory Harley-Davidson.
Young guns Dominic Colindres, riding the No. 66Y Babe Demay Yamaha, and Jarod Vanderkooi, teammate to Carver, Jr. and pilot of the No. 17F Don's Kawasaki machine, rounded out the top five, respectively.
Learn more KENNY COOLBETH JR. WINS WILD GNC1 MAIN AT THE ROAR ON THE SHORE on VANCE & HINES NEWS