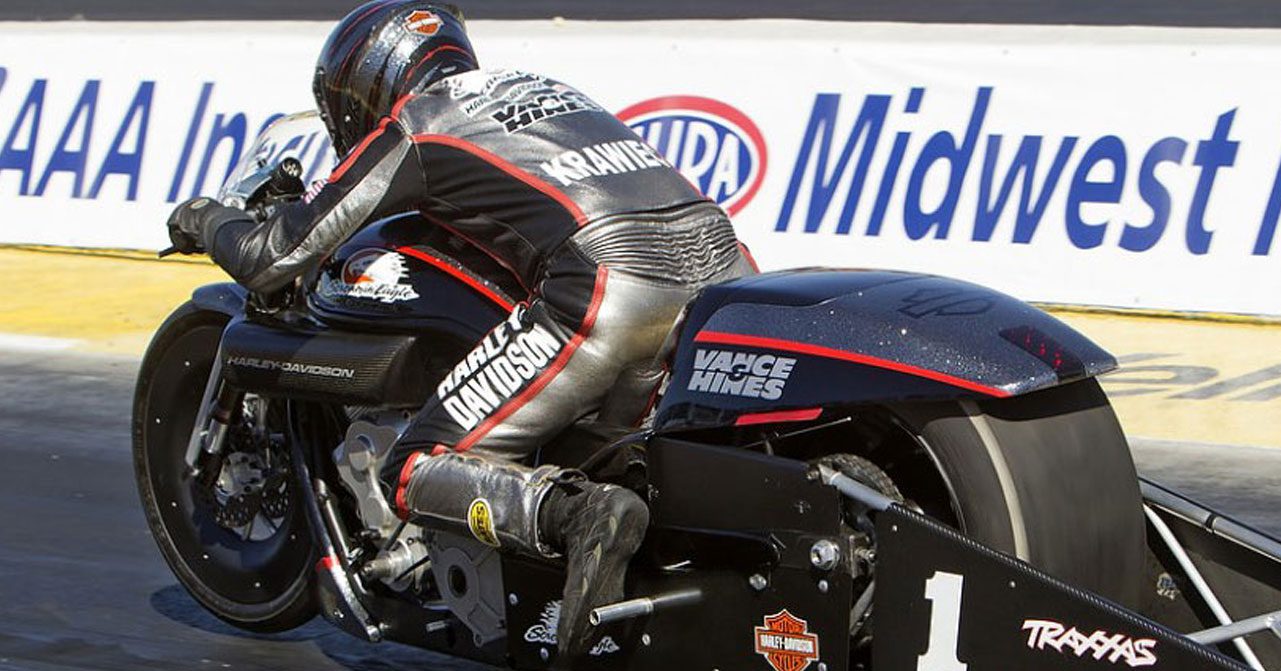 MADISON, IL (September 29, 2013) – Harley-Davidson® Screamin' Eagle®/Vance & Hines rider Ed Krawiec advanced to the second round of eliminations at the AAA Insurance NHRA Midwest Nationals at Gateway Motorsports Park after qualifying sixth for the event.
Riding a Harley-Davidson® V-Rod® motorcycle, Krawiec posted a best Elapsed Time (ET) of 6.872 seconds in qualifying rounds. Harley-Davidson® Screamin' Eagle®/Vance & Hines rider Andrew Hines qualified the team's other V-Rod motorcycle in 12th position with an ET of 6.901 seconds. Lucas Oil Buell rider Hector Arana Sr. led all qualifiers with an ET of 6.796 seconds.
On Sunday, Krawiec won his first-round match over Billingsley Towing Service Suzuki rider Steve Johnson. Facing Viper Motorcycle Company Buell rider Matt Smith in round two, Krawiec fouled at the start by 0.007 second.
"I had a good run in the first round, with a great 60-foot time, but I knew Smith had a fast motorcycle today and I'd need to beat him at the line," said Krawiec. "I had some good lights in qualifying, so we set the bike up for a 0.015, but just missed. I guess you live by the tree and die by it, too."
Hines lost in the first round to Viper Motorcycle Company Buell rider John Hall.
"We are getting closer with my bike, but it didn't do well at 60 feet, plus I think we missed the tuneup a bit when the weather changed overnight," said Hines. "We'll put on a new rear tire try to improve the starts next week at Reading."
Smith defeated Nitro Fish Suzuki rider LE Tonglet in the final, and took over the Pro Stock Motorcycle points lead.
After three of six events in the NHRA Countdown to the Championship playoffs, Smith leads the class with 2,369 points. Lucas Oil Buell rider Hector Arana Jr. drops back to a tie for second place with Arana Sr. at 2,294 points. Sovereign-Star Racing Buell rider Michael Ray is fourth with 2,277 points, followed by Krawiec with 2,253 points. Hines did not qualify for the Countdown.
The NHRA Countdown the Championship resumes October 2-5 at the 30th annual Auto-Plus NHRA Nationals at Maple Grove Raceway in Mohnton, Pa.
Learn more KRAWIEC AND HARLEY V-ROD RACE TO 2ND ROUND AT ST. LOUIS on VANCE & HINES NEWS