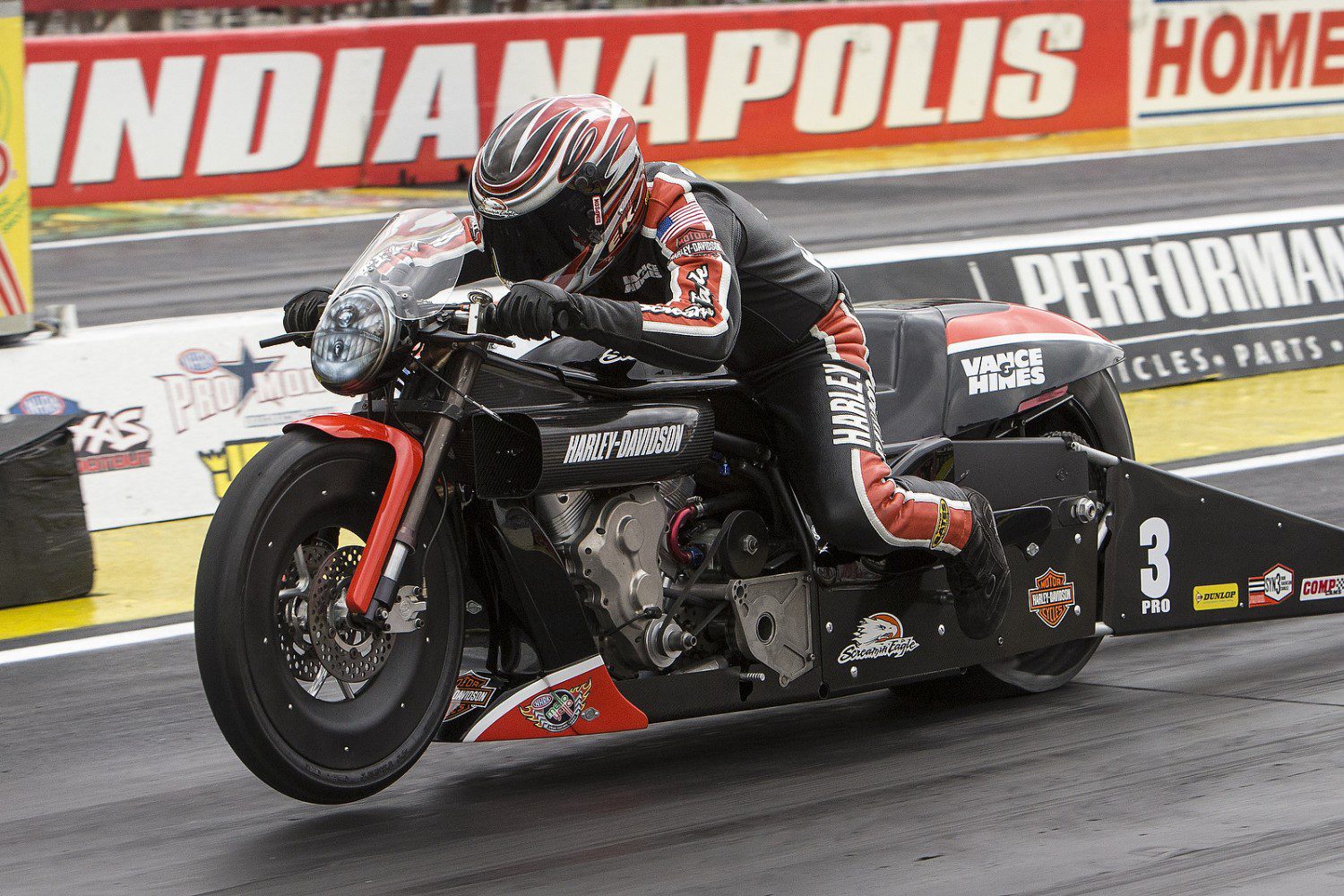 Courtesy of Harley-Davidson
INDIANAPOLIS, Ind. (Sept. 2, 2014) – Harley-Davidson® Screamin' Eagle®/Vance & Hines rider Ed Krawiec stormed through the Pro Stock Motorcycle field at the Chevrolet Performance NHRA U.S. Nationals at Lucas Oil Raceway Monday to earn his first career win at the prestigious drag racing event. It was the third win of the season and second in a row for Krawiec in the NHRA Mellow Yello Drag Racing Series.
"It's so awesome to get a win here at Indy," said Krawiec, a three-time Pro Stock Motorcycle champion. "There's so much tradition at this race, a win here is sort of on a different level. My professional goals have always been to get a win at my home track in Englishtown, to win the championship, and to get a win at Indy. Now I've done all three. It would be great to cap this season with another championship for Harley-Davidson."
Krawiec moves on to the six-race Countdown to the Championship playoffs with the second seed in the Pro Stock Motorcycle class. Harley-Davidson® Screamin' Eagle®/Vance & Hines rider Andrew Hines locked up the number-one seed for the Countdown with a win in the first round of eliminations on Monday.
"That number one seed is a nice place to be," said Hines. "I don't think I've been there since 2010, and I'll sure take the 20 bonus points that go with it."
Krawiec set the tone for his Labor Day weekend by earning the top qualifying position with a 6.829-second run aboard his Harley-Davidson® V-Rod® motorcycle in round four on Sunday. Hines qualified the team's other V-Rod ninth with an Elapsed Time (E.T.) of 6.926 seconds.
In Monday's elimination rounds, Hines defeated Nitrofish Suzuki rider LE Tonglet in the first round before losing to Krawiec in round two.
"Meeting Ed in the second round is a consequence of qualifying in the lower half of the field," said Hines. "We never got my bike running as well as Ed's this weekend, and we had some tire issues. But we got in some extra runs and good data we can take into the Countdown."
Krawiec scored solid wins over PiranaZ Racing Buell rider Shawn Gann, Hines, and Lucas Oil Buell rider Hector Arana Jr. to advance to his fifth final-round appearance of the season. In a reprise of the September 27 final at Sonoma Raceway, Krawiec faced number-two qualifier Jerry Savoie on his Savoie Alligator Farm Suzuki. For the second race in a row, Krawiec was the winner with an ET of 6.941 seconds to the 6.987-second run of Savoie. Krawiec now has 25 career final-round wins.
"I had such a good V-Rod motorcycle to race all weekend," said Krawiec. "We changed my entire set-up on Saturday and gave away my lead in qualifying, but I knew I had the motorcycle to take it right back. The Screamin' Eagle team is going to carry some real momentum into the Countdown."
Series points for the top-ten riders now re-set for the six-race Countdown, with 10 points separating each rider and Hines getting 20 bonus points for earning the top seed.
The Countdown to the Championship gets underway on Sept. 12-14 at the 7th annual NHRA Carolina Nationals at zMAX Dragway in Concord, N.C.
Learn more KRAWIEC RACES HARLEY V-ROD TO U.S. NATIONALS WIN AT INDY on VANCE & HINES NEWS