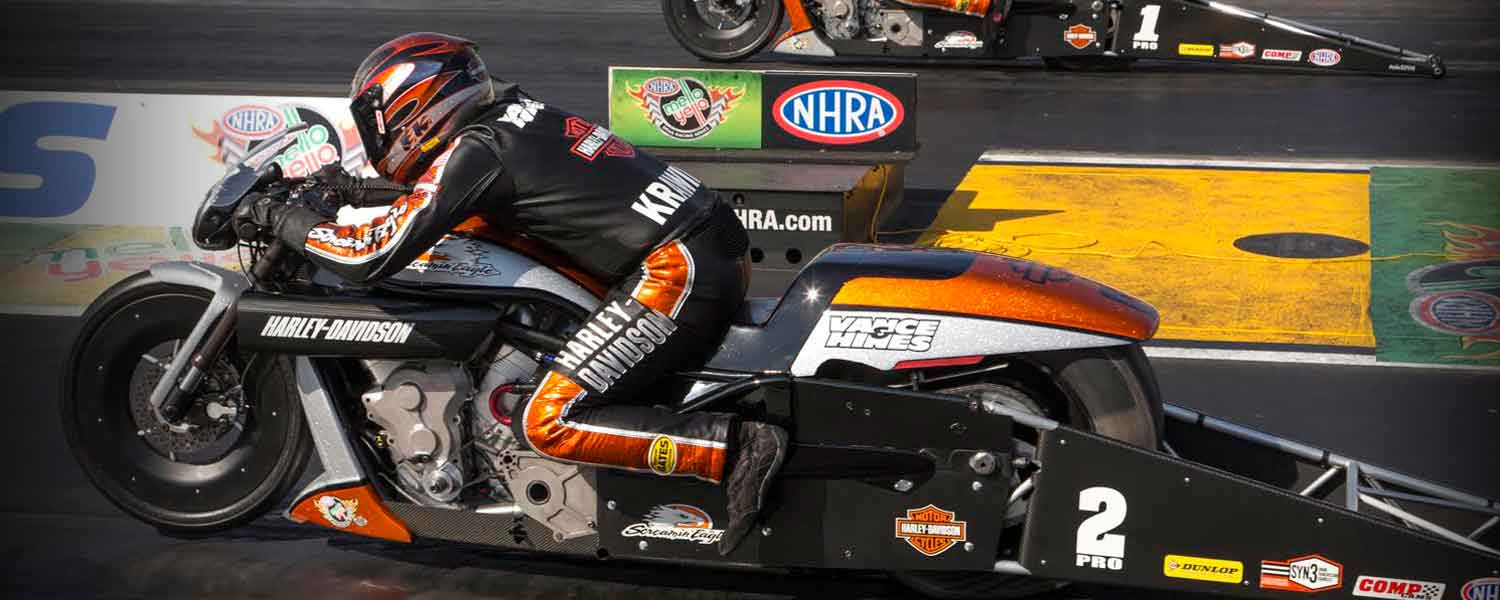 Courtesy of Racin' Today
Eddie Krawiec's Excellent Mid-Summer Adventure continued Saturday, when the three-time world champion won the NHRA Pro Bike Battle at the 28th annual Sonoma Nationals.
Krawiec also secured pole position in the two-wheel category at the NHRA Mello Yello Drag Racing Series event in California's wine country. Krawiec, who bagged his second pole of the season and 25th of his career, collected $7,500 for his victory in the all-star bonus race featuring the eight quickest riders from the last year.
Meanwhile, "Fast" Jack Beckman (Funny Car), Antron Brown (Top Fuel) and Chris McGaha (Pro Stock) also earned No. 1 qualifying positions at Sonoma Raceway and will lead their classes into Sunday's eliminations. ESPN2 will air three hours of coverage Sunday starting at 9 p.m. (EDT).
Krawiec defeated Scotty Pollacheck and Jerry Savoie in the first two rounds of the Pro Bike Battle and claimed the win aboard his Screamin' Eagle Vance & Hines Harley-Davidson when teammate Andrew Hines triggered the red-light in the final round.
"I was a little surprised that Drew red-lighted," said Krawiec, the class point-leader. "I actually expected him to cut the (Christmas) Tree down. I thought he'd be 0.20 or better but he said he changed the way he held the (clutch) lever _ and we know what happens when you change your routine. His bike has come around a little and so has mine."
Krawiec began the NHRA's annual three-race Western Swing with a victory last Sunday during the 36th annual Mopar Mile-High Nationals at Bandimere Speedway in Morrison, Colo., near Denver, from the No. 1 position. He will open competition Sunday against Angie Smith and her Victory.
"Everyone knows we've struggled a bit this year and it took a lot of hard work to get down this road," Krawiec said. "We ran well but we weren't consistent. Before Denver, we went to a test session because we just didn't know where to look. Now, we do. I can't thank Matt Hines (crew chief) and the rest of the Vance & Hines team enough. We have a great bike and I hope we can repeat what we did today."
Beckman, Steve Torrence (Top Fuel) and Larry Morgan (Pro Stock) also began the Western Swing with victories at Bandimere Speedway.
No one in Funny Car was able to improve Saturday on Beckman's jaw-dropping 3.921-second run from Friday. However, Beckman ran quick enough on Saturday's final attempt to certify his 3.921-second 1,000-foot pass as the provisional national record. That comes with a 20-point bonus if Beckman can hold onto it through the end of the event. It was Beckman's second pole of the season and 12th of his career. He will open eliminations against two-time world champion Tony Pedregon.
Beckman ran as a single in the final qualifying session after two-time/reigning world champ Matt Hagan's Don Schumacher Racing flopper broke on the starting line. Beckman powered his Infinite Hero Foundation Dodge Charger R/T to an impressive run of 3.958-seconds at 318.84 mph in the heat of the day. The 3.958-second pass gave Beckman the one percent back-up required for the record. Beckman's team is led by crew chief Jimmy Prock and assistants Chris Cunningham and John Medlen.
"I think it's bitchin' to be the quickest Funny Car driver in the world, but I want the trophy at the end of the day," said Beckman, the 2012 world champ. "The national record is for the crew chiefs. If we can win (Sunday) I think that's one that over time would be looked upon as domination. If you can qualify No. 1, set a national record and convert that to the trophy, that is one for the history books."
Point-leader Hagan qualified second and will race Paul Lee, while 16-time champ John Force qualified third and will meet John Hale in Round 1.
In Top Fuel, Brown claimed his fifth pole of the season and 42nd of his career with his track-record 1,000-foot performance of 3.707-seconds at 326.95 mph in his Matco Tools dragster. Brown will go for his fourth win of the season beginning with a first-round matchup against Steve Chrisman.
"The run we just made gears you up for the first round (Sunday)," said Brown, the 2012 world champion from the DSR stable. "It gives you a great deal of confidence going into tomorrow, but you have to remember it's nitro and anything can happen with these cars. We have to be poised and execute the best we can to get by the first round. The car ran some great ET's today, and at no point was it in trouble.
"I have all the confidence in the world in my team. I need to do my job to keep it in the groove and have a good reaction time. If we all work to the best of our abilities, we have a chance at winning the race."
Dave Connolly qualified second and will race Terry McMillen, while J.R. Todd will face Jenna Haddock in the No. 3 versus No. 14 bracket.
In Pro Stock, McGaha earned his fourth pole of the season based upon his Friday track-record quarter-mile time of 6.499-seconds at 212.36 mph in his Harlow Sammons Racing Chevy Camaro. McGaha will meet V. Gaines in Round 1 as the Texan remains in hot pursuit of his first career victory.
"We got a lot of data today that was very helpful because this was more like race-day," McGaha said. "The weather was a bit worse so we didn't have to tone it down too much. When you make those late (Friday night) runs it's fun, but it's mostly throwaway information. As a rule, the Pro Stock guys are good at adapting to the track. Very seldom do we have problems unless the conditions change when we're in the lanes. That happens occasionally but we had a good handle on it today."
Defending event winner Jason Line, a two-time world champ, qualified second in his Summit Racing Equipment Camaro and will race rookie Aaron Strong in the first round. Series point-leader Greg Anderson, a four-time Sonoma winner and four-time world champ, qualified third and will meet rookie Alex Laughlin in Round 1.
Five-time world champ Jeg Coughlin Jr. qualified an impressive fourth in his return to the series as reigning series champion Erica Enders' temporary teammate. The JEGS.com driver improved two positions Saturday via a pass in 6.524-seconds at 211.86 in his Stockseth Racing/Elite Motorsports Camaro.  Coughlin, who retired after the2014 season, will compete in the next three races in place of rookie Drew Skillman. Enders qualified ninth and will begin Sunday against No. 8 qualifier Shane Gray.
"It's been a lot of fun," Coughlin said. "We've come a long way in just four runs. The last time I let the clutch out on a Pro Stock car was last November at Pomona (Calif.) Raceway, and this is with a completely different team and a completely different combination. It's really been refreshing."
Coughlin will square-off against No. 13 qualifier Matt Hartford in the first round on Sunday. Hartford's best pass was 6.571-seconds at 211.20 mph in his Pontiac GXP.
"No question, that's a tall order, but I feel like we're capable of it," said Coughlin, a two-time Sonoma winner in Pro Stock. "We've got a car that's capable of it and I've been capable of it in my career."
Coughlin also will compete at Kent, Wash., next weekend as well as Indianapolis later in the summer.
—
Final round-by-round results for the NHRA Pro Bike Battle from the 28th annual NHRA Sonoma Nationals at Sonoma Raceway. The NHRA Pro Bike Battle is a special all-star race featuring eight qualified bikes from the past year:
ROUND ONE _ Jerry Savoie, Suzuki, 6.838, 196.39 def. Matt Smith, 6.918, 192.66; Andrew Hines, Harley-Davidson, 6.837, 195.25 def. Hector Arana, Buell, 8.955, 106.85; Hector Arana Jr., Buell, 6.879, 198.79 def. Steve Johnson, Suzuki, 6.918, 194.21; Eddie Krawiec, Harley-Davidson, 6.787, 196.99 def. Scotty Pollacheck, Buell, 7.030, 188.57;
SEMIFINALS  _ Hines, 6.941, 191.40 def. Arana Jr., 6.973, 194.69; Krawiec, 6.874, 194.16 def. Savoie, 6.898, 192.14;
FINAL _ Krawiec, 6.908, 190.67 def. Hines, foul.
Sunday's first-round pairings for eliminations for the 28th annual NHRA Sonoma Nationals at Sonoma Raceway, the 15th of 24 events in the NHRA Mello Yello Drag Racing Series. Pairings based on results in qualifying, which ended Saturday. DNQs listed below pairings:
Top Fuel _ 1. Antron Brown, 3.707-seconds, 326.95 mph vs. 16. Steven Chrisman, 4.369, 211.43; 2. Dave Connolly, 3.713, 329.10 vs. 15. Terry McMillen, 3.960, 298.01; 3. J.R. Todd, 3.724, 328.30 vs. 14. Jenna Haddock, 3.935, 299.46; 4. Steve Torrence, 3.732, 325.61 vs. 13. Troy Buff, 3.907, 309.63; 5. Tony Schumacher, 3.738, 325.69 vs. 12. Brittany Force, 3.872, 320.66; 6. Clay Millican, 3.749, 323.58 vs. 11. Doug Kalitta, 3.812, 323.12; 7. Larry Dixon, 3.777, 324.98 vs. 10. Shawn Langdon, 3.802, 320.51; 8. Richie Crampton, 3.777, 324.20 vs. 9. Spencer Massey, 3.780, 324.67.
Funny Car _ 1. Jack Beckman, Dodge Charger, 3.921, 323.43 vs. 16. Tony Pedregon, Toyota Camry, 4.322, 275.79; 2. Matt Hagan, Charger, 3.967, 325.77 vs. 15. Paul Lee, Toyota Solara, 4.194, 299.13; 3. John Force, Chevy Camaro, 3.970, 322.96 vs. 14. John Hale, Charger, 4.173, 306.33; 4. Ron Capps, Charger, 3.970, 322.19 vs. 13. Jeff Diehl, Solara, 4.162, 294.31; 5. Robert Hight, Camaro, 3.974, 322.96 vs. 12. Courtney Force, Camaro, 4.059, 315.42; 6. Alexis DeJoria, Camry, 3.974, 320.13 vs. 11. Cruz Pedregon, Camry, 4.057, 313.44; 7. Tim Wilkerson, Ford Mustang, 3.979, 320.81 vs. 10. Tommy Johnson Jr., Charger, 4.031, 317.05; 8. Chad Head, Camry, 4.022, 317.72 vs. 9. Del Worsham, Camry, 4.027, 320.43.
Did Not Qualify _ 17. Gary Densham, 4.754, 302.21; 18. Terry Haddock, 4.805, 172.28.
Pro Stock _ 1. Chris McGaha, Chevy Camaro, 6.499, 212.36 vs. 16. V. Gaines, Dodge Dart, 6.613, 210.47; 2. Jason Line, Camaro, 6.507, 212.26 vs. 15. Aaron Strong, Camaro, 6.597, 209.85; 3. Greg Anderson, Camaro, 6.507, 212.36 vs. 14. Alex Laughlin, Camaro, 6.574, 210.87; 4. Jeg Coughlin Jr., Camaro, 6.524, 211.86 vs. 13. Matt Hartford, Pontiac GXP, 6.571, 211.20; 5. Vincent Nobile, Camaro, 6.525, 212.29 vs. 12. Larry Morgan, Camaro, 6.539, 212.73; 6. Jonathan Gray, Camaro, 6.527, 211.76 vs. 11. Deric Kramer, Dart, 6.537, 211.59; 7. Bo Butner, Camaro, 6.528, 212.49 vs. 10. Allen Johnson, Dart, 6.535, 212.56; 8. Shane Gray, Camaro, 6.533, 213.00 vs. 9. Erica Enders, Camaro, 6.534, 212.03.
Did Not Qualify _ 17. Joey Grose, 6.661, 208.88.
Pro Stock Motorcycle _ 1. Eddie Krawiec, Harley-Davidson, 6.787, 196.99 vs. 16. Angie Smith, Victory, 6.995, 188.15; 2. Andrew Hines, Harley-Davidson, 6.837, 195.25 vs. 15. Melissa Surber, Buell, 6.975, 189.31; 3. Jerry Savoie, Suzuki, 6.838, 196.39 vs. 14. Katie Sullivan, Suzuki, 6.974, 192.71; 4. Chip Ellis, Buell, 6.853, 195.34 vs. 13. Scotty Pollacheck, Buell, 6.968, 188.57; 5. Hector Arana Jr., Buell, 6.867, 198.79 vs. 12. Freddie Camarena, Suzuki, 6.963, 196.13; 6. Karen Stoffer, Suzuki, 6.899, 195.17 vs. 11. Mike Berry, Buell, 6.956, 191.89; 7. Hector Arana, Buell, 6.907, 194.32 vs. 10. Jim Underdahl, Suzuki, 6.920, 195.36; 8. Steve Johnson, Suzuki, 6.918, 194.21 vs. 9. Matt Smith, Victory, 6.918, 192.66.
Did Not Qualify _ 17. Anthony Vanetti, 7.120, 187.44; 18. Chaz Kennedy, 7.357, 188.28.
Learn more KRAWIEC VICTORIOUS IN BIKE BATTLE; SONOMA FIELD SET on VANCE & HINES NEWS