Courtesy of Drag Zine
Larry "Spiderman" McBride has been long heralded as the world's foremost Top Fuel Motorcycle rider, with a virtually unequaled list of accolades — 18 championships and untold race victories and performance records — proving on a consistent basis to be head and shoulders above the the rest, even in head-to-head competition with his international counterparts. But there's been one glaring void over the last five seasons for the Newport News, Virginia racer, and that's been the world elapsed time record, which was claimed in shocking fashion by European rider Peter Svensson in Sweden in August of 2012 at 5.709-seconds.
Since that time, McBride and his Trim-Tex-sponsored Suzuki, tuned by brother Steve McBride and Roland Stuart, have taken cracks at bringing the class standard back to the United States, but have come up short. That, however, all changed at this weekend's Manufacturers Cup World Finals at the South Georgia Motorsports Park, where McBride and company took full advantage of the prime atmospheric conditions to smash both ends of the Top Fuel world record.
McBride provided a preview of what was to come during Friday qualifying when he recorded his career-quickest run at 5.728 at 248.98 mph before unleashing the quickest run in history by a wheel-driven motorcycle on Saturday with a 5.677 at 250.74 mph — the first run ever in the .60s, compliments of a 1.015 short time and a 3.752 at 208.42 mph to half track. Larry commented, "My team worked very hard for this for a very long time! Thank you everyone for all the support." McBride later closed the day and qualifying with an all-time best speed of 258.27 mph, paired with another 5.726-second elapsed time.
As incredible as the 5.67-second performance was, it paled in comparison to what the McBride brothers were able to accomplish during the final round of eliminations on Sunday, as they ratcheted things up a few notches for their final pass of the 2017 season, blasting off into the Georgia sunset to a stunning 5.611 at 249.49 mph to defeat Jay Turner — lowering the world elapsed time mark by nearly a full tenth of a second in the span of one weekend.
"[The 5.61] means everything. We've been working really, really hard on trying to run the number. It's a wonderful feeling," McBride shared with CycleDrag.com.
lscreen>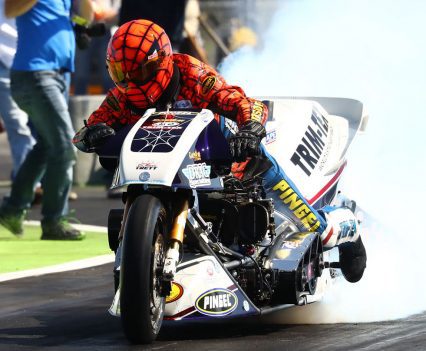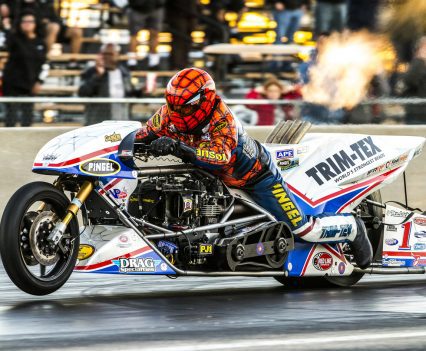 Learn more LARRY MCBRIDE STUNS WITH ALL-TIME-QUICK TOP FUEL MOTORCYCLE RUN on VANCE & HINES NEWS