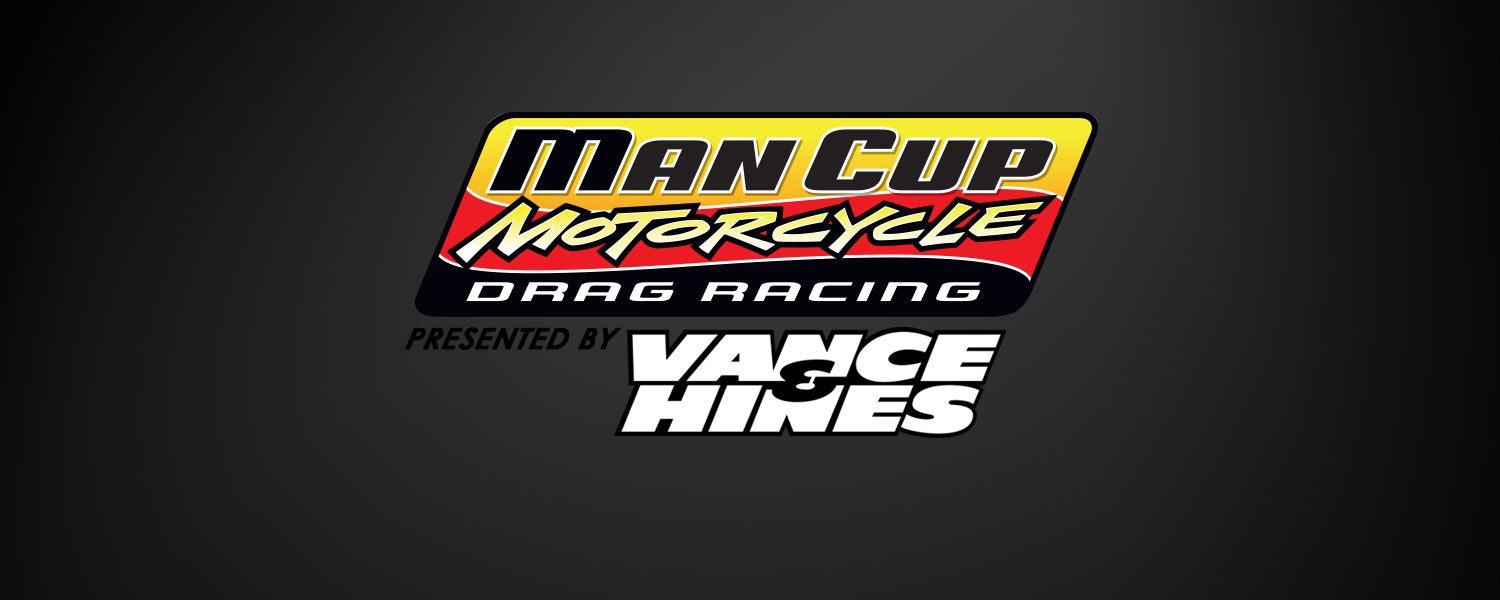 With a professional career in motorcycle drag racing expanding over four decades, Vance & Hines proudly continues its support in the Manufacturers Cup through a full Series Sponsorship position. Series contribution includes the Gold Card program, which free entry for all class champions will be given. In addition, Vance & Hines' highly anticipated new product line "Raceshop Components" is presenting sponsor of the V-Twin ET Class.
Apart from its dominance in performance exhaust systems, Vance & Hines prides itself in being at the forefront of cylinder head development & full line of valvetrain specific products, capitalizing on existing partnerships with top tier teams such as Larry "Spiderman" McBride, HTP Performance, V&H Factory supported DME Racing/ Joey Gladstone Team, and many more. Besides cylinder head development, Vance & Hines has proven to be the very best at manufacturing GS based Pro Stock & Pro Mod Performance Parts that are tested and proven by Champions Eric McKinney/ Ashley Owens, Mark Rendeluk, including engine builder DTM.
Available now for immediate release after extensive testing, Vance & Hines' 73.4mm stroker crank that surpasses the industry standards of quality and performance.
ABOUT VANCE & HINES "RACESHOP COMPONENTS"
Vance & Hines' most recent expansion is the new product line "Raceshop Components," a selection of trued & tested hard parts for metric sportbikes that range from all-inclusive valvetrain components to high performance synthetic racing oil. Specific to the V-Twin segment, "Raceshop Components" offers adjustable pushrods, hydraulic lifters, high performance .575" lift camshafts, 107" big bore pistons, including synthetic motor oil, transmission fluid, and primary lubricant.
Lastly, Vance & Hines has introduced the ultimate performance package for your bagger, the "30+HP Kit." This is an all-inclusive kit housing a .575" lift camshaft set, adjustable pushrods, Fuelpak FP3, Power Duals Head Pipes, OS450 Slip-Ons with carbon fiber end caps, and a redesigned carbon fiber Drak RS air intake, injecting white-knuckle performance across the entire powerband. 30+HP Kit release date – June 2016
Make sure to visit the full product line and services at:
• RaceShopComponents.com
• 30hp.vanceandhines.com
• VanceandHines.com

Vance & Hines continues their support of motorcycle racing through annual contingency payouts.
About Man Cup Motorcycle Drag Racing : Headquartered in Safety Harbor, Florida, the Man Cup promotes motorcycle drag racing on a national event basis for professional, sportsman and ET bracket racers alike and is open to riders of all skill and experience levels. The Man Cup Series is North America's only national event style motorcycle drag racing series comprised of events throughout the eastern half of the United States. For marketing opportunities with the ManCup as well as more information on ManCup Motorcycle Drag Racing, please visit www.mancup.info on the web or 727-742-5245 voice/text
The Man Cup Series is brought to you by our sponsors :  Adams Performance – APE – Bates Leathers – Brocks Performance – Carolina Cycle – Cooper Performance – D&G Chassis – D.M.E. Racing – Daytona Senors – Dragbike.com – Exotic Cycle – Falicon Performance – Grothus Dragbike – Hawaya Racing – Hot Rod Chrissy Photos – HTP Performance – JRI Shocks – Lectron – McIntosh Machine and Fabrication – Memphis International Raceway – MoTec – MPS – MRE – MTC – Muzzys – Penske Shocks – Pingel Enterprises – Portable Shade – PR Factory Store – RCC Turbo – Roaring Toyz – Rob Bush Motorsports – Rockingham Dragway – S&S Cycle – Schnitz Racing – Shinko-Western Power Sports – South Georgia Motorsports Park – Star Racing – Trac Dynamics – Vance & Hines – Ward Performance – Web Cam – Wiseco Pistons – World Wide Bearing – Wossner Pistons
2016 Schedule
April 8 – 10  / South Georgia Motorsports Park
June 11 – 12 / Rockingham Dragway
July 23 – 24 / Memphis International Raceway
September 17 – 18 / Rockingham Dragway
November 11 – 13 /South Georgia Motorsports Park
Learn more MAN CUP AND VANCE & HINES JOIN FORCES IN 2016 on VANCE & HINES NEWS