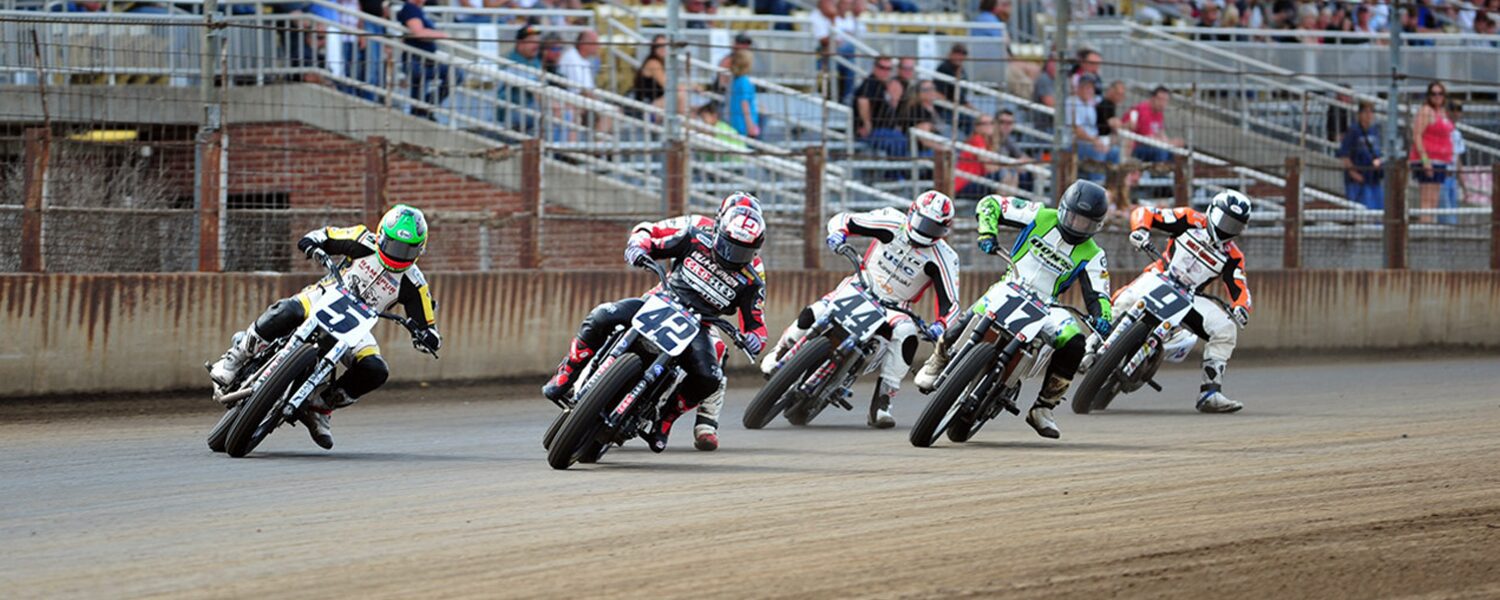 Courtesy of AMA Pro Racing
DAYTONA BEACH, Fla. (May 20, 2015) – Thanks to increased factory support, special superstar competitors and new motorcycles destined to contend with Harley-Davidson and Kawasaki for podium appearances, the upcoming Springfield Mile is perhaps one of AMA Pro Flat Track's most highly anticipated events in recent memory.
Roughly a month ago, news broke that Australian road racing legend and three-time World Superbike champion, Troy Bayliss, would compete in the premier Harley-Davdison GNC1 presented by Vance & Hines division at five AMA Pro Flat Track events during the 2015 season. The first of those much-anticipated races is Memorial Day Weekend's Springfield Mile, set to take place this Sunday, May 24, at the historic Illinois State Fairgrounds in Springfield, Ill. Bayliss will ride a Lloyd Brothers Motorsports Ducati Scrambler with the No. 21I. Powered by an air cooled Hypermotard-based 1100cc V-twin, the motorcycle has made steady progress since the Lloyd Brothers began racing it in 2010.
Not only will Bayliss challenge the world's greatest dirt track racers, but he'll do so on their home turf. The Springfield Mile is the crown jewel of the AMA Pro Flat Track schedule and each Harley-Davidson GNC1 presented by Vance & Hines competitor will be licking their chops at the opportunity to show the Aussie what racing in the world's premier flat track series is really about.
Bayliss and his Lloyd Brothers teammate, Johnny Lewis, will both be trying to put a Ducati on the podium. The iconic Italian manufacturer has shown speed in AMA Pro Flat Track events before, and with extra support and tons of talent pushing the bikes around the track, there are high hopes for a strong showing.
Springfield is also one of the final AMA Pro Flat Track events before the sport makes its debut in the X Games, at Circuit of the Americas in Austin, Texas, on June 4. In addition to fighting for the podium, the riders who received invites to compete in the immensely popular action sports showcase will certainly be looking to make sure they are ready for the international spotlight.
Defending Grand National Champion Jared Mees is aiming for his third title in four seasons, and the Clio, Mich., resident knows he must perform well at Springfield if he wants to achieve his goal. Last year, he recorded two third place Springfield Mile finishes and he'll look to improve on those results this go-around aboard his No. 1 Las Vegas Harley-Davidson/Rogers Racing XR750.
The defending champion's eagerness to perform well extends far beyond wanting to retain the coveted GNC1 No. 1 plate, as Harley-Davidson has agreed to pay $25,000 to the top rider utilizing their equipment in 2015. Mees was the undisputed top Harley-Davidson rider last year, but he'll have to be at the top of his game again this season if he wants to cash in on Harley-Davidson's generous bonus fund with a collection of elite riders hot on his tail. Mees is coming into Springfield fourth in GNC1 points.
One of Mees' biggest competitors, Kenny Coolbeth Jr., is certainly a rider to look out for in 2015, and this weekend at Springfield. The No. 2 Zanotti Racing Harley-Davidson XR750 rider will look to build off his six-point lead in the Harley-Davidson GNC1 presented by Vance & Hines point standings, as well as preserve his impressive run at Springfield.
Coolbeth made headlines last season by winning the second Springfield Mile aboard a Harley-Davidson, ending a streak of four straight Kawasaki victories at the hallowed fairgrounds. He finished second in the first Springfield Mile in 2014. The Morris, Conn., native got off to a hot start this year at the DAYTONA Flat Track doubleheader, earning third and first place finishes to lead the GNC1 title chase heading into Springfield. Look for him to not only finish high in the running order this weekend at Springfield, but to be in contention for the championship all year.
Coolbeth leads Brandon Robinson in points after two rounds, and Sammy Halbert is another six points back of Robinson. Springfield will see Robinson make his debut on the No. 44 Latus Motors Triumph while Halbert will ride his No. 7 Briggs Auto Kawasaki for the first time.
Robert Pearson rounds out the top five in points coming into Springfield. The rider of the No. 27 KTM already has a pair of top 10s to his credit in 2015.
Brad Baker represents another Harley-Davidson rider gunning for the podium at Springfield. The No. 6 Factory Harley-Davidson pilot had an off year in 2014 by his standards, finishing fifth in points just one season removed from winning the Grand National Championship. He was, however, admittedly hampered by an arm injury early in the season. The Dryad, Wash., native will look to get his momentum back at Springfield after recording fifth and ninth place finishes in the Mile last year, but he's again recovering from an offseason arm injury incurred at the Superprestigio in Barcelona, Spain. Baker wasn't 100 percent at Daytona, but still made both main events, so with extra time to heal, he'll look to be a contender at Springfield.
Flint, Mich., product Bryan Smith will pilot the No. 42 Crosley Brands Kawasaki EX650 at Springfield, and there's no argument that Smith has been the dominating force on Mile courses over the last several seasons. Smith won three out of five Miles last year and was second to Coolbeth in the other two. He's sitting 21st after both Daytona rounds, but will look to skyrocket up the point standings in Springfield.
Smith, along with the other Kawasaki competitors in AMA Pro Flat Track's elite GNC1 class, will benefit from a new contingency program installed by Kawasaki to reward riders competing on their machinery for the 2015 season. The reigning AMA Pro Flat Track Manufacturer of the Year has graciously agreed to post a total of $75,450 in the form of per-race and year-end payouts to Kawasaki riders.
Along with Harley-Davidson and Kawasaki, another prominent manufacturer is making a splash in AMA Pro Flat Track this season. Riders on Yamaha equipment in both the GNC1 and GNC2 classes will benefit from a dramatically increased contingency program by the manufacturer in 2015. A total of $106,400 is up for grabs between both classes for eligible "bLU cRU" riders over the course of the season.
In addition to Yamaha's increased contingency, the manufacturer will have Cory Texter pilot the new No. 65 Yamaha Motor USA/Memphis Shades Yamaha FZ-07 built into a frame made by dirt track legend Babe DeMay at Springfield for the first time ever.
Cory's sister, Shayna Texter, will ride a No. 52 Crosley Radio Kawasaki EX650 at Springfield. It's her second season competing in GNC1 and the first time she'll use her new National Number on a twin. Cory and Shayna are the first brother and sister to both earn National Numbers.
Bayliss isn't the only road racer adding crossover appeal to the Springfield Mile. Two-time defending DAYTONA 200 champion Danny Eslick recently announced he will compete in the Springfield Mile aboard a T&R Racing Harley-Davidson XR750 in GNC1 competition. Eslick has a flat track background, but has enjoyed success during his career as a road racer. He also received a coveted invite to the X Games, giving him added incentive to get up to speed quickly on the dirt.
The GNC2 field includes up-and-comers like DAYTONA Flat Track winner and current points leader Andrew Luker, who is scheduled to pilot the No. 11Z Kennedy Racing Harley-Davidson this weekend, and Davis Fisher, last year's GNC2 runner-up. Fisher is set to ride his No. 67M Racing Unlimited Kawasaki.
Whoever emerges victorious in GNC2 will be a first-time winner at Springfield. AMA Pro Flat Track moved to the thundering twins at the Mile in 2013 with Shayna Texter pulling a sweep that year. Last season, Jarod Vanderkooi dominated both Springfield races. Both riders have since moved up to GNC1, clearing the way for the likes of Luker or Fisher to taste victory. GNC2 rookie Dalton Gauthier sits third in points and is coming off the first podium of his career with a third place showing in Round 2. Fisher is fourth in the standings, three points back of Gauthier and a single point in front of Brandon Wilhelm, who rounds out the top five coming into Springfield.
So far, there are 28 GNC2 riders pre-entered to compete in the Springfield Mile, and this number will only grow as we approach race day on Sunday.
J.R. Addison will look to rebound this season after suffering a crash at Springfield a year ago. The accident left him sidelined for several races but the No. 24F Smith Racing Kawasaki rider appears healthy in 2015 and ready to give it another go.
For tickets and more information on the Springfield Mile, fans are encouraged to call (217) 753-8866 or visit https://www.illinoismda.com/. The entire event will be broadcast live, in high definition and free of charge for fans around the world at www.FansChoice.tv.
Learn more AMA PRO FLAT TRACK RIDERS GEARING UP FOR HIGHLY ANTICIPATED SPRINGFIELD MILE on VANCE & HINES NEWS