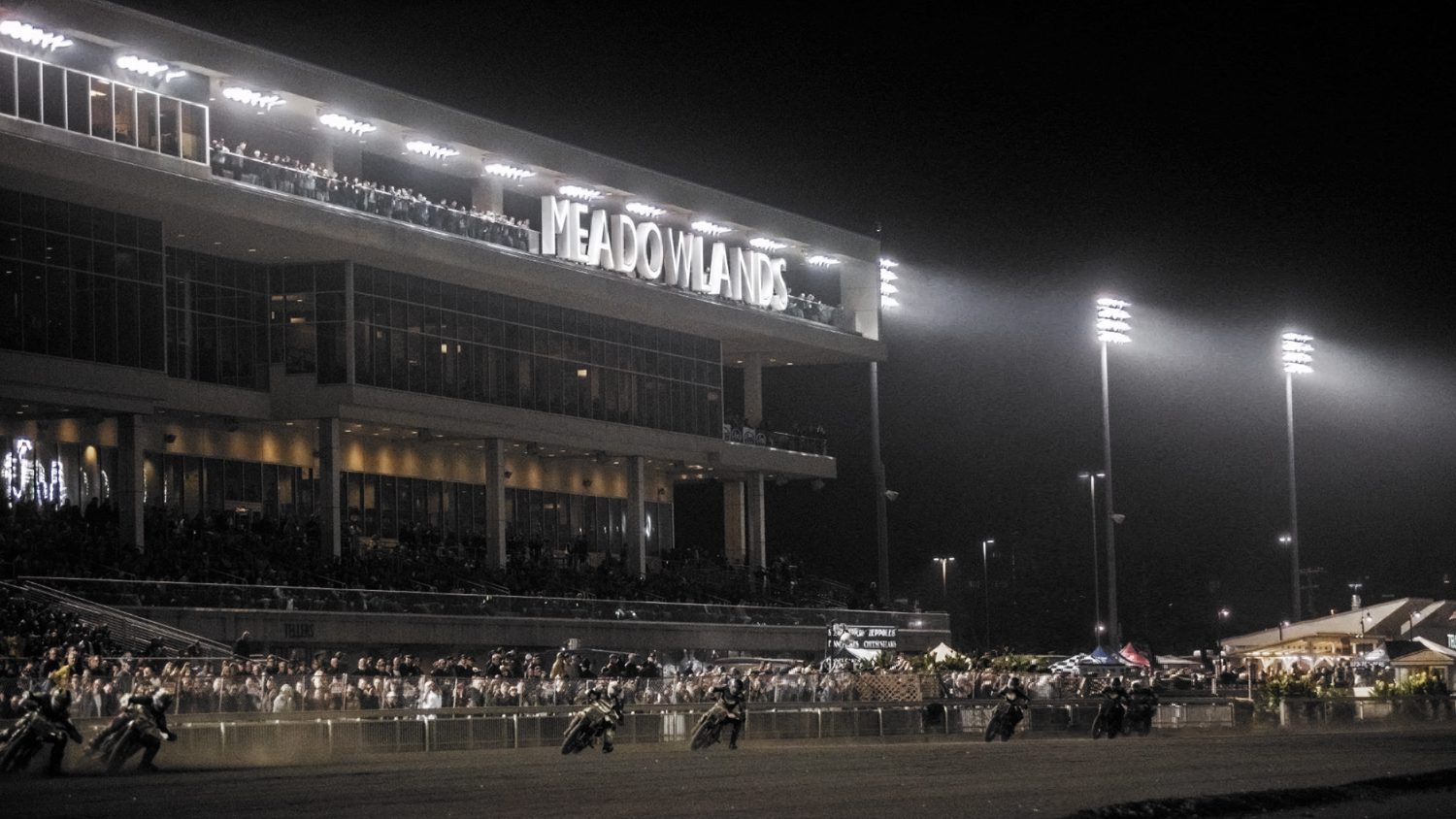 Courtesy of American Flat Track
An epic 2019 American Flat Track season will come to its conclusion this weekend with the running of the Meadowlands Mile in East Rutherford, New Jersey, on Saturday, September 28.
Briar Bauman (No. 14 Indian Motorcycle/Progressive Insurance FTR750) enters the season finale newly crowned as the 2019 AFT Twins presented by Vance & Hines champion after locking up the title this past weekend at the Minnesota Mile. That development effectively removes the restraints and sets the table for a no-holds barred showdown featuring Bauman and any number of rivals who aspire to end the year with a statement victory.
Certainly, Bauman still has more than plenty in play. A win at the Meadowlands would be his maiden Mile victory and see the new champion at last complete the flat track career Grand Slam one week after taking his first-career AFT Twins Championship. Free from the championship pressures and associated temptation to play it smart for the sake of prudent points collection, Bauman now has an ideal opportunity to show everyone exactly what he's capable of on a big track this weekend.
Jared Mees (No. 1 Indian Motorcycle/Progressive Insurance FTR750), meanwhile, won't just be looking to get an early start on next year's psychological battle as he works toward reclaiming the throne; he'll also be attempting to complete a perfect six-for-six season's sweep of the Miles on the '19 calendar. His 15 Mile wins (12 of which have come in the last three seasons alone) place him sixth all time, trailing only legends Scott Parker, Chris Carr, Bubba Shobert, Bryan Smith and Ricky Graham.
Speaking of Bryan Smith (No. 4 Crosley Brands/Howerton Motorsports Kawasaki Ninja 650), his runner-up result in Minnesota should be viewed as a warning shot to his rivals, signaling that the hugely accomplished pilot is well poised to strike this weekend. His Mile mastery is widely renowned, and he'd like nothing more than to close out a difficult-at-times season on a high note… exactly as he did a year ago by winning the Meadowlands Mile.
Meanwhile, there's more than pride and historical achievements on the line on the undercard with championships still yet to be decided in both the Roof Systems AFT Singles presented by Russ Brown Motorcycle Attorneys and AFT Production Twins classes.
Dalton Gauthier (No. 122 D&D Cycles/Gobert Smash Husqvarna FC450) is in an exceptionally strong position to conclude his comeback season with a crown. He comes to New Jersey leading defending AFT Singles champion Dan Bromley (No. 1 Red Bull KTM Factory Racing 450 SX-F) by 21 points. Gauthier will have his work truly cut out for him considering Bromley's three career AFT Singles Mile victories.
Adding to the drama is the likelihood of a pack war to decide the race with two-time 2019 Mile winner Mikey Rush (No. 15 RMR Honda/Red Riders Rewards Honda CRF450R) and last year's Meadowlands Mile victor Shayna Texter (No. 52 Red Bull KTM Factory Racing SX-F 450) chief among the pre-race favorites.
Cory Texter (No. 65 G&G Racing/Holeshot Powersports Yamaha MT-07) races into the Meadowlands finale exactly where he's been all year long — on top of the AFT Productions Twins points standings. However, his three victories on the year came in the season's opening three races. Momentum has shifted decidedly in his rivals' favor since that time.
Nevertheless, he maintains a 15-point advantage over second-ranked Kolby Carlile (No. 136 Estenson Racing Yamaha MT-07) and an 18-point advantage over third ranked Ryan Varnes (No. 68 Varnes Racing/RoyBuilt Kawasaki Ninja 650). Complicating things somewhat is the fact that if either Carlile or Varnes were to win on Saturday, they'd equal Texter in season victories at three, and hold the second tiebreaker (most second-place finishes) over Texter in the event of points deadlock.
Beyond the battles to decide a pair of #1 plates, the season finale will be a special occasion off the track as well, headlined by a celebration of the 40th anniversary of the Rookies Class of '79. The fabled Class of '79 went on to enjoy nearly incomprehensible collective greatness in their racing achievements, and they continue to have a massive impact on the sport to this day, most notably in running the official charity of the series which routinely helps injured riders in their time of need. As a part of that celebration, Class of '79 alumnus and three-time 500 Grand Prix World Champion Wayne Rainey will serve as the event's Grand Marshal.
Additionally, Chasing Neon will be performing live classic rock and country music, and the Giants Drumline will be on-hand to keep fans moving all night long. There will also be numerous vendors and food and beverage options available to keep the fans fully fueled.
Tickets for the Meadowlands Mile are available at tickets.americanflattrack.com. General Admission tickets start at just $40 with kids 12 and under admitted for free.
Multiple upgraded ticket options are also available, including the popular Reserved Outdoor Grandstand seating option which sold out at the Meadowlands Mile in 2018, indoor climate-controlled seating in 'The Lounge,' the premium Trotters Club VIP Experience and a limited number of Pit Pass Upgrades.
FansChoice.tv will provide live coverage of the Meadowlands Mile starting with the day's opening practice session at 11:30 a.m. ET/8:30 a.m. PT. Opening Ceremonies will begin at 5:00 p.m. ET/2:00 p.m PT, with the Main Event program beginning at 7:00 p.m. ET/4:00 p.m. PT.
Catch the feature broadcast of the Meadowlands Mile on NBCSN with flag-to-flag coverage of the Main Events, enhanced by exclusive features and cutting-edge aerial drone and onboard footage. The broadcast will debut on Saturday, October 12, at 10:30 p.m. ET/7:30 p.m. PT and will re-air on Wednesday, October 16, at 1:00 p.m. ET/10:00 a.m. PT.
For more information on American Flat Track visit www.americanflattrack.com.
To get the latest American Flat Track clothing and merchandise visit www.americanflattracker.com.
How to Watch:
NBCSN and FansChoice.tv are the official homes for coverage of American Flat Track. For the 2019 season, NBCSN's coverage of AFT moves to highly-coveted, weekend afternoon programming slots within two weeks of each event. The complete schedule for AFT on NBCSN can be viewed at https://www.americanflattrack.com/events-nbcsn/. FansChoice.tv remains a cornerstone of AFT's digital strategy, providing live streaming coverage of every event on AFT's live page while previous events and exclusive features are available on AFT's VOD page.