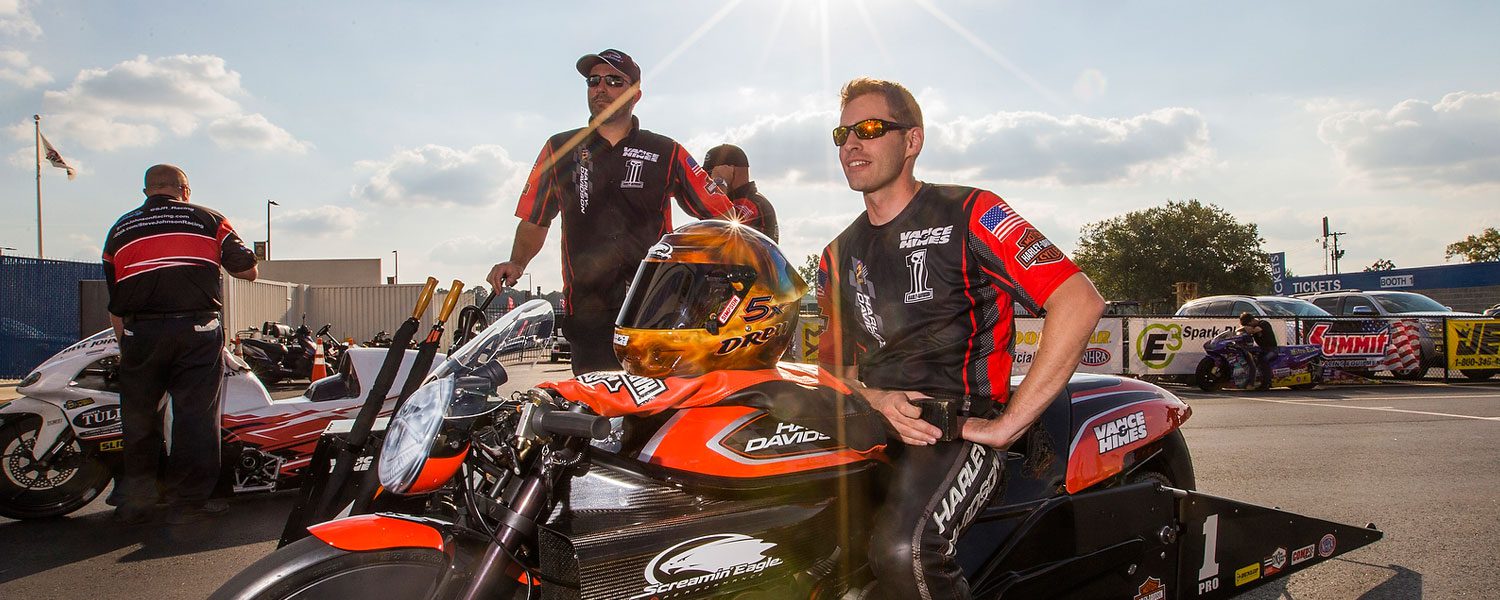 Courtesy of NHRA
The Countdown to the Championship contenders in Pro Stock Motorcycle assembled on the zMAX Dragway starting line on Sunday morning. With the Countdown points adjustment, the top-10 playoff racers are separated by just 110 points to start the final six events of the season.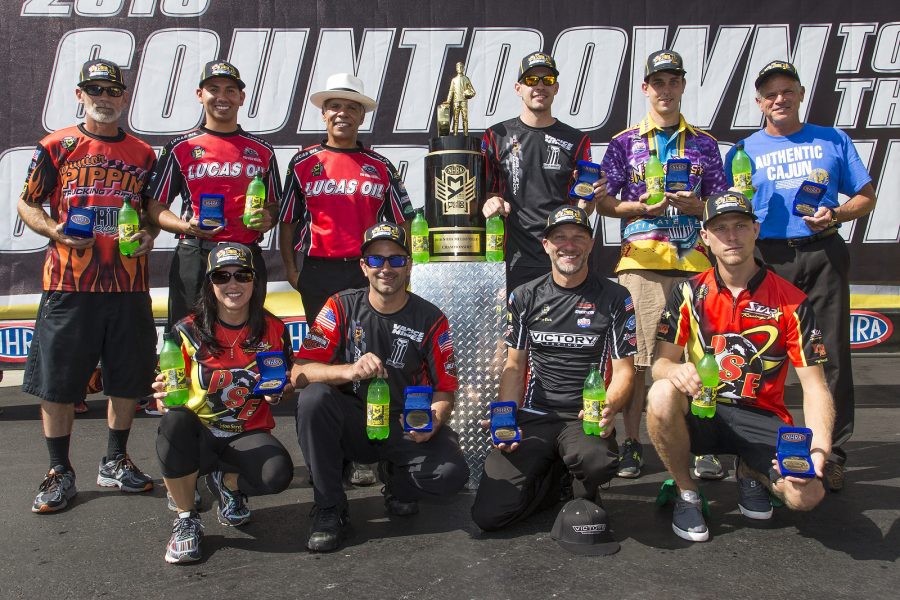 There were numerous upsets across all four Professional categories in the opening round of the NHRA Carolina Nationals, but few were bigger than Karen Stoffer's victory over three-time NHRA Mello Yello champion Eddie Krawiec. Stoffer got off the starting line first and outran Krawiec's V-Rod to the finish line, 6.932 to 6.948.
"I've done a poor job of tuning this year," said Stoffer's husband and crew chief, Gary. "We've had some issues with the bike that we're finally figuring out. We looked at the setup and went over all of our maps last night, and now all we can do is try and be a thorn in the top 10's side."
"She's been unhappy all year," Karen Stoffer added. "This bike has given us fits, but we've held our heads high. We're going the right direction. They're calling us spoilers, and I'm OK with that. Hopefully, we can earn a new name this weekend. I'd love that."
Anyone who thinks that Hector Arana Sr. might have taken a dive for his son, Hector Jr., in their round-one race in Charlotte obviously doesn't know the competitive nature of the Arana family. Hector Sr. was unable to make the run after his Lucas Oil Buell broke an oil-pump belt on his burnout.
"I did that on purpose? No way," laughed Hector Sr. "I did my burnout and looked down and saw the belt laying there. I knew I had a free restart so I reached down and grabbed the belt, but it was in two pieces, so I knew I couldn't fix it. I thought about just staging to see if he'd red-light, but that didn't make sense. Against anyone else, I'd have done that, but against my son, it makes no sense. He had the best bike anyway. We always race each other. When we stage against each other, he's not my son. He's my competitor. We've never done anything funny before so why would we start now during the Countdown, especially since we are both in the top 10 and we both have a chance to win the championship."
Hector Sr. also noted that he didn't want to risk wounding an engine because there are three races in three weeks and because the Lucas Oil team, like many Buell racers, is having difficulty getting replacement crankshafts.
"If I hurt an engine in that round, I might not be able to make it to St. Louis next week," said Hector Sr. "We have to take care of our stuff so we can make it to the end of the season."
No one wins a championship without a lucky break or two along the way, and Angelle Sampey is well aware of that, especially after she dodged a bullet in the opening round of eliminations. Sampey broke a rocker arm on her Star/PSE Buell and slowed to a 10.04. She only got the win because opponent Mark Paquette red-lighted by two-thousandths of a second. To make matters worse, Sampey was also close to a red-light with a perfect .000 reaction time.
"I had no idea what was going on during that run," said Sampey. "I thought he might have red-lighted, but I wasn't sure. Then I thought I saw his win light on, and I got really mad. I knew the bike was broken so I just tried to get it into high gear and get to the finish line. It turned out to be a rocker arm, but I don't think the damage was too bad. We didn't change engines."
With a fresh rocker arm installed, Sampey rolled to low e.t. of the second round with a 6.89 in her win over Karen Stoffer. Sampey's chances for her second victory of the season ended when she encountered another mechanical problem against eventual winner Chip Ellis in the semifinals.
Andrew Hines has won five events this season and finished the regular season as the top seed in Pro Stock Motorcycle, but a deeper look at the Screamin' Eagle Harley rider's season reveals that he has rarely had the best bike in the field. Hines clearly did not have the best bike in Charlotte during qualifying, where he was just sixth-quickest. Hines also struggled in eliminations, including his narrow 6.921 to 6.926 victory over Steve Johnson in round two.
"We've had the horseshoe all year," said Hines. "We haven't had the best bike, but it does show how good our tune-up is. We've tried a lot of things lately in testing, and some of them have worked, and some of them have not."
Hines lost the final against Chip Ellis but managed to extend his lead in the standings. With five races remaining in the Countdown to the Championship, Hines leads second-place Ellis by 44 points.
For the first time since the 2008 season, Chip Ellis, far lane, earned a Pro Stock Motorcycle victory, and in the process, he vaulted to second place in the Mello Yello championship standings. Ellis rode his Pippin Trucking Buell to a 6.879 to 6.908 win over five-time champion Andrew Hines in the final round. The win was the first for team owner Junior Pippin, who is continuing to battle cancer.
"I've won seven of these, but this is the most important win of my career," said Ellis. "This is for Mr. Pippin because he's such an awesome individual. He's built this team from the ground up, and we're finally seeing all that hard work pay off. My guys, Brad Moore and Lon Moyer, we all put in a lot of hours. This weekend, my 14-year-old daughter McKenzie serviced the clutch, and whenever she does that, we win rounds. McKenzie, you're not going to school anymore. At Indy, I felt like we had a shot, but we missed the clutch, but our guys are making more power, and that showed this weekend."
In addition to riding Pippin's Pro Stock Motorcycle, Ellis also had a chance to drive Roy Hill's Super Stock Cobra Jet in Charlotte. Even though he lost early in that car, Ellis said the chance to race something different helped improve his focus.
"I had an amazing time driving that car," Ellis said. "It was a real challenge for me. On the bike, everything we do is with our hands. We don't use our feet for much except a bit of steering. It was nice to try out a different routine for a change."
Learn more NHRA CAROLINA NATIONALS SUNDAY NOTEBOOK on VANCE & HINES NEWS