Courtesy of NHRA | Kevin McKenna, NHRA National Dragster Senior Editor
Andrew Hines enters the countdown as the No. 1 seed with teammate Eddie Krawiec close behind. Can anyone offer a challenge in Pro Stock Motorcycle?
The Countdown to the Championship begins at the next event, the Mopar Express Lane NHRA Nationals Presented By Pennzoil in Reading, and Harley-Davidson teammates Andrew Hines and Eddie Krawiec have locked down the top two spots. With a combined nine titles, Hines and Krawiec are easily the favorites, but they are far from the only riders who could be carrying the No. 1 plate next season. Here are the biggest questions facing Pro Stock Motorcycle following the Chevrolet Performance U.S. Nationals.
CAN ANDREW HINES CONTINUE HIS DOMINANT SEASON?
Sure, why not? Hines was understandably frustrated to lose the Indy final via a red-light, but the fact remains that he still hasn't been outrun to the finish line this year. In addition to his Indy foul, Hines lost in the Las Vegas final when his bike wouldn't start, and he lost in Chicago when he spun the tire and shut off against Andie Rawlings. Hines' robust 244-point lead in the standings was cut to just 20 during the Countdown reset, so he has much work to do in order to win a sixth championship, but in reality, he just needs to follow the same script that allowed him to win seven of the first 10 races this season.
WHAT ABOUT EDDIE KRAWIEC?
Cool under pressure, Krawiec should have no problem mounting a challenge for what would be a fifth championship. In fact, he's easily one of the favorites even though he has yet to win a race this season. Krawiec has been to four finals, which enabled him to finish the regular season as the No. 2 seed in the class. Krawiec has the same equipment as Hines, even though he has struggled to get the same results as his teammate. At this point, it is worth mentioning that during his first championship season in 2008, Krawiec was also winless. Realistically, Krawiec is going to have to win a couple of races in order to earn the title, but there is nothing to suggest he can't or won't.
WHO CAN STOP THE HARLEY-DAVIDSON TEAM?
The easy answer here is Matt Smith, who did just that in his epic 2018 championship run. Smith didn't just win last year's title, he took over and dominated when it mattered most. Saving his best equipment for the final event in Pomona, he ran away with his third career title on the final weekend of the season. Smith, the No. 3 seed heading into the Countdown, has qualified either first or second at the last five events, which helps illustrate the potential of his Denso EBR. Historically, Smith's downfall has been the reliability and consistency of his bikes, but that has become less and less of an issue over the past two seasons. Smith has finished in the semifinals or better at each of the last six races, which is exactly the sort of consistency he needs to deliver a title. Much like his father, Rickie, Smith does some of his best work in the Countdown, so it's hard to imagine he won't be in the thick of the battle and remain in contention until the Auto Club NHRA Finals in Pomona.
WHO HAS THE POTENTIAL FOR A CHAMPIONSHIP UPSET?
On the surface, it might be tough to think of anyone besides Hines, Krawiec, or Matt Smith as the 2019 champion, but there are several other riders with a legit shot to get the job done, most notably Hector Arana Jr. and Jerry Savoie.
Arana, the first rider to go more than 200 mph on a Pro Stock Motorcycle, won the four-wide race in Las Vegas and has six semifinals to his credit. Put simply, Arana needs to figure out a way to consistently beat the Harley riders to have a chance. So far this season, he's 0-5 against Hines and Krawiec in non-four-wide races.
Savoie, on the other hand, should be feeling optimistic about his title hopes following his dominant win in Indy. The 2016 world champ skipped the midseason races in Richmond, Chicago, and Norwalk, but now that he's qualified for the Countdown, he's committed to the pursuit of a second title. Savoie's Suzuki was almost certainly the best bike in the field on Monday in Indy, and Hines would have been hard-pressed to win even if he hadn't gotten a red-light. The question is, can Savoie duplicate that performance six more times? It's also worth noting that during his championship run in 2016, Savoie was sixth after the first race and didn't take over the lead until the final day of the season. Starting from the No. 5 spot is hardly an obstacle for him.
WHO WILL WIN THE 2019 CHAMPIONSHIP?
At this point, it would be almost impossible to bet against Hines, simply because he has been so dominant in the first half. Even if he cools a little, there is nothing to suggest that Hines will have any sort of a major letdown that would take him out of championship contention. More likely, after last year's winless season, he's probably more motivated than he has ever been to earn championship No. 6. For our money, Hines is indeed the favorite, but his edge over Smith and Krawiec is far smaller than his regular-season lead would indicate. In fact, on the eve of the Countdown, would anyone actually bet against a winner-take-all final in Pomona featuring Hines and Smith or Krawiec?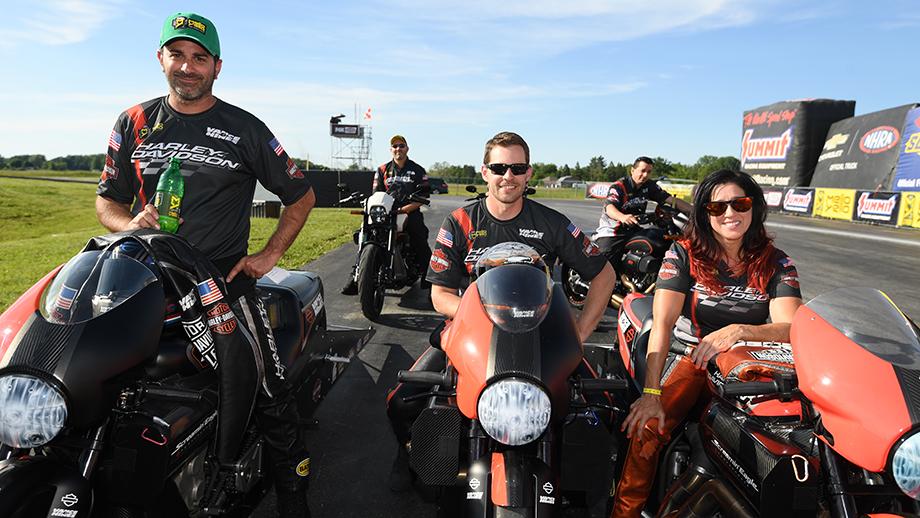 Learn more NHRA COUNTDOWN TO THE CHAMPIONSHIP PREVIEW: WHO CAN STOP THE HARLEY-DAVIDSON MACHINE IN PRO STOCK MOTORCYCLE? on VANCE & HINES NEWS