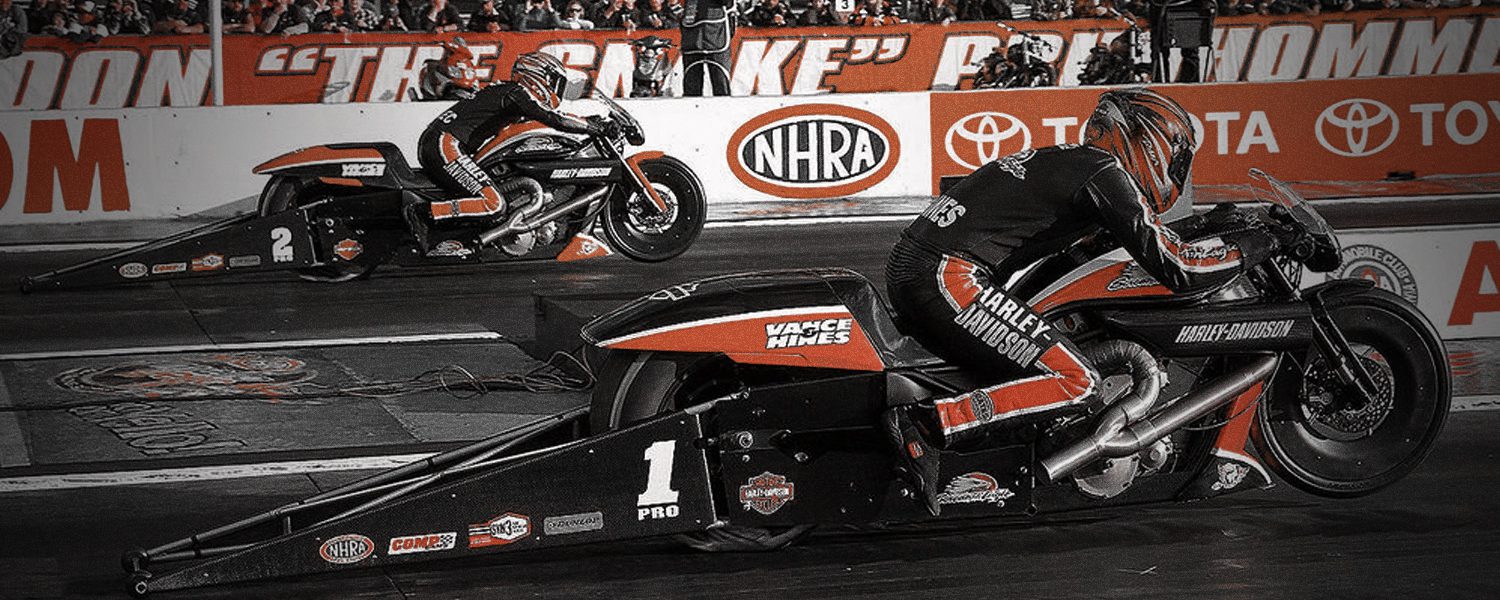 Courtesy of Cycle World
With a rumble of Harley-Davidson® V-Rod thunder the world champion Harley-Davidson® Screamin' Eagle®/Vance & Hines drag racing team will open the defense of its latest title at the 47th annual Amalie Motor Oil NHRA Gatornationals in Gainesville, Fla., March 17-20. The event traditionally launches the Pro Stock Motorcycle season for the NHRA Mello Yello Drag Racing Series.
In its pursuit of a third-consecutive NHRA Pro Stock Motorcycle title, the Harley-Davidson® Screamin' Eagle®/Vance & Hines team will field a pair of potent Harley-Davidson V-Rod motorcycles and two veteran, championship-winning riders. Andrew Hines is the defending and five-time Pro Stock Motorcycle champion (2004-2006, 2014-15). Rider Ed Krawiec is a three-time Pro Stock Motorcycle champion (2008, 2011-12).
The accomplishment of winning consecutive championships is phenomenal given the high level of competition in the Pro Stock Motorcycle field.
"Pro Stock Motorcycle has become a really tough class," said Matt Hines, crew chief for the Harley-Davidson® Screamin' Eagle®/Vance & Hines team. "At each event there are 10 riders with a legitimate chance to win the final. We need to be at the top of our game every time we bring a V-Rod to the starting line."
The competition at an NHRA event is fierce, fast and intense, but also easy to understand, even for first-time fans – the first bike or car to the finish line is the winner. Between rounds, fans are welcome to stroll through the pits to watch teams work on their vehicles, or to visit the Manufacturer's Midway, where the Harley-Davidson Motorcycle Display has a prime location.
Fans are encouraged to compete in the Drag Race Challenge, a virtual drag racing experience that gives a rider's point-of-view experience as participants test their reaction time on the countdown tree with a chance to win a $100 Harley-Davidson gift card.
Also the JUMSPTART Experience allows customers to twist the throttle and shift through the gears of a running Harley-Davidson motorcycle. The display also hosts Harley-Davidson's most powerful lineup of Cruiser motorcycles ever and the newest Genuine MotorClothes gear to match.
Also check out a special giveaway only for onsite customers to enter, the Harley-Davidson Choose Your Ride Sweepstakes, to win a Harley-Davidson bike of your dreams.
Eight-Times a Champion:
After checking out Manufacturer's Midway, back at the drag strip fans get to watch the Harley-Davidson® Screamin' Eagle®/Vance & Hines drag racing team roaring down the dragstrip. The team has won eight of the past 12 NHRA Pro Stock Motorcycle world championships, with Hines and Krawiec finishing each of the past two seasons in first and second place.
"We are the first team to go back-to-back in first and second place," said Andrew Hines. "It's good to have one of my toughest competitors also be my teammate, because it keeps us both sharp and it allows us to share a lot of valuable data. Ed and I will bring 23 seasons of combined experience with the Screamin' Eagle team to the track this season. That depth is a real advantage."
The Pro Stock Motorcycle class will open the season using the same rules that were in place in 2015.
"We expect a smooth transition coming out of last season," said Krawiec. "One of the main challenges last year was adapting our package to the new spec Sunoco race fuel. Now we've got a stockpile of data with that fuel, and a mature engine design that's very reliable. We're ready to repeat for another championship season."
 
The 2016 NHRA Pro Stock Motorcycle schedule includes 16 events. After the first 10 events, the points will be re-set for the top 10 riders that then qualify for the Countdown to the Championship playoffs (the final six races).

Andrew Hines:
Andrew Hines, the son of AMA Motorcycle Hall of Fame tuner Byron Hines and younger brother of three-time Pro Stock Motorcycle world champ Matt Hines, is the first and youngest rider to win five Pro Stock Motorcycle titles since 1994 when the late Dave Schultz his fifth of six championships. Hines won three consecutive championships from 2004-2006 and won again in 2014. Hines won four events during the 2015 season, including three in the six-race Countdown playoffs, as he climbed from the third seed to take the 2015 world championship title. In 14 professional seasons, Hines has 42 career wins, second place all-time in Pro Stock Motorcycle behind Schultz, who tallied 45 victories during his career. Hines has won at least one Pro Stock Motorcycle event each season since 2004. Hines is 32 years old.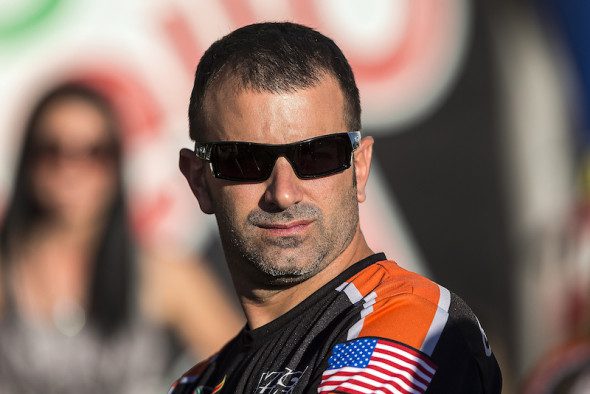 Ed Krawiec:
Since joining the Screamin' Eagle/Vance & Hines team in 2007, Ed Krawiec has won three NHRA Pro Stock Motorcycle world championships, claiming the title in 2008, 2011 and 2012. In 2015, Krawiec raced to four victories and four runner-up finishes, won three consecutive events and was the top qualifier four times. Krawiec finished the 2015 season in second place, just 43 points behind his teammate, Andrew Hines. Krawiec began his motorcycle drag-racing career in 1999 and twice finished second in AMA Pro Star series points (2002 and 2003). He made his NHRA debut in 2004. He has since won 30 NHRA Pro Stock Motorcycle events in 56 final-round appearances. Ed Krawiec is 40 years old.
2016 Pro Stock Motorcycle Schedule:
Feb. 11-14  – Auto Club Raceway at Pomona • Pomona, CA
Feb. 26-28  – Wild Horse Pass Motorsports Park • Phoenix, AZ
March 17-20  – Gainesville Raceway • Gainesville, FL
April 1-3  – The Strip at Las Vegas Motor Speedway • Las Vegas, NV
April 22-24  – zMAX Dragway • Charlotte, NC
April 29-May 1  – Royal Purple Raceway • Houston, TX
May 13-15  – Atlanta Dragway • Atlanta, GA
May 20-22  – Heartland Park Topeka • Topeka, KS
June 3-5  – New England Dragway and Motorsports Park • Epping, NH
June 9-12  – Old Bridge Township Raceway Park • Englishtown, NJ
June 17-19  – Bristol Dragway • Bristol, TN
June 23-26  – Summit Motorsports Park • Norwalk, OH
July 7-10  – Route 66 Raceway • Chicago, IL
July 22-24  – Bandimere Speedway • Denver, CO
July 29-31  – Sonoma Raceway • Sonoma, CA
Aug. 5-7  – Pacific Raceways • Seattle, WA
Aug. 18-21  – Brainerd Int'l Raceway • Brainerd, MN
Aug. 31-Sept. 5 – Lucas Oil Raceway at Indianapolis • Indianapolis, IN
Sept. 16-18  – zMAX Dragway • Charlotte, NC
Sept. 23-25  – Gateway Motorsports Park • St Louis, MO
Sept. 29 – Oct 2  – Maple Grove Raceway • Reading, PA
Oct. 13-16  – Texas Motorplex • Dallas, TX
Oct. 27-30  – The Strip at Las Vegas Motor Speedway • Las Vegas, NV
Nov. 10-13  – Auto Club Raceway at Pomona • Pomona, CA
Learn more NHRA: H-D V-RODS READY TO RACE IN TITLE DEFENSE on VANCE & HINES NEWS