Reigning Mello Yello champion Andrew Hines and Harley-Davidson teammates anxiously await the E3 Spark Plugs NHRA Nationals, the first 2020 Mello Yello Pro Stock Motorcycle event of the season.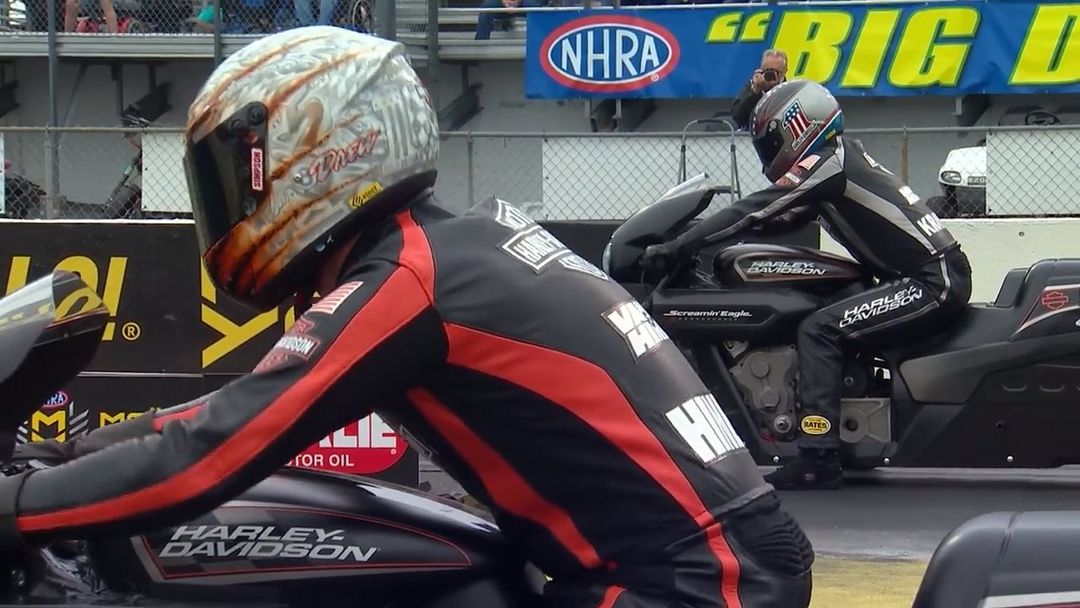 One of the most dramatic seasons in recent NHRA history is about to relaunch July 11-12 at the E3 Spark Plugs NHRA Nationals in Indianapolis and one thing is for sure: Every single run is going to be meaningful and important: Every qualifying pass. Every eliminations run. At every event.
For the first time since the 2007 season, racers in the NHRA Mello Yello Drag Racing Series will be in a start-to-finish race for valuable points without the traditional late-season Countdown to the Championship reset. Every single point that a team earns in qualifying and eliminations will be banked towards the ultimate goal of winning the season championship.
As NHRA restarts its season after a COVID-19 reboot, back-to-back events at Lucas Oil Raceway at Indianapolis will be the first two of 17 events remaining on the calendar and the sprint to the finish will be on. With teams afforded just two qualifying passes Saturday before diving into eliminations, the pressure will be on the tuners and crewmembers to ready their machines and on the driver to perform under fire.
"It's time to go," said five-time NHRA Mello Yello Pro Stock champion Jeg Coughlin Jr. "Every round will be as important as the last. That provides an opportunity to elevate the game, to push where it hurts, keep running hard, keep running fast, and turning on win lights."
"We need to get as many points as possible because there's no reset," agreed 2018 NHRA Mello Yello Funny Car champ J.R. Todd. "We need to string together as many late rounds as we can and rack up as many points as possible."
The fact that a national television audience of millions will be watching on Sundays on the FOX broadcast network will intensify the spotlight shining on the teams, whose efforts in qualifying also will be broadcast on FOX Sports 1.
Full fields are already ensured in all classes at the first two events, making for a high-quality, tension-filled showdown.
The NHRA is planning for a full run to the championship at the Auto Club NHRA Finals in Pomona, but due to the fluid nature of the pandemic, a champion could be crowned early, adding that much more importance to each and every run and each and every event.
"I'm looking forward to this season because I think the champ should be whoever wins the most races," said reigning Top Fuel champ Steve Torrence. This changes the whole plan; you've got to come out and swing for every one of 'em; there's no relax time."
Racing at the July 11-12 Indianapolis event will include Top Fuel, Funny Car, Pro Stock, and the season debut of the Pro Stock Motorcycle class while the July 18-19 Lucas Oil NHRA Summernationals will again include Top Fuel and Funny Car as well as the season relaunch of the Mickey Thompson Tires Top Fuel Harley Series that competed at the season's first two events and season debuts for the E3 Spark Plugs NHRA Pro Mod Series presented by J&A Service and the SAMTech.edu NHRA Factory Stock Showdown.
The NHRA is striving to provide a safe environment to all its racers, officials, media members, and fans at all of its events. NHRA has spent many hours developing safety protocols including the wearing of masks, temperature checks, social distancing, enhanced cleaning, and NHRA-issued sanitizer.
A limited number of tickets have been offered to NHRA members and to ticket holders for the Denso Spark Plugs NHRA U.S. Nationals. If you are in either of these groups and are interested in attending but have not received an email offer, please call 800-884-NHRA.
NHRA ON FOX TELEVISION SCHEDULE

E3 Spark Plugs NHRA Nationals
QUALIFYING
Saturday, July 11
4:30-6 p.m.
FS1
QUALIFYING
Saturday, July 11
8- 9 p.m.
FS1
FINALS
Sunday, July 12
Noon – 2:30 p.m.
FOX
Lucas Oil NHRA Summernationals
QUALIFYING
Saturday, July 18
7-8 p.m.
FS1
QUALIFYING
Sunday, July 19
11 a.m. – noon
FS1
FINALS
Sunday, July 19
Noon-3 p.m.
FOX
All times Eastern