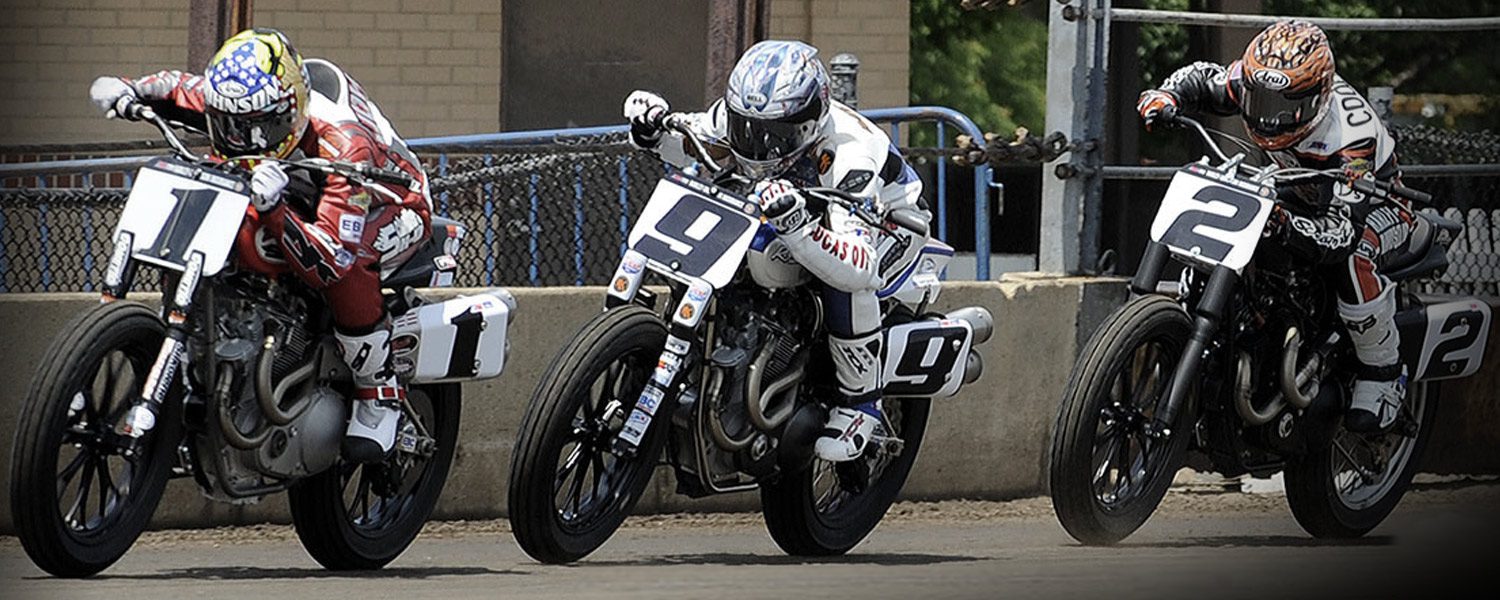 Official AMA Pro Flat Track apparel and merchandise has now been made available for purchase at: https://www.amaproflattrackmerchandise.com
Fans are now able to shop for t-shirts, hoodies, headwear, polos and other AMA Pro Flat Track-branded products from Howe Enterprises away from the track.
Earlier this year, Howe Enterprises and AMA Pro Racing announced a renewed, two-year partnership that extends the successful relationship through the 2016 AMA Pro Flat Track season.
"Everyone at Howe Enterprises is so very excited about the new website full of officially licensed AMA Pro Flat Track merchandise, and new product is hitting the web store weekly," said Joe Howe, Owner of Howe Enterprises. "As the owner of 'HE' and, more importantly, a huge fan of AMA Pro Flat Track, I personally thank the many fans who have visited our Official Merchandise trailer through the past few events from across the country. Now is time to spread the word to wear the brand and visit the store online! AMA Pro Flat Track is firing up right now and so is the brand."
"We've been thrilled with our partnership with Joe Howe," said Michael Gentry, Chief Operating Officer of AMA Pro Racing. "We're excited to make it even easier for fans of AMA Pro Flat Track to purchase this great merchandise and show their support for our series and our incredible sport."
Fans can visit the Howe Enterprises merchandise trailer during Round 6 of the AMA Pro Flat Track season on July 4 at the Du Quoin Mile at the Du Quoin State Fairgrounds in Du Quoin, Ill. Tickets to the Du Quoin Mile can be purchased by visiting https://www.showclix.com/event/DuQuoinMileAMA.
Fans can watch every round of the AMA Pro Flat Track season live online, in high definition and free of charge at www.FansChoice.tv.
How to Watch:
FansChoice.tv is the official home for live streaming coverage of AMA Pro Flat Track events. The site also provides coverage of IMSA's development and single-make series, and NASCAR's touring and weekly series.
About AMA Pro Flat Track:
AMA Pro Flat Track is a national motorcycle racing series in North America and is considered one of the oldest forms of motorcycle racing. Sanctioned by AMA Pro Racing, the Series is highly regarded as the most competitive form of dirt track racing in the world. For more information on AMA Pro Flat Track, please visit www.amaproracing.com/ft.
AMA Pro Racing is the premier professional motorcycle racing organization in North America, operating a full schedule of events and championships for a variety of motorcycle disciplines. Learn more about AMA Pro Racing at www.amaproracing.com.
Learn more OFFICIAL AMA PRO FLAT TRACK MERCHANDISE NOW AVAILABLE FOR PURCHASE ONLINE THROUGH ALL-NEW WEBSITE on VANCE & HINES NEWS