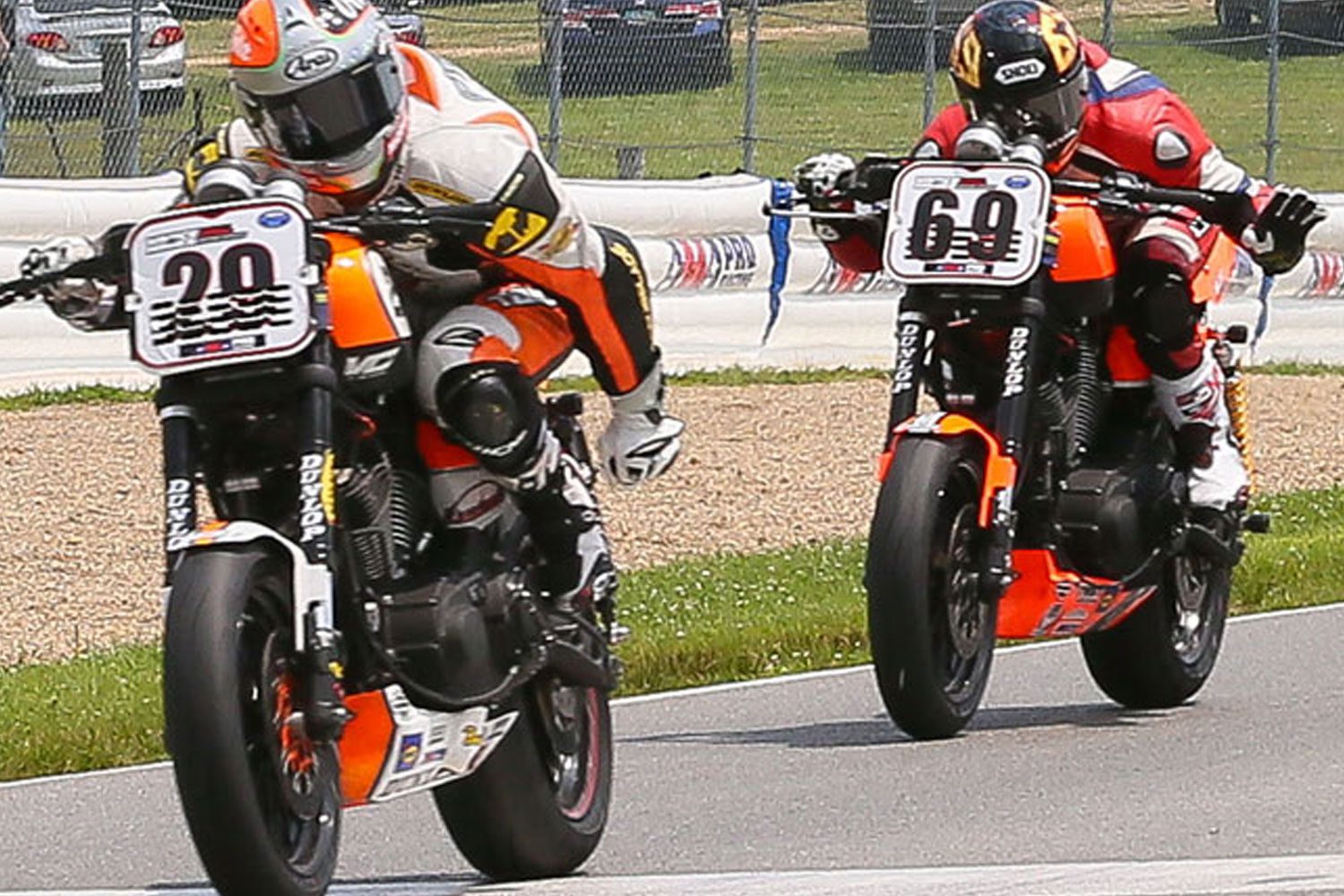 Courtesy of AMA Pro Racing
DAYTONA BEACH, Fla. (July 25, 2014) – Tyler O'Hara reignited his AMA Pro Vance & Hines Harley-Davidson Series championship charge last Sunday at the Buckeye SuperBike Weekend by taking the checkered flag at the end of a wild last-lap, five-rider melee for victory.
The Josh Chisum Racing/Bartels Harley-Davidson pilot's Mid-Ohio triumph couldn't have come at a better time. The Californian was the early title leader after being awarded the win in the Daytona season opener following the disqualification of KWR/Millennium Technologies' Kyle Wyman.
While he rode that early advantage for a couple races, the pack closed back in after O'Hara failed to land on the podium at either of the next two rounds. He was again off the box at Mazda Raceway Laguna Seca, this time causing him to surrender the points lead to Ruthless Racing's surging Danny Eslick.
All the while, the defending series king, Suburban Motors Harley-Davidson's Steve Rapp, was rediscovering the form that made him the unquestioned fastest man in the class a year ago. And Rapp's teammate, Ben Carlson, was proving to be a thorn in O'Hara's side as well, displacing him from the top three on more than one occasion.
In danger of becoming the forgotten man and losing his championship momentum, O'Hara struck at a most opportune time in Ohio.
The race-long five-rider dogfight involved the aforementioned contenders – new points leader Eslick, Rapp, Wyman, Carlson and O'Hara. The clash swung back and forth with Eslick and Rapp each taking turns at both the front and back of the group.
Carlson slashed his way into the lead late in search of that elusive and long-sought first-career AMA Pro Road Racing victory. The two-time AMA Supermoto Unlimited champ put a lapper between himself and his pursuers to open the final lap, but O'Hara used the draft and a dive-bombing maneuver to storm by on entrance at the end of the back straight
O'Hara held on from there while Eslick took advantage of the resultant chaos, barging up to second to minimize the damage to his points lead.
Carlson hung on for third, followed by Wyman, with Rapp being pushed down to fifth despite leading six of the race's final eight laps.
"I thought Benny was going to get his first win," O'Hara said. "I kind of laughed and thought, 'good for him.' He led out of Keyhole but Rapp got a little loose so I got a draft on him and they kind of fanned out to the left going in at the end of the back straight. I've always been pretty good getting in there and I knew if I could get in deeper than them, I could probably lead the rest of the race. From there on out I just had my head down and tried to stay relaxed and get the win.
"It feels really good. We've been off the box the last three races in a row, battling with Benny. We're riding the wheels off these things. To race last weekend in California and then have to drive all the way out here and get here Thursday night, it kind of takes a little out of you but it makes you really want it. When you come all this way and get the win, it feels really good.
"This weekend was a turning point for me. Every weekend from here on out we're battling for every point. We have three races left and I expect nothing less than to just battle every weekend. Rapp has been riding really well, and Benny and Danny. There's a lot of talent in the Harley class that I think gets overlooked. I'm having a lot of fun racing with these guys.
"I've got to thank JCR Racing and Josh Chisum for letting me ride his bike. It's just a two-man crew – it's just Josh and me. We're changing tires and working on bikes, so that makes it even better."
Eslick's second was perhaps as important as O'Hara's win. The Oklahoman sat in fifth for much of the contest and almost fell off the chase at one point, but diced his way up into the runner-up spot over the final two laps.
With three races remaining, the 2010 champ leads perennial contender O'Hara 120-114.
Carlson is third in points, albeit a somewhat distant 23 back of first.
"I was thoroughly pleased with my performance," Carlson said. "We ended up third but I thought the results should have reflected something a little bit better. We rode well. We rode consistent; I don't feel we made a mistake the entire race. My crew is working good and my bike was good.
"But hey, on the last lap, with these Harleys when you have five or six guys going for the lead anything can happen. You have to push in and maybe I just didn't go in deep enough at the end of that back straightaway. It is what it is. We're up, we're safe, and we're putting the bike in the truck straight."
Wyman is looking forward to getting back on the podium after taking fourth at Mid-Ohio.
"I was definitely disappointed to not be riding over to the podium after the race," Wyman said. "I've either been on the podium or in the gravel trap every race the past couple seasons, so I really am ready to get to the next race and redeem myself. Next up is the doubleheader at Indianapolis, a place I've won before and a huge race for us on the Harleys. I can't wait for that one."
Rapp's chances for a repeat title are looking especially grim. He is now 47 points out of the lead with only three races to go to make up that mammoth deficit.
Ohioan Ryan Kerr took the Thunder Roads Magazine XR1200 to a lonely sixth-place finish. The result is all the more impressive when you consider that Kerr actually broke his left foot in two places while testing on Friday and had to grit it out through every gear change.
Up-and-comers Gage McAllister (Folsom Harley-Davidson), Nick Hansen (Aerostar Global Suburban Motors Harley-Davidson) and Hayden Schultz (Chili Pepper Racing) battled it out for seventh, eighth and ninth, finishing in that order.
"I was comfortable racing with the guys," Schultz said. "Then on the last lap I had a shot at seventh place by passing Gage, and the bike just went into neutral and I nearly highsided when I put it back into gear. Nick got back past me and there was no time left."
Josh Chisum Racing/Bartels Harley-Davidson's Josh Chisum completed the bookend of the top ten for his team.
Top 10 Vance & Hines Harley-Davidson Series finishers at Mid-Ohio
1. Tyler O'Hara
2. Danny Eslick
3. Ben Carlson
4. Kyle Wyman
5. Steve Rapp
6. Ryan Kerr
7. Gage McCallister
8. Nick Hansen
9. Hyaden Schultz
10. Josh Chisum
Top 10 in Vance & Hines Harley-Davidson Series points standings
1. Danny Eslick 120
2. Tyler O'Hara 114
3. Ben Carlson 97
4. Gage McCallister 84
5. Steve Rapp 73
6. Kyle Wyman 69
7. Nick Hansen 60
8. Ryan Kerr 55
9. Hayden Schultz 53
10. Josh Chisum 50
Next Race
The AMA Pro Vance & Hines Harley-Davidson Series will head to Indianapolis Motor Speedway for a doubleheader alongside the MotoGP World Championship on August 8-10.
Learn more O'HARA REGAINS FORM IN VANCE & HINES HARLEY-DAVIDSON SERIES AT MID-OHIO on VANCE & HINES NEWS