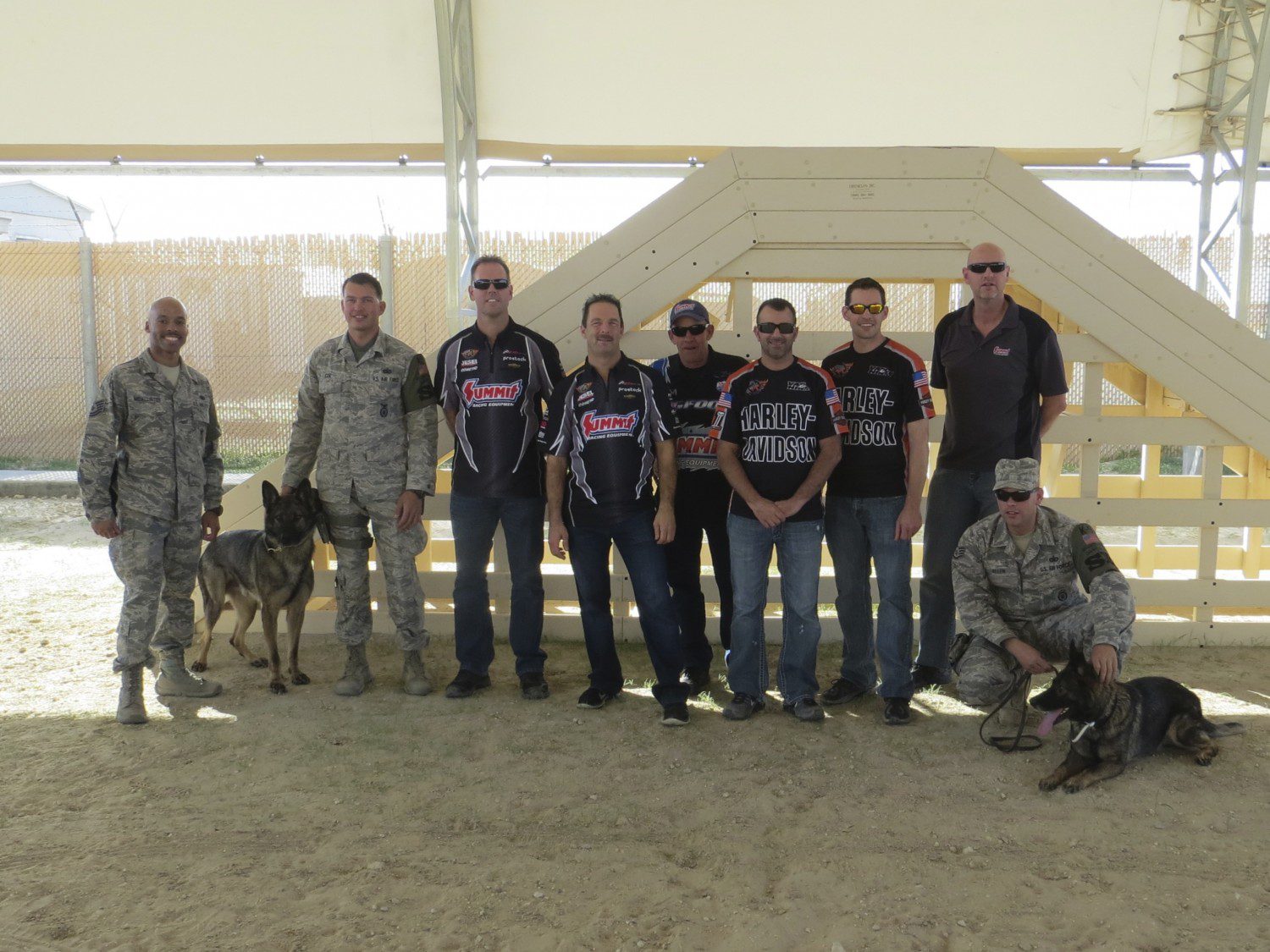 Courtesy of On All Cylinders
The second day of Operation Appreciation, the annual Summit Racing-sponsored trip to visit troops overseas, sent the group of drivers to a second venue in Kuwait to spend time with men and women of our Armed Forces stationed far from home. Known as "The Rock," the Kuwaiti government installation they toured is shared with the United States Air Force (USAF) 386th Air Expeditionary Wing, among other military units.
Jason Line, who was enlisted in the USAF during the Persian Gulf War, was particularly affected by the day's activities. Browse the photo gallery from day two and then scroll down for Jason's thoughts.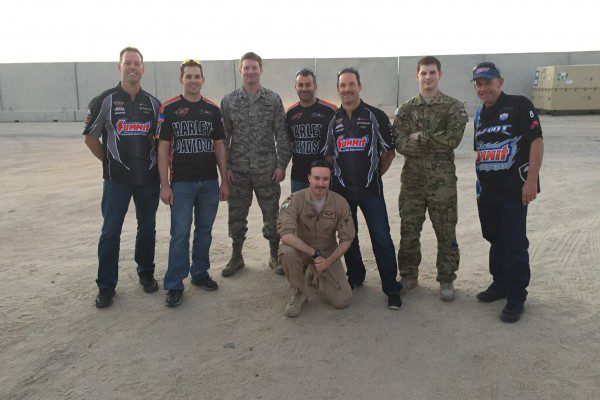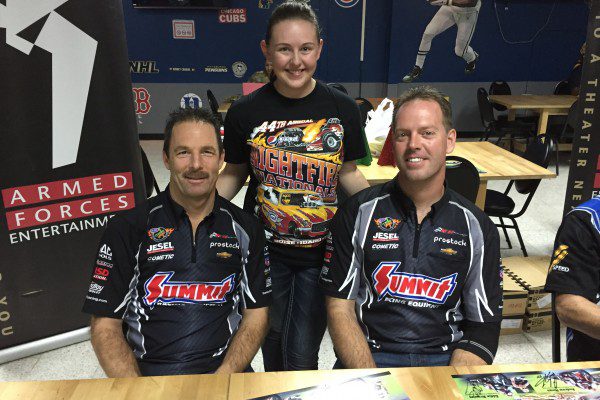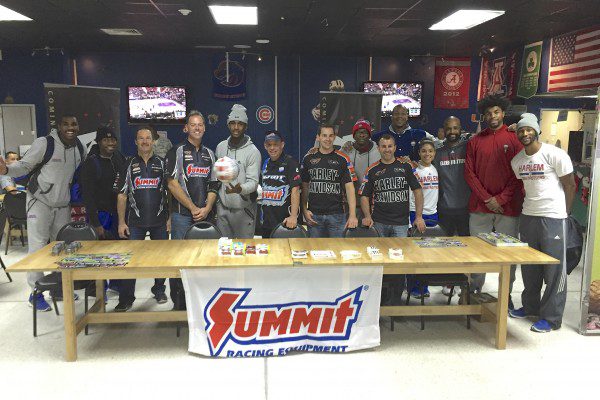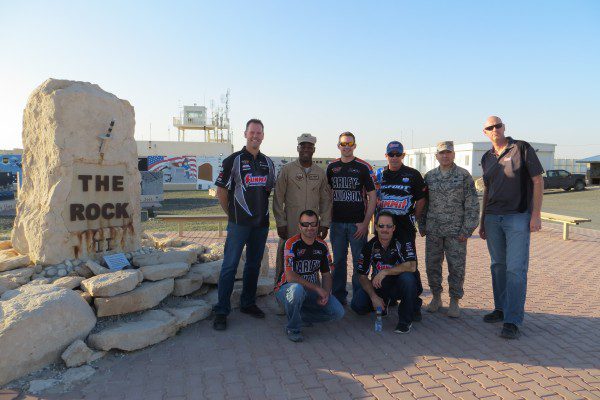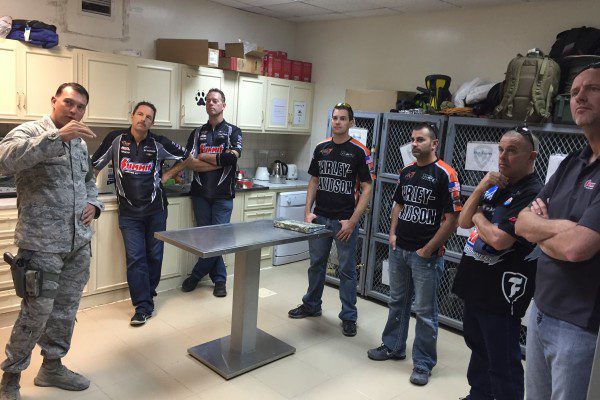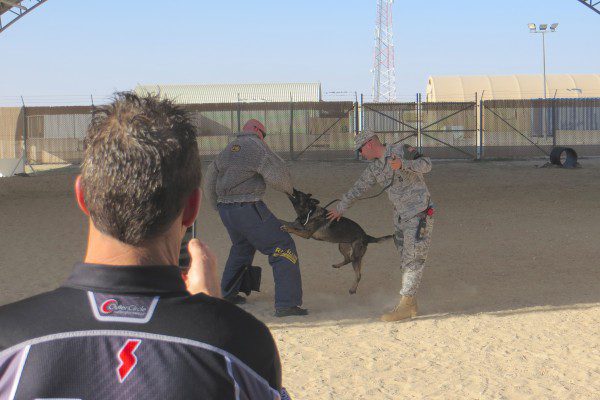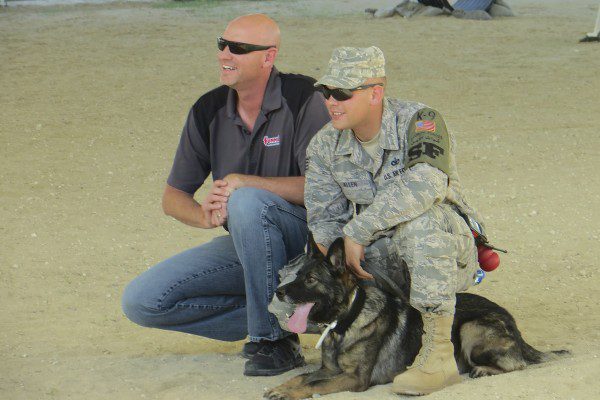 "This is the third time I have had the opportunity to visit this particular base. To come here and see those bunkers that were bombed in 1991 during the war, it's very surreal because I can remember exactly what I felt at the time when that occurred. When you come here and see some of the destruction – those bunkers haven't changed and have been like that for the last 25 years – you remember what really happened here at one point and why our military is here. It's a big reminder, for sure.
It's very interesting to spend time here, and although those bunkers are still the same, a lot more has changed.
Today we were invited to spend some time with the Security Forces K-9 unit, and those dogs are impressive. The handlers really do a great job training them, and after they showed us what they could do, I can certainly say that you don't want to be on the wrong end of an incident where K-9 is involved. Those dogs are unbelievably smart and very well trained by the handlers who are very intelligent themselves. It's pretty impressive to see, and when they asked for volunteers during training, I sure didn't raise my hand. Like I said, I have been here before – and how many times does a guy have to get bit by a dog? Instead, the group let our boss from Summit Racing, Jim Greenleaf, participate in the demonstration. He put on the big, protective suit and was a very good volunteer.
We all had a good laugh over it, and of course Jim was in good hands with the handlers right there controlling everything, so it was just a lot of fun to watch. The demonstration was very cool, and it gives you a newfound respect. I can't understand if you were on the wrong side of the law why you would ever try to get away from one of those dogs. It's not going to happen.
All of the handlers in the K-9 unit were really cool, and we appreciated the demonstration and the time they took to show us all that is involved with their jobs. The Air Force has a little different way of pairing the handlers with the dogs and the way they do things, and it was really interesting to learn about it, and to see the power of the dogs at close range and how well they can control them.
Before we visited the K-9 unit, we stopped and had lunch. I can tell you one thing, they sure feed us well on these trips. We had two meals with the troops in the DFAC (dining facility), and one of the cool things today was that we got to meet a young woman there who sat with us and told us about her own racing and plans for when she gets back to the States. That is always one of the highlights of these trips, meeting the troops and hearing their stories – and when they have some of the same interests as we do, it's always a really fun conversation.
Like many of the folks out here that we meet, this young lady is just like us. She is here to do a job and is doing a darn good one, but most of the plans outside of her job are focused on racing. She is very into it, and it's cool to see someone share that same kind of enthusiasm. It always happens at some point on these trips, where you meet someone who is super excited and has a passion for racing. Thank you, A1C Kidd, for sharing that with us today. Good luck in your racing future, and make sure you come see us when you get to your next NHRA event."
Learn more OPERATION APPRECIATION 2015 DAY 2 on VANCE & HINES NEWS