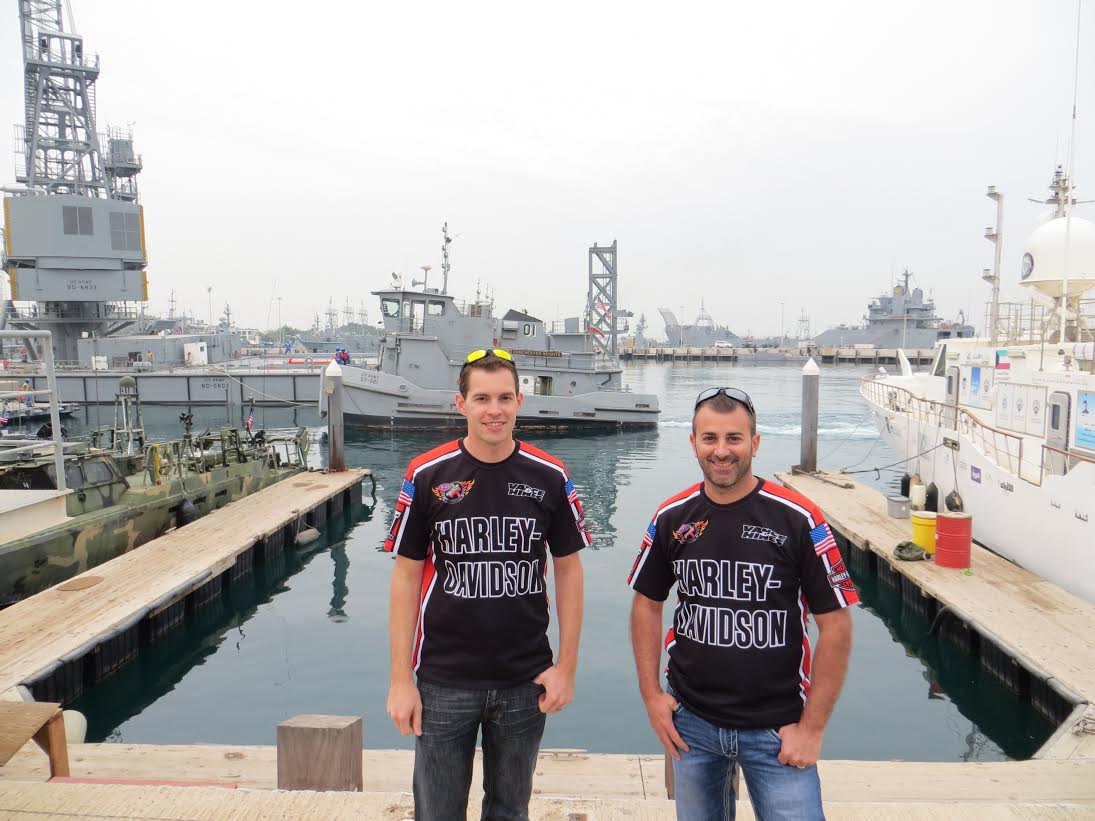 Courtesy of On All Cylinders
Day Three of Operation Appreciation was packed full as the drivers participating in Summit Racing's annual trip overseas to visit the troops toured Al Jaber, home base for the 386th Air Expeditionary Wing in Kuwait. The group was warmly received by the many men and women on temporary duty at the facility located 75 miles south of the Iraqi border, and the enthusiasm of the greeting was accompanied by plenty of conversation and demonstrations regarding daily life for our troops in what is referred to as "the sand box."
Dan Runte, commander of the BIGFOOT® 4×4 Monster Truck, almost felt at home as the first day included a close look at some heavy duty machinery that greatly resembled his daily driver. Dan shares his observations about the experience below the photo gallery.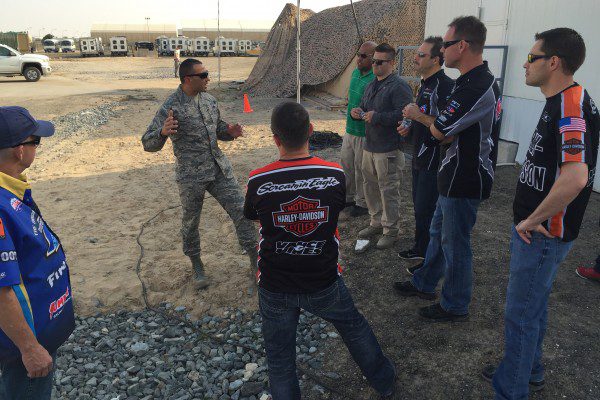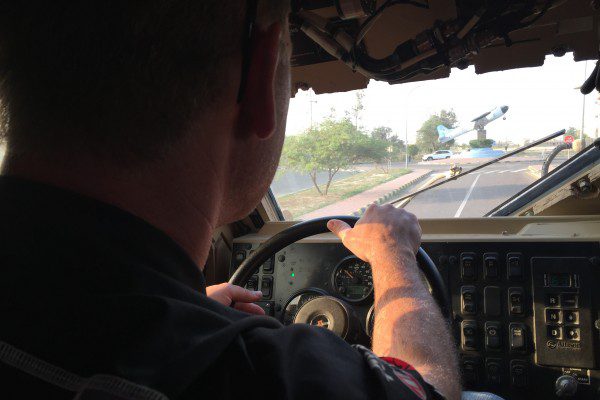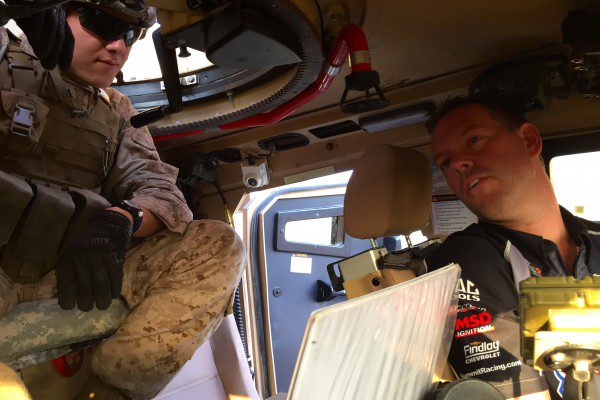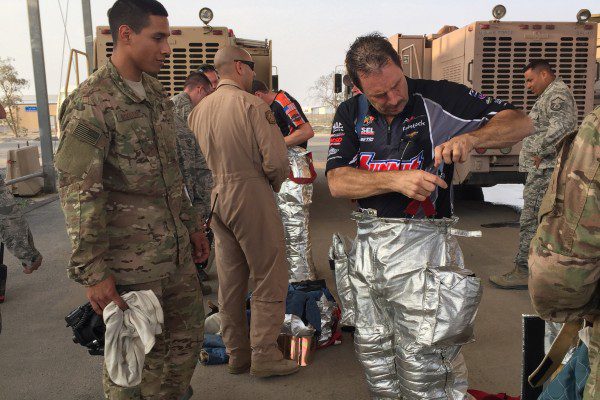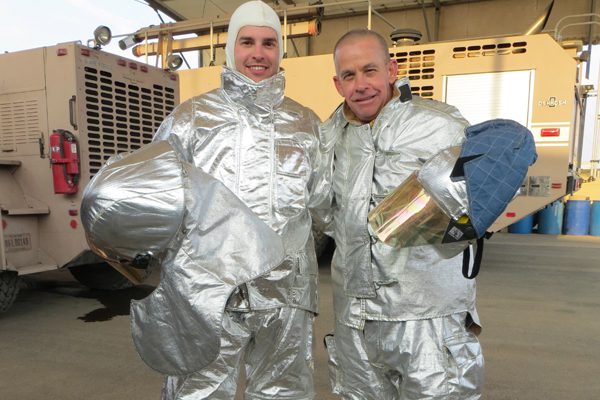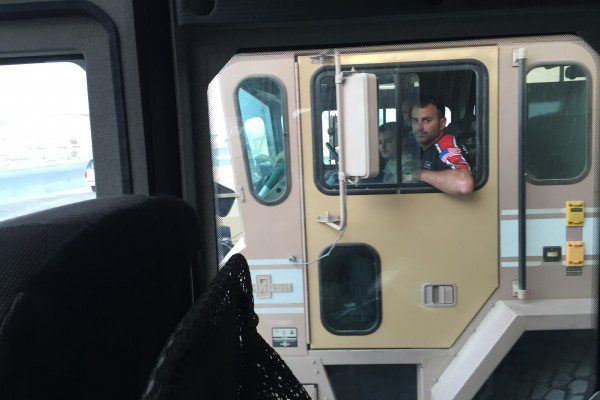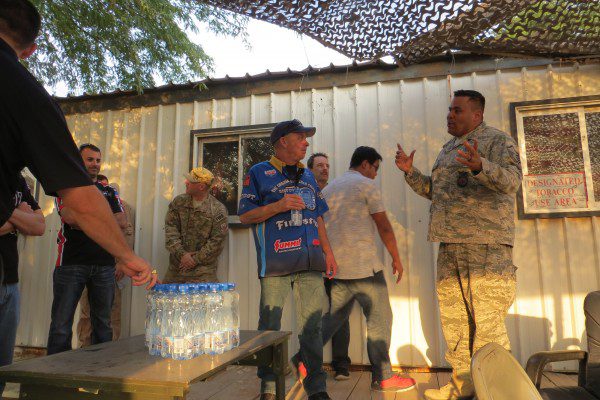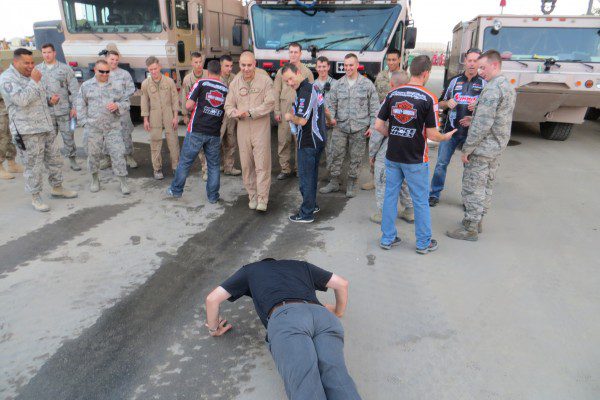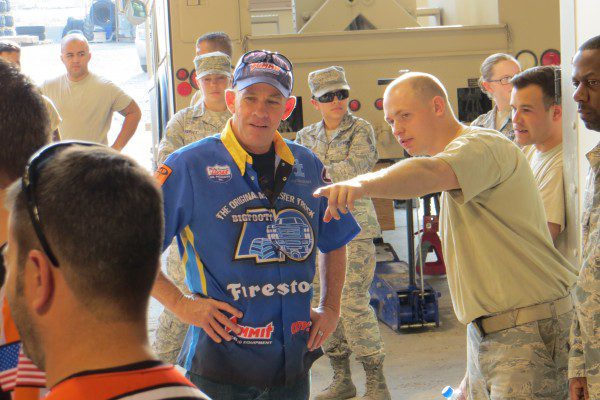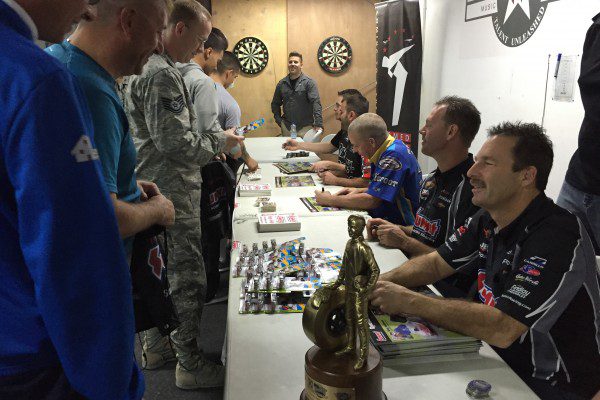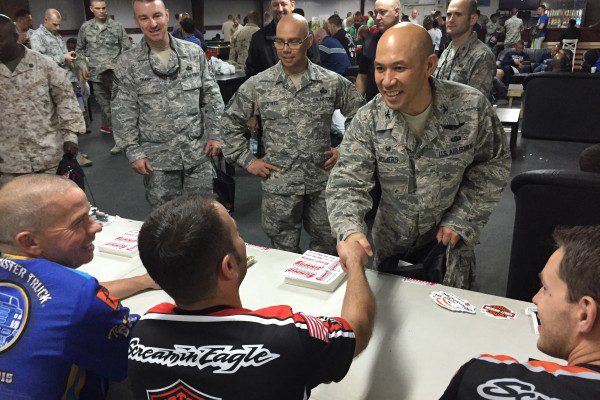 It was a great day, and one of the best we've had since we've been here. I just get more and more impressed by the troops we get to meet here, and that's what we're here to do – meet them, spend some time getting to know them, and learn a little bit about what they do. Today was a real neat deal, seeing how appreciative they are that we're here and having the chance to see some really cool stuff.
It started with the commander's call, and we got to meet some great people there. The base commander and his team presented us each with a certificate of appreciation, and that was pretty special and totally unexpected. I couldn't believe how many of the people in the commander's chain showed up to welcome us to the base. It was just a heartfelt deal, and it set the tone for the whole day.
From there, we moved on to the Expeditionary Logistics Readiness Squadron (ELRS), and those guys were awesome. They were excited I was there because they wanted to show us the 50k, a big container mover that is a 100k pound machine capable of picking up 50k pounds and moving it around. They knew I'd get a kick out of that, and they were giving me a hard time about changing tires. They have it down to a minute and 42 seconds, and I wasn't going to challenge that.
I enjoyed seeing what ELRS does because it relates so much to the basics of what we do. These are wrench guys who work on the equipment that keeps our military going. Everyone out there works hard in 120-130 degree heat in the summer, some of them without cover, day in and day out. Every one of these men and women are doing a great job in what can be tough circumstances, and it was great to meet them.
We also got to meet up with a few of the folks from Security Forces, and they put Jason Line in a M-ATV and let him drive it around with them. I don't think he got in too much trouble, and I heard he stayed within the speed limit so that's good.
After that, we moved on to the fire department, and a few of us got the opportunity to get into their equipment and see what it was like. Those suits are very protective, and it can get pretty warm in there – not to mention how heavy they are. This was another awesome group of guys out there protecting and serving our country. They showed us their rest area and a few of the ways that they pass the time, and they were pretty much welcoming us into their home. They loaded us all into the fire trucks after that, and we didn't get to drive them ourselves but they did take us out and show us how they work, the distance the water cannons work from, the chemicals they carry, and how quickly they can put out a fire on the runway.
From there, we ran into a little bit of a sand storm on our way to dinner in the DFAC [dining facility] with another great group of troops, some from Services and others from the Contracting section. It was interesting hearing their stories of where they came from, how long they'd been there, and where they hoped to go after they leave Kuwait.
The day ended with a meet & greet, and so many of our troops came out to see us there. That's what we come here to do, to visit with the troops, so that was a good ending to the day. It was cool because a lot of people like to talk about BIGFOOT – it's an icon, whether I drive it or someone else does – and I met a lot of people who have been to BIGFOOT shows or followed us. That's always neat, because it's such a wide range of people who are interested. BIGFOOT has fans from little kids to grandparents.
All in all, it was a really good day at the base there, and we're all looking forward to visiting a few more this week and sharing the experience with these men and women.
Learn more OPERATION APPRECIATION 2015 DAY 3 on VANCE & HINES NEWS