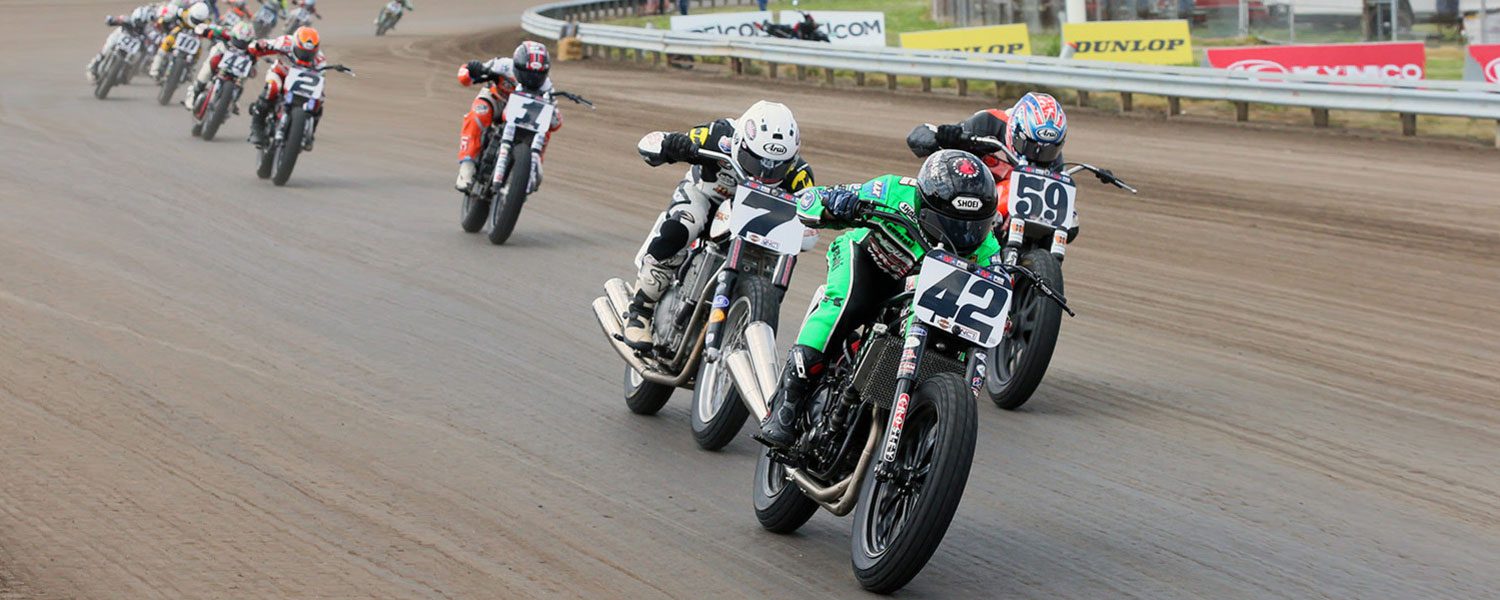 Pomona Half-Mile canceled due to permanent closure of racing circuit
DAYTONA BEACH, Fla. (June 8, 2015) – On the heels of a spectacular debut for the sport in Harley-Davidson Flat Track Racing at X Games, AMA Pro Racing has announced that the world's premier flat track motorcycle racing series will end the 2015 season in grand fashion. The Orleans Hotel & Casino in Las Vegas, Nev. will play host to the 2015 AMA Pro Flat Track Finale on Friday, November 20, followed by the inaugural running of the Superprestigio of the Americas on Saturday, November 21. The pair of short track races will be promoted by industry veteran Steve McLaughlin and held on a circuit designed by seven-time Grand National Champion Chris Carr.
"We're pleased to be ending our season in America's home for entertainment and in conjunction with such a prestigious event," said Michael Gentry, Chief Operating Officer of AMA Pro Racing. "Fans can expect incredible excitement both on and off the race track as we crown the next GNC2 and Grand National Champions."
Superprestigio of the Americas will be modeled after the pair of highly successful Superprestigio short track exhibition races held last year in Barcelona, Spain. A vision of RPM Racing's Jaime Alguersuari, the original Superprestigio concept pitted top motorcycle Grand Prix competitors such as Marc Márquez and Tito Rabat against the best riders from nearly every form of motorcycle racing in the world, including an AMA Pro Flat Track contingent of Brad Baker, Jared Mees andShayna Texter. Superprestigio of the Americas will carry the flame stateside, keeping with the spirit of the original but with a few American twists.
"Like many things in the states, we're going to do some things a little differently with the Superprestigio of the Americas," said Steve McLaughlin, CEO of SMI. "We're not just going to feature road racers and dirt trackers, this is going to be an invitational event for champions and top riders from all forms of motorcycle racing throughout the Americas. There might even be some interest from Supercross, Motocross, Freestyle, Supermotard and Speedway riders, and we would certainly welcome their participation. It's all about broadening the appeal base of the sport, and we're real excited about this opportunity."
The Pomona Half-Mile, previously planned as the season finale on October 10, has been canceled due to the permanent closure of the racing circuit at the LA County Fairplex.
"Despite our best and continued efforts, we were unable to save the historic Pomona Half-Mile event for 2015," said Chris Morgan of The Activation Group and event co-promoter. "We are working on some very exciting possibilities for 2016 and hope to bring dirt track racing back to Southern California in the near future. We would like to thank all of our great partners, sponsors, and most of all the Flat Track fans for their years of support for the Law Tigers AMA Pro Flat Track Finals at LA Fairplex."
Next up, AMA Pro Flat Track heads to Hagerstown, Md. for the Hagerstown Half-Mile on June 20. For tickets and information, please visit https://www.hagerstownspeedway.com/. Every round of the AMA Pro Flat Track season is available for live streaming in high definition athttps://www.FansChoice.tv.
Complete 2015 AMA Pro Flat Track Schedule:
1. March 12, 2015 – DAYTONA Flat Track I – Daytona Beach, Fla.
2. March 13, 2015 – DAYTONA Flat Track II – Daytona Beach, Fla.
3. May 24, 2015 – Springfield Mile I – Springfield, Ill.
4. May 30, 2015 – Sacramento Mile – Sacramento, Calif.
5. June 20, 2015 – Hagerstown Half-Mile – Hagerstown, Md.
6. June 27, 2015 – Lima Half-Mile – Lima, Ohio
7. July 4, 2015 – Du Quoin Mile – Du Quoin, Ill.
8. July 11, 2015 – Indy Mile – Indianapolis, Ind.
9. August 1, 2015 – Castle Rock TT – Castle Rock, Wash.
10. August 4, 2015 – Black Hills Half-Mile – Rapid City, S.D.
11. August 16, 2015 – Peoria TT – Peoria, Ill.
12. August 29, 2015 – Don Tilley Memorial Charlotte Half-Mile – Charlotte, N.C.
13. September 6, 2015 – Springfield Mile II – Springfield, Ill.
14. September 19, 2015 – Roar on the Shore – Delmar, Del.
15. September 26, 2015 – Calistoga Half-Mile – Calistoga, Calif.
16. November 20, 2015 – AMA Pro Flat Track Finale – Las Vegas, Nev.
Learn more ORLEANS HOTEL & CASINO IN LAS VEGAS TO PLAY HOST TO 2015 AMA PRO FLAT TRACK FINALE AND INAUGURAL SUPERPRESTIGIO OF THE AMERICAS on VANCE & HINES NEWS