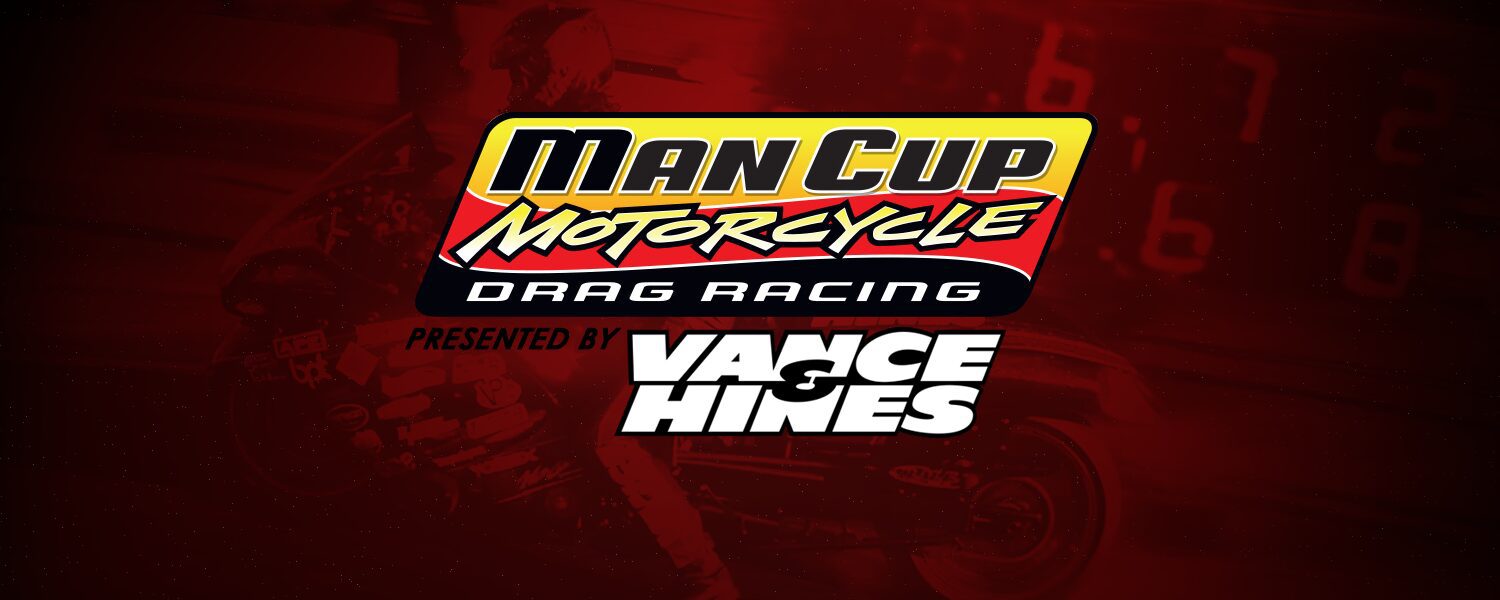 Courtesy of Eat My Ink
Two of the Mickey Thompson International Drag Bike League™ (IDBL)'s most active sportsman racers were the big news of the MTC Engineering Summer Nationals on June 24-26 at Maryland International Raceway.
Long Island's Mike Ostrowski and Dustin "Bring Biscuits" Lee both doubled up with wins on the weekend and scored special $500 bonuses offered by IDBL to loyal racers that braved a bad weather forecast to attend last month's Dragbike.com All-Star Shootout. In fact, 7 out of raceday's 8 winners collected loyalty bonuses for an additional $3500 payout by IDBL.
2014 FBR Shop 5.60 champ Ostrowski has successfully made the leap to the quicker, beastlier Vance & Hines 4.60 bikes. He qualified number 1 in April for the world's quickest motorcycle index class, and this weekend took the win over 2014 4.60 champ Eran Pielert in the final. Ostrowski's .023 reaction time vs. Pielert's .040 was the main difference, with both bikes running 4.62s.
Believe it or not, runner-upping may be a good omen for Pielert, who won his championship without winning a race.
Defending 4.60 champion Tyler Cammock's day was done early despite qualifying number 1 on Saturday, losing with an .084 light against George Whitaker in round 1.
Ostrowski hasn't left 5.60 behind, scoring his other win on his smaller dragbike in the one-second-slower eighth mile index class. Dragbikes and their riders are expected to cut a better light than streetbikers, but that wasn't the case in the 5.60 final. Brick City streetbike legend Ashon "Capo" Dickerson slipped a nasty .008 in against Ostrowski's .025, but didn't run the number and Long Island Mike scored his second win (and $500 bonus) of the day.
Lee's two wins came in Saturday's Shinko Pro ET and Sunday's Brock's Performance Street ET. Lee beat Shayne "Mr. Money" Proctor in Saturday's final and Larry Knosp on Sunday. Knosp won Friday's Gamblers race.
Proctor also runner-upped in Pro ET on Sunday, this time to Dale Hamilton. Dale was riding a new small-tire dragbike intended for his daughter Gina. She had a concert to go to this weekend and, with Dad winning on her new bike, it just may not be hers anymore…
Connecticut Kingpin Bob Carlson won Brock's Performance Street ET on Saturday, beating fellow veteran racer Mike Schulz in the final.
Lest anyone think Anibal "Cannibal" Merced backed into his DME Real Street championship last year when the frontrunners were all disqualified, Merced outright raced his way to the win this weekend.
Merced qualified third behind rivals Joey Gladstone and Roger Starrette. With his nitrous-huffing Kawasaki ZX14 smoking from its Brock's pipe, Merced raced his way to an all-NOS'14 semifinal match-up with Starrette. "It burned one spark plug tip in the first round, and I think it got a little heat in the number three piston and messed up the piston ring," said Merced. "I thought it was over after round 1!"
But the big '14 was still making power and Merced raced his way past Starrette to meet and—crucially—have lane choice against Gladstone in the final.
The first 60 feet is vitally important to Gladstone's all-motor DME 'Busa against power-adder bikes like Merced's, and Joey got a jump at the tree. But a left lane spin was costly to Gladstone, as Merced applied the spray and took the stripe.
IDBL Tech Director Will King tore down both Real Street finalists for a thorough inspection Sunday night. "Gotta love having actual tear downs in this day and age," said Gladstone. "Feels good to have a tech inspector that is fair and stern. Much respect to the IDBL!"
Gladstone fell on the other side of the lane choice divide in the Orient Express Pro Street final, this time at the expense of his DME Racing teammate Terence Angela.
Two-time Battle Royale winner Angela was the weekend's performance leader, qualifying number 1 with a 6.87 and top speed of 219.15 mph. But this weekend you needed the right lane to apply the nearly 700 horsepower of the world's quickest streetbikes, and Gladstone earned it when he ousted Mark Gargiulo in the semifinal.
Angela wasn't as quick when he beat Q1 leader Richard Gadson in the other semi, and wasn't able to stay on the power in the final and watched from behind as three-time champ Gladstone took the win. "My DME team did the best job they could giving me a motorcycle that would get down the track every time," said Gladstone.
Long-time pro racer Rickey Gadson seems to be moving into a successful sportsman career, scoring his second win in as many IDBL races. Rickey qualified number 1 and claimed the Crazy 8s win when Dustin Lee thwarted his own three win dream with a redlight in the final.
MDIR homeboy Chris Clontz took a hard-fought Top Sportsman win, scoring the final over streetbiker Kevin Mrowczynski.
Next up for IDBL is the always mega-huge WPGC Bike Fest, featuring a Top Fuel Import and Harley Shootout dedicated to the nitro legend that mastered them all—Elmer Trett. The world's biggest motorcycle drag racing and culture festival is July 29-31 at Maryland International Raceway.
Learn more OSTROWSKI, LEE DOUBLE UP AT IDBL on VANCE & HINES NEWS