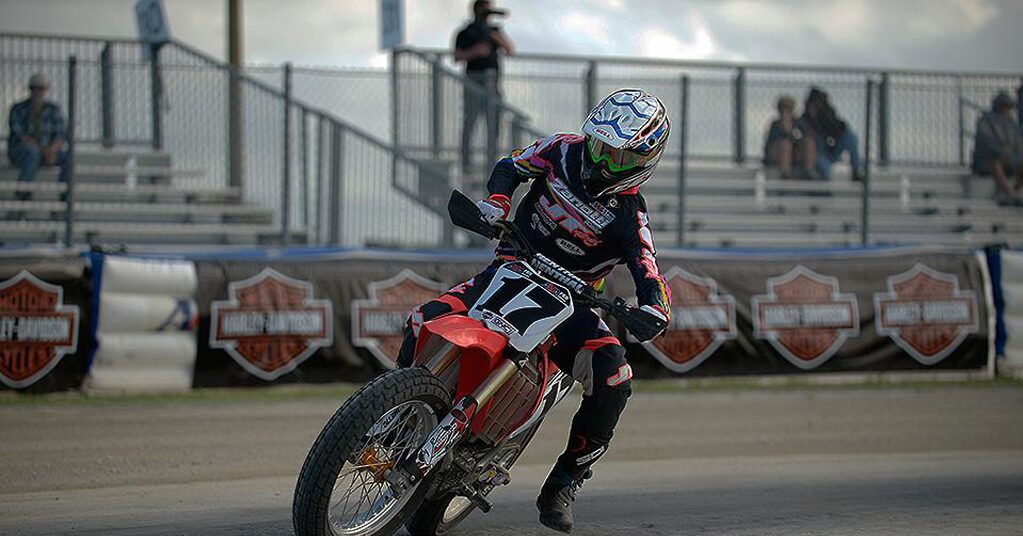 Courtesy of Brion O' Conor | Sports Illustrated
Many sports lay claim to being the first "extreme" sport. The motorcycle jockeys competing in AMA Pro Flat Track racing have a compelling argument to make that claim stick.
"Flat Track is America's original extreme sport," says Cory Texter, a 27-year-old racer from Willow Street, Penn. "There is a long history when it comes to turning left and going fast."
"Fast" is an understatement. At the top echelons of AMA Pro Flat Track, racers compete aboard two-wheel rigs weighing at least 300 pounds and capable of hitting 140 miles an hour, banking high-speed left-hand turns over a variety of tracks.
"The surfaces can range from wet, tacky, dark clay to really deep and loamy pea gravel, and everything in between," says Brad "The Bullet" Baker, winner of AMA Pro Flat Track's 2013 Grand National Championship 1 class (GNC1). "A rider has to be able to adapt to all the different types of tracks and their surfaces.
​"You have to have a broad talent to do well on all tracks," says the 22-year-old Baker, who hails from Eatonville, Wash. "I like the tracks that have a lot of traction no matter what size or type, because you can always ride at the 100% limit."
Still, the sport's impressive timeline supports Texter's contention. The AMA Pro Flat Track series finale this weekend in Las Vegas (Nov. 20-21) marks more than 60 years since the sport expanded from its humble beginnings. Before 1954, the fast, super smooth Springfield Mile at the Illinois State Fairgrounds was the nation's epicenter for flat track racing (and is still a favorite of many racers). Racers competed at various tracks around the country, but the Springfield Mile remained the most prestigious event—a 25-mile race that determined the winner of the coveted AMA National Dirt Track Championship.
In 1954, the American Motorcyclist Association (AMA) established the Grand National Championship series consisting of 18 races, with both flat track and road racing events. But as the sport grew, and motorcycles became more specialized, the AMA opted to separate the disciplines into two distinct championship series in 1986.
"Flat track has an amazing history," says Baker. "It's where motorcycle racing got its birth. It is a sport that has seen some really big highs and some pretty bad lows, but I feel like it is making a strong comeback today.
"The sport has evolved a lot during my short career, especially internationally," he says. "There are race series in a lot of countries in Europe now, and more riders from different disciplines are using it as a way to train and compete. Flat Track was a medal event at ESPN's X-Games Austin this year, and since then more people know how exciting flat track is."
Michael Lock, the newly installed CEO of AMA Pro Flat Track, said his mission is to bring the flat track discipline "to a new generation of race fans, to partner with manufacturers to bridge the gap between the showroom and the race track, and to see that the heroes of the sport, the athletes, become household names as the stars of yesteryear were."
"Pro Flat Track is America's unique contribution to motorcycle sport," says Lock. "All the other pro disciplines are derived from somewhere else.
"The Golden Era of American Grand Prix, stars in the 1970s and 1980s—Kenny Roberts, Freddie Spencer, Eddie Lawson, Wayne Rainey and others—came from the uniquely American racing apprenticeship of road racers learning and refining their skills on dirt tracks before riding high-powered and exotic factory race bikes," he says. "They revolutionized road racing and dominated international road racing until the disciplines of flat track and road racing separated in the USA in the 1990s."
Today, AMA Pro Flat Track is divvied into two Grand National Championship classes, GNC1 and GNC2. Both classes feature four track types—mile, half-mile, short track and time trials—with the mile and half-mile tracks the domain of the big bikes, with twin-cylinder power plants boasting more than 90 horsepower and capable of hitting speeds of 140 miles an hour. The single-cylinder motorcycles used for short track and time trial events can still exceed 100 miles an hour, and accelerate from zero to 60 in only four seconds.
"Reaching the highest level in AMA Grand National racing is like making it to the NFL if you're a football player, and winning a championship in our sport is like winning the Super Bowl," says Baker. "So, obviously, making it to this level has always been my dream. I enjoy the intensity of competing at this level. Everybody is on top of their game, so it's a big challenge."
Top racers need more than just talent, however. A fast bike, and a dedicated team, is also critical.
"The talent level is so deep at the professional level," says Texter. "There are so many riders capable of winning. You need to have the total package. Speed, grit, determination, work ethics, good equipment. They're all very important.
"There aren't a lot of factory rides in our sport, so instead of waiting around for an opportunity to come to me, I emptied my piggy bank and made it happen myself," says Texter, who launched Cory Texter Racing, during the 2015 season. "I don't want to be 60 years old and look back on my career wondering, 'What if?'"
AMA Pro Flat Track also features men and women lining up side-by-side, rubbing elbows and machines, which is still a rarity in major motor sports (NASCAR's Danica Patrick notwithstanding). That has lead to some intriguing rivalries.
"That aspect of our sport is very cool," says Texter. " We have some very talented females. My sister is one of my biggest rivals in the series. It's pretty special lining up in front of thousands of people, next to your little sister. I smile every time she is in front of me."
That "little sister," Shayna Texter, is a 24-year-old racer who started racing full time in 2013, and has won eight GNC2 races. Those results shouldn't surprise anyone, given the family lineage.
"I've been around motorcycles my entire life," she said. "My family owned a Harley-Davidson shop, my dad raced motorcycles, and my grandfather raced sprint cars. So I could say it really has always been in my blood. I love the bigger tracks like the half-miles and miles. I definitely love going fast and drafting by other riders.
Competing against her brother, though, admittedly takes racing to another level.
​"It is awesome for our sport," says Shayna Texter. "I grew up racing with my brother, and currently date another rider in the GNC1 class, and I race them no differently then anyone else. If anything, I try to beat them even more. When my helmet goes on and their helmet goes on, we all know we have a job to do."
Or, imagine the Mees household in Clio, Mich. Nicole Marie Mees and husband Jared Mees, a three-time Pro Flat Track champion who is gunning for the 2015 GNC1 crown this weekend, often compete toe-to-toe on the track (the pair got married at the Springfield Mile in 2013).
"Many people think that racing against your husband is such a unique situation, but we see it as a normal part of our life," says Nicole Mees. "We've been racing against each other since we were roughly 10 years old. The guys honestly treat me as if they would treat any other guy, and that's one thing that makes this sport so rewarding."
However, Baker said that having women in the field helps keeps the racing in perspective.
"Women are as equally talented as men in a lot of things, and I think it's fair that they get to seek their dreams to race at the top level as well," says Baker. "It's always in the back of your mind when you're racing hard against your competitor that you're racing a person that is loved and has a family, not an enemy.
"It's a competition, not war," he says. "I just try to race as aggressive as I can within the limits of safety, so everyone can go home safe."
Still, any time you put a dozen motorcycle racers inches apart on the same track, each hitting breakneck speeds, the potential for mayhem is never far away. There have been spectacular crashes, such as this terrifying wreck between Nicole Mees and Chase Sconyers (remarkably, both riders walked away uninjured).
"While the sport is very risky, it's something I try not to think much about," says Mees. "After all you can get hurt doing just about anything. Not to mention most of us have been racing together since we were young, so we have a lot of trust in each other as we are elbow-to-elbow, going 100-plus miles an hour."
​Shayna Texter echoed similar sentiments.
"The best way to deal with the risk element is to respect the bike, the track, and your competitors," she says. "We all know that this is a dangerous sport."
Almost every racer in AMA Pro Flat Track started riding shortly after they could walk. Nicole Mees, now 28, started racing at four, after she got a motorcycle for Christmas. Cory Texter also started at four. Texter's sister Shayna was only three. Baker was five.
"I started out riding in my own field at home that eventually turned into a full-blown race track that is still there today," says Baker, now a six-year pro. "I'm crazy competitive, so that's what drew me to racing. But the thrill and enjoyment of just riding a motorcycle is what makes me love it."
The key for AMA Pro Flat Track officials, says Lock, is to transfer that passion to the fans. In addition to promoting strong partnerships with motorcycle manufacturers, Lock says he wants to develop "the fan experience both at the track and via communications and the development of interactive social media."
"The race fan experience is unique as well, with the ability to see the whole circuit from any grandstand seat," he says. "The racing paddock is more accessible to the fans than other disciplines and the diversity of racing machines is broader—with extraordinary creativity from chassis and engine builders."
Shayna Texter said the current fan base provides a solid foundation for future growth.
"The excitement from my fans, and the inspiration that we share with one another, is what I enjoy the most about this sport," she says. "AMA Flat Track fans are some of the most dedicated fans in the world, and together we all share the same love and passion for the sport."
For details on AMA Pro Flat Track Racing, and the series finale this weekend in Las Vegas, visit amaproracing.com/ft.
Learn more PRO FLAT TRACK RACING BOASTS LEFT TURNS ONLY, AT 140 MILES AN HOUR on VANCE &/news/