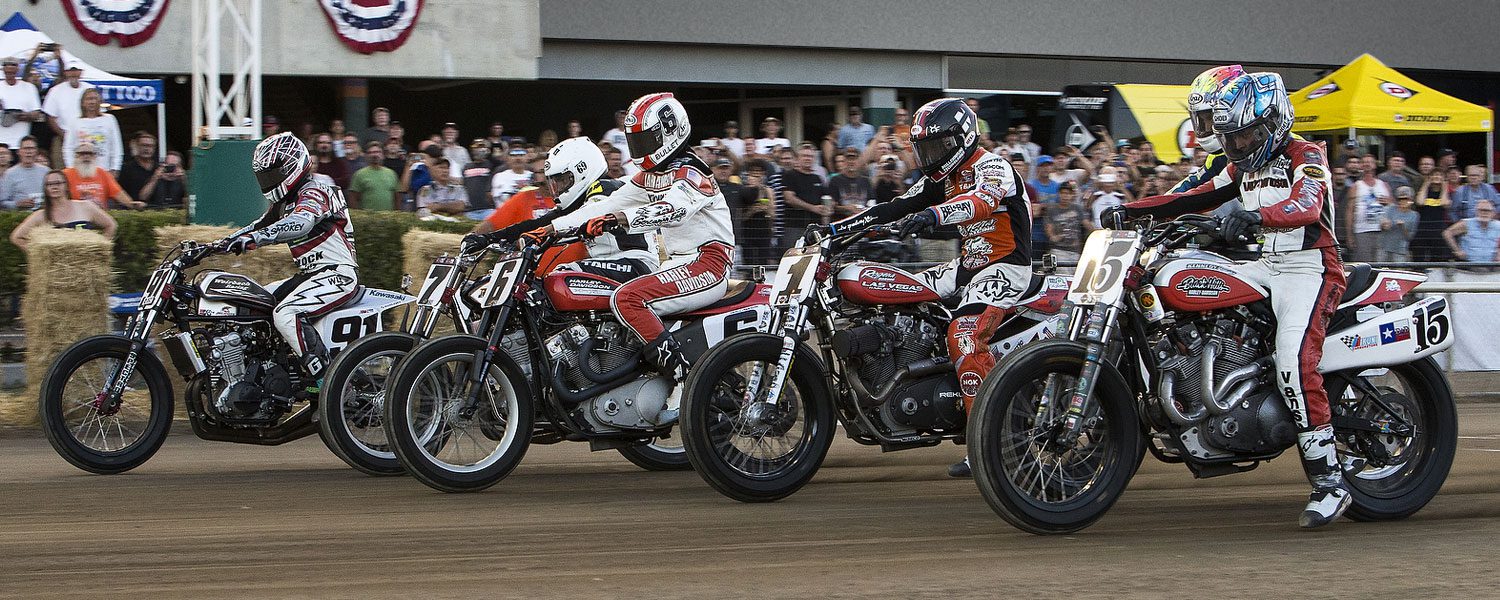 AMA Pro Racing is pleased to announce that the Ramspur Winery Santa Rosa Mile will serve as the 2016 AMA Pro Flat Track season finale. The Sonoma County Fairgrounds in Santa Rosa, Calif. will play host to the top dirt track motorcycleracing talent in the world on Sunday, September 25 where the next Grand National Champion will be crowned.
The promotion team of Terry Otton, of Ramspur Winery and Steve DeLorenzi, of SDI Insulation, Inc., has secured the entire Sonoma County Fairgrounds for last weekend in September to present a trifecta of racing. On Friday, September 23 and Saturday, September 24, the Chris Beck Arena will feature evening Amateur and Pro-Am Short Track competition. On Sunday, AMA Pro Flat Track action will take over the grounds and the battle for the championship will begin.
"We are thrilled and honored to bring back such a prestigious race," said Otton. "Steve and I are excited to be returning this picturesque mile, three-day event to the schedule with a fresh approach and high expectations. Our team is committed to top level event production, improving our fan experience and providing the best racing possible. It will contain more excitement for the fans, more opportunities for the riders and more exposure for the industry. We, in collaboration with AMA ProRacing, intend to set the bar with this finale, in order to showcase and initiate the evolution and broadening of the sport for 2017."
"To be able to stage our finale in Santa Rosa is absolutely ideal," said Michael Lock, CEO of AMAPro Racing. "We are delighted to be able to bring the curtain down on the season at a classic Mile venue and in the heart of the bay area, where there are thousands of passionate flat track racefans."
The mile race will bring a new level of excitement to fans and riders alike, as the promoters plan to deliver a variety of family-friendly entertainment over the course of the weekend.
More information on the Ramspur Winery Santa Rosa Mile will be available in the coming weeks.
Next Up:
The 2016 AMA Pro Flat Track season will once again kick off with a doubleheader at the DAYTONA Flat Track during Daytona's Bike Week festivities. The twin short track races will take place at the "World Center of Racing" on Thursday and Friday, March 10 & 11. For additional information and to purchase tickets, please visit https://www.daytonainternationalspeedway.com/.
Learn more RAMSPUR WINERY SANTA ROSA MILE ANNOUNCED AS 2016 AMA PRO FLAT TRACK SEASON FINALE SEPTEMBER 25 on VANCE & HINES NEWS