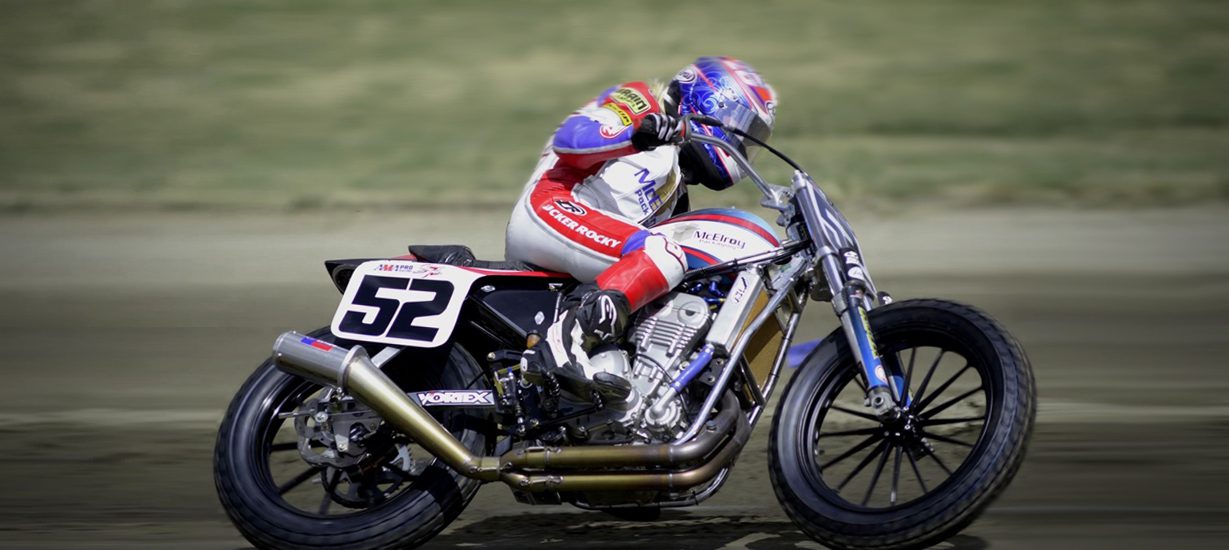 After a two week break in the schedule, Richie Morris Racing (RMR) will be back in AMA Pro Flat Track action this weekend as the series returns to Oklahoma City's Remington Park. The event marks Round 7 of the 2016 championship, with RMR looking to generate some momentum in Saturday's Harley-Davidson GNC1 presented by Vance & Hines race.
RMR rider Shayna Texter will once again look forward to racing on the high-speed one mile oval with the RMR-built chassis. The team has been working to make the most of the break between races to improve the weight distribution and unlock all the speed that the No. 52 McElroy Packaging, Tucker Rocky Distributing, Roland Sands Designs machine is capable of.
"With this time between races, we had a chance to keep working on the bike and we want to be able to show some progress in Oklahoma," said Morris. "The one-mile tracks are something special, and it is great to have AMA Pro going to this market again so hopefully we can put on a great show for these fans. This will be our first chance to test our changes so we are all really looking forward to getting going and learning as much as we can."
FansChoice.tv will broadcast the entire Oklahoma City Mile in high definition at www.fanschoice.tv/watch-live/ama/flat-track.
Coverage will begin with practice and qualifying at 4:00 p.m. ET (1:00 p.m. PT). The OKC Pre-Race Show will take place at 6:30 p.m. ET (3:30 p.m. PT), followed by Opening Ceremonies at 7:30 p.m. ET (4:30 p.m. PT) and Heat Races immediately afterwards at 8:00 p.m. ET (5:00 p.m. PT).
Fans that aren't able to make the trek to Oklahoma City this weekend are invited to follow all of the live action at https://www.fanschoice.tv.
Fans who are interested in following RMR/Shayna Texter on social media, please visit:
https://www.facebook.com/ShaynaTexter52
twitter.com/shaynatexter
instagram.com/shaynatexter
https://www.facebook.com/RichieMorrisRacing
twitter.com/rmorrisracing
instagram.com/richiemorrisracing
Source: www.sundaymanagement.com
About Richie Morris Racing:
Richie Morris Racing is a professional motorcycle race team. Having competed at the highest level in different genres of motorcycle racing, RMR has won four national championships in AMA Pro Road Racing. The team has scored numerous wins and podium finishes with many different professional riders. We believe in building a solid platform to win races and championships. In doing so, our mission being that of delivering value to our riders and partners.
Learn more RICHIE MORRIS RACING OKLAHOMA BOUND on VANCE & HINES NEWS