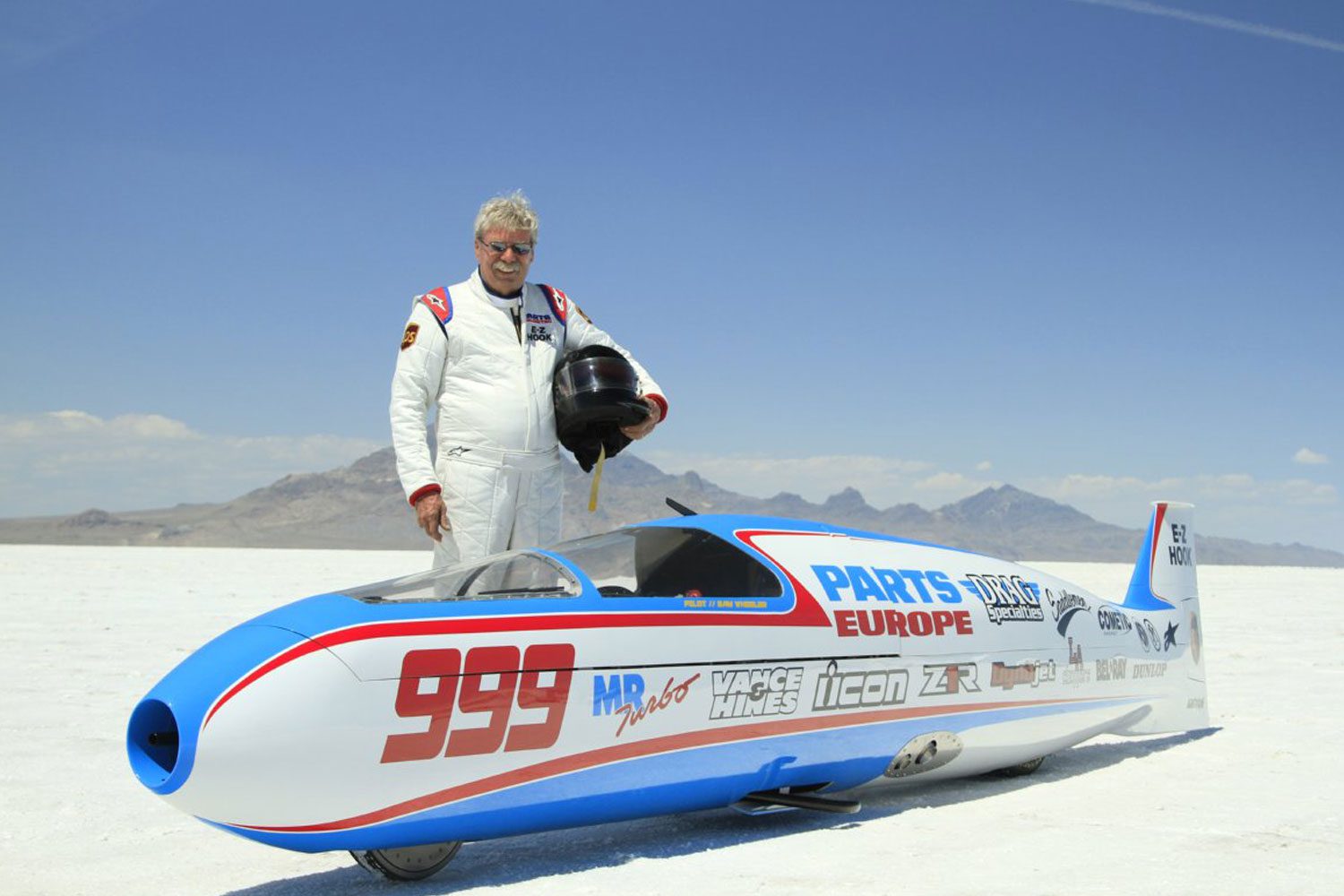 The PARTS UNLIMITED/EZ HOOK ready to run at Bonneville in August 2014
ARCADIA, CA July 23, 2014, Sam Wheeler, 70 of Arcadia California, is preparing to break the motorcycle land speed record with a run of 400 MPH plus at Bonneville Salt Flats Utah this summer.  His highly aerodynamic 18 foot long PARTS UNLIMITED/EZ HOOK streamlined motorcycle weighs less than 1200 pounds and will have as much as 600 horsepower.  The current record is 376 MPH set by the Ack Attack in 2010.  Wheeler has been setting motorcycle land speeds record for 50 years.  He built his first streamliner in high school.
Wheeler is in the final development stages of his most recent vehicle with a major changes in power plants and power delivery.  The PARTS UNLIMITED/EZ HOOK streamliner has an excellent chassis and very aerodynamic shape, but Sam felt he needed a new power plant and drive system to set the record. The new system includes a 600HP 1300cc Vance & Hines prepared Suzuki Hayabusa engine, a new transmission, carbon fiber reinforced toothed belt drive, new wheels and 450 MPH tires from Goodyear/Dunlop.
With PARTS UNLIMITED sponsorship Sam has been able to totally revamp the power and delivery systems on his liner.  The chassis and electronic systems have also been extensively modified and refined
The 2013 Bonneville Salt Flats season saw very wet salt conditions, and no record runs were attempted.  With Bonneville testing out of the question, in September 2013, Sam brought his streamliner to the Vance & Hines dyno facility in Santa Fe Springs CA for days of testing the engine and the new drive system.
Sam will be testing at the Bonneville Motorcycle Land Speed ChallengeAugust 23 to 29.  The focus of this testing will be to fine tune the streamliner for a run in the Cook Land Speed Challenge September 12 to 16.  The PARTS UNLIMITED/EZ HOOK streamliner will run head to head with the current record holder and potentially other challengers for the world record.
In addition to PARTS UNLIMITED, sponsors include Alpinestars, Bel Ray Lubricants, Cometic Gasket, Drag Specialties, Dunlop, Dynojet, Icon, LA Choppers, Performance Machine, Roland Sands Design, Saddlemen, UPS, Vance & Hines and Z1R.
Learn more SAM WHEELER AIMING TO SET THE MOTORCYCLE LAND SPEED RECORD OF OVER 400 MPH ON BONNEVILLE SALT FLATS on VANCE & HINES NEWS