The 17th annual Sturgis Motorcycle Museum and Hall of Fame Induction Breakfast was held in Deadwood Wednesday to recognize and honor the 2017 inductees and to pay tribute to the men and women who have dedicated much of their lives to improving, promoting, and advancing the motorcycling lifestyle.
From pioneers and innovators to customizers and dealers, among the Class of 2017 Terry Vance was inducted into the Sturgis Motorcycle Museum Hall of Fame.
Terry Vance, No. 35 on the NHRA's 50 greatest drag racers of all-time, 14-time national champ Vance never lets off the gas. Vance and his tuner partner Byron Hines shared a passion for the quarter mile from the early days, but they also shared a vision of creating a company that would be a pillar of the motorcycle aftermarket, and they used their unrivaled achievements in racing to build a brand that would unmistakably stand for quality and performance. Vance is an American former professional motorcycle drag racer, racing team owner, and manufacturer of high performance parts for motorcycles.
"I just think that it's a great thing to be in this business," Vance said. "I've always woke up and thought, 'gosh, this is a great day, I get to go and do what I want.'"
The event, emceed by John Paul DeJoria, kicked off by recognizing one of only five couples to be inducted into the Hall of Fame, Colleen Barnett-Taylor and Mike Taylor.
Barnett-Taylor started her motorsports career at Barnett Clutches and Cables while still in her childhood working for her parents, Charlie and Afton Barnett. Mike Taylor, already a long-time motorcycle rider and enthusiast, joined the firm in 1968, which ushered in a great partnership after he and Colleen were married. Together they have operated Barnett Motorcycle Parts since 1975 and owned the company since 1993.
Mike credited the company's success to his wife and said he looks forward to many more years together.
Cory Ness, the son of last year's Lifetime Achievement Award winner Arlen Ness, was the second to be inducted Wednesday. At only 10 years old, Ness said he disassembled his bicycle, painted it, chromed its parts, and entered it in the Oakland Roadster Show. The first motorcycle he turned his talents to was a wrecked CB350. After building it back up, Ness, who was 14 at the time, sold it before even getting a chance to ride it. Today, Ness is the chief designer behind Arlen Ness Enterprises where he runs the day-to-day business. In between designing new parts and accessories, he still periodically finds time to wrench on custom bikes.
"I basically have the best job in the world," Ness said. "I work with my family; I work with motorcycles; I get to be creative; I get to do all the things that I love to do."
Since the early 1970s, Mark Shadley and Shadley Bros. Motorcycles have been shaping the perception of what a custom motorcycle is. The quality, detail, and innovation of his custom built bikes have made him well recognized by both many in the motorcycle industry.
Although a man of few words Wednesday, Shadley said his involvement in the custom motorcycle industry has been a lifelong passion.
Jim Thiessen was the next inductee honored. For 50 years, machinist Thiessen has generated trust with riders, record breakers, racers, and certified Harley Davidson mechanics around the world who use JIMS products on a daily basis. Today, JIMS is one of the industry's leading producers of performance parts, accessories, tools, transmissions, and high-performance engines — all aimed at enhancing the Harley rider's experience.
Thiessen was grateful for the honor and said, "It's all about who you put around you."
Rod Woodruff, owner of the Sturgis Buffalo Chip, was honored with an Outstanding Achievement Award. Since 1981, the Sturgis Buffalo Chip Campground has treated millions of motorcyclists to rock concerts, camping, entertainment, and more. Woodruff is the man who brought rock 'n' roll to the Black Hills and now hosts a 10-day concert series each August during the annual Sturgis Motorcycle Rally. The Buffalo Chip provides a music festival, various other forms of entertainment, and full service tent, RV, and cabin camping on almost 600 acres in rural Meade County.
Woodruff said that motorcycling is something that gets in a person's soul.
"You can break a few bones and you get right back on it and try it again," he said. "I think we're here to stay. We're just getting starting."
William "Willie G" Davidson was honored with the 2017 Lifetime Achievement Award Wednesday.
"I'm honored and feel privileged to be a part of motorcycling and to be a part of this great group I see out here," Davidson said.
Considered the patriarch of motorcycling by bikers around the globe, William G. Davidson's artistic vision and passion for riding have not only shaped Harley-Davidson's identity for more than 50 years, it has transformed the entire motorcycle world. Affectionately known as "Willie G" by millions of motorcycle enthusiasts, Harley-Davidson's chief styling officer emeritus and brand ambassador is set to be honored with the Lifetime Achievement Award. Already a pre-2001 member of the Sturgis Motorcycle Museum Hall of Fame, Willie G. was joined by his Nancy in the Class of 2010.
The son of former Harley-Davidson president, William H. Davidson, and the grandson of one of the original founders, William A. Davidson, he has helped shape the iconic look, sound and feel that has defined Harley-Davidson motorcycles for more than 50 years. Beginning in the 1970s, Davidson developed iconic designs which kept Harley-Davidson motorcycles selling while the company completed technological and manufacturing improvements. Throughout his career, he developed the bikes that came to define Harley-Davidson, from the XLCR Cafe Racer to the V-Rod and the Street Glide.
The longtime rider said Sturgis holds a special place in his heart.
"I've been coming here for 38 years," Davidson said. "I will always be here if I remain vertical and inhaling."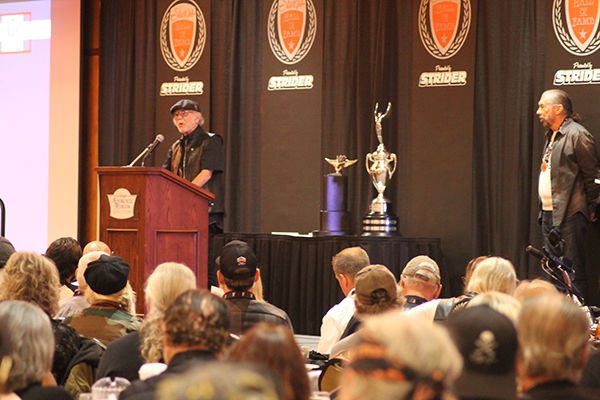 Learn more STURGIS MUSEUM HALL OF FAME on VANCE & HINES NEWS