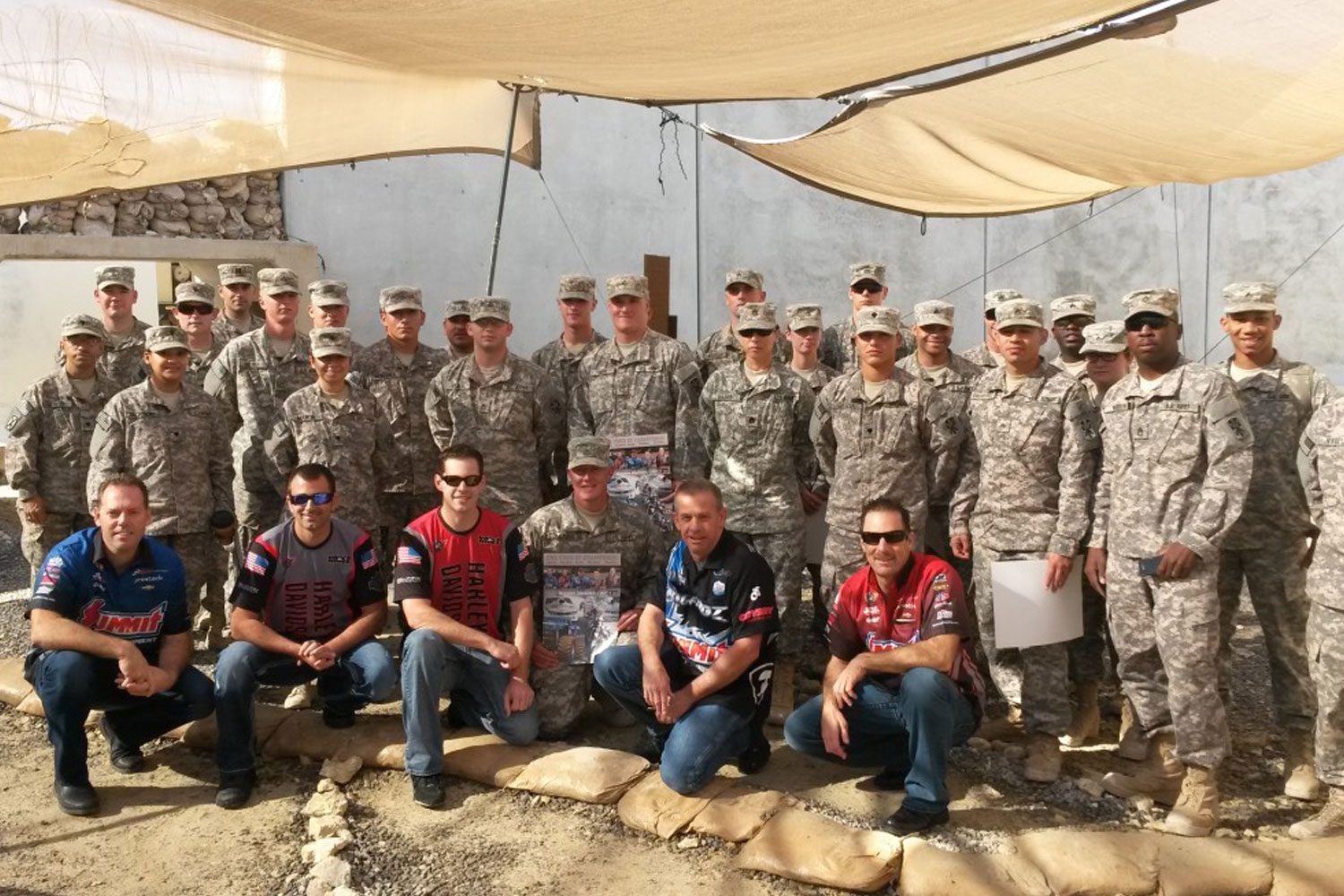 Courtesy of NHRA
Summit Racing Equipment and Armed Forces Entertainment (AFE) are ramping up for 2014's Operation Appreciation, the annual visit by Summit Racing and Harley-Davidson racers to American troops stationed overseas, which will take place after the conclusion of the 2014 NHRA Mello Yello Drag Racing Series schedule.
This will be the second year that Summit Racing NHRA Pro Stock drivers Greg Anderson and Jason Line, Harley-Davidson NHRA Pro Stock Motorcycle racers Andrew Hines and Eddie Krawiec, and Summit Racing Bigfoot monster truck racer Dan Runte will visit troops in the Middle East. Operation Appreciation is made possible by AFE, with special thanks to Army Special Forces Association Chapter 64 and SFA's Sfc (retired) Wayne Reed.
"2013 was our first trip to the Middle East and the most rewarding to date," said Jim Greenleaf, Summit Racing motorsports and events manager. "It was an eye-opening experience, and we're excited about returning this year with a couple of new places to visit."
For Line, Anderson, and Runte, these troop visits have become an off-season tradition.
"This is something that I look forward to every year," said Line. "It is an honor to make this trip and spend time with the troops. To have the opportunity to say thank you to them in person is something I don't take lightly. The troops really make us feel like we're something special when it should be the other way around."
"We have the privilege of visiting someplace a lot of Americans haven't been before," said Anderson. "When you think about the dedication of these troops, it puts things into perspective. To be able to visit with them again is something I can't wait for. You just want to let them know how grateful we are for all that they do."
"I've been doing these trips since the beginning," said Runte. "Each time, I come back with a sense of respect for and even awe at what these men and women do to serve their country, to serve us. Anything we can do to show them that we appreciate their sacrifice is time and effort well-spent."
This year's trip is the third for Harley-Davidson Screamin' Eagle Vance & Hines riders Krawiec and Hines.
"I look forward to this trip. It isn't very often that civilians are able to go behind the gates to say thank you to all of our troops who support us," said Krawiec. "They put their lives on the line, and this is just a small thank you for that. It makes me feel good to be able to thank them personally."
"It's quite an honor to be asked again to visit the troops with Summit Racing," said Hines, whose father, Byron Hines, served in the U.S. Army and a tour of duty in Vietnam. "I always look forward to this trip so that we can give a little bit back and maybe bring a little bit of home to them. That's the most important thing. We appreciate all they do for us."
Joining the racers for the first time is NHRA race announcer and National Dragster columnist Alan Reinhart.
"I'm honored to have been invited this year," Reinhart said. "After hearing the positive stories from the drivers that have gone on these trips, I'm really looking forward to experiencing it firsthand. It's always a pleasure to meet and talk with the soldiers when they come to the races, and I'm grateful for the opportunity to thank them for what they do."
OnAllCylinders, Summit Racing's blog, and Summit Racing's Facebook page will have posts from Operation Appreciation 2014. To read the posts from last year's Operation Appreciation, go here.
Learn more SUMMIT AND HARLEY RACERS READY FOR 2014'S OPERATION APPRECIATION on VANCE & HINES NEWS