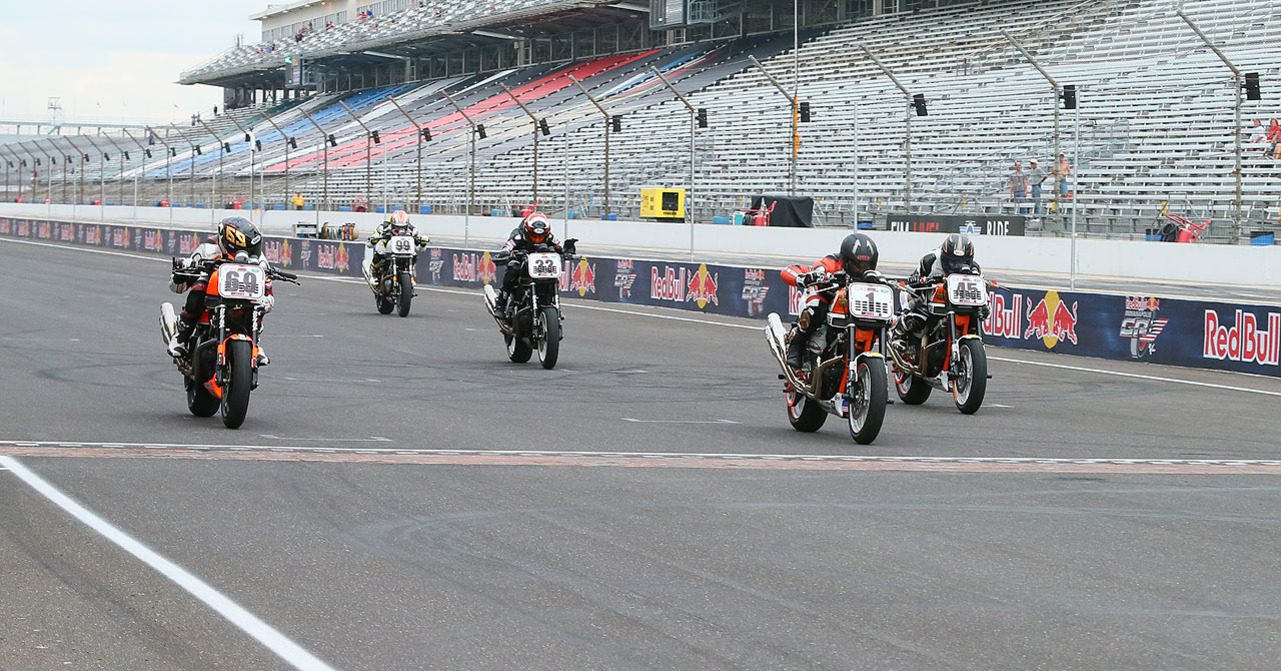 Courtesy of AMA Pro Racing
INDIANAPOLIS (Aug. 10, 2014) – Reigning champ Steve Rapp emerged from a five-way drafting war to claim Sunday's AMA Pro Vance & Hines Harley-Davidson Series checkered flag at the Red Bull Indianapolis GP.
The victory was not only hard-earned, it was long-awaited for the Californian, who had been the victim of the slipstream down the long start/finish line straight of the fabled Indianapolis Motor Speedway on more occasions than he'd prefer to remember.
Rapp turned that history on its head Sunday, however, storming past his Suburban Motors Harley-Davidson teammate, Ben Carlson, and Ruthless Racing's Danny Eslick to lunge ahead for the win by a margin of 0.011 seconds.
Saturday winner Jeremy McWilliams suffered the fate usually reserved for Rapp, as he was shuffled from the lead down to fifth in the race's decisive final laps. The ex-GP hero finished a few bike lengths behind fourth place finisher Kyle Wyman on the KWR/Millennium Technologies XR1200 and less than a half-second off the win.
The ten-lap contest was split into two parts. A red flag stopped the race at mid-distance, setting up a five-lap sprint for victory. At the restart, the top five riders quickly broke free from the remainder of the field and resumed their dogfight for victory.
Rapp led across the stripe to take the white flag but Eslick overhauled both the defending champ and Saturday's winner McWilliams entering Turn 1. Carlson found himself in fifth on the final lap but diced ahead of all four of his foes. The lanky Wisconsin resident charged out of the final corner with the lead, just as he had on Saturday. However, that strategy backfired for a second time, as he proved to be a sitting duck for Eslick, who was in turn sniped by Rapp.
The win was Rapp's first-ever victory at Indianapolis Motor Speedway.
"I had a lot of years to practice where not to be," Rapp said. "I could tell going down the back Danny sat up but I didn't want anything to do with it either so I sat up. Ben went by and I was like, 'cool, that works.' We got back in line and I wasn't sure if I was going to pass them but it worked out pretty good. They got next to each other and built a little draft there. It went great.
"To win at Indy finally – I wanted to check that off my list. I'm running out of time and I finally got it, so that's cool."
While Eslick wasn't able to take the win, he did take a significant step toward becoming the first-ever two-time AMA Pro Vance & Hines Harley-Davidson champion. His closest title challenger entering the race, Josh Chisum Racing/Bartel's Tyler O'Hara, crashed out of contention on the race's third lap. As a result, O'Hara is no longer in championship contention and Carlson remains the only other man still alive, 16 points back of Eslick (159-143) heading into the season finale.
"There was lots of crazy stuff on the first start," Eslick said. "McWilliams missed a shift and I had to swerve to go around the outside of him. I had a couple-of-hundred-yard tank slapper, which is an eye-opener when you're in the lead of the championship.
"I tried to calm down and settle in and then we had the red flag. Everyone had their strong sections of the track and we had to figure out where we wanted to be for the run to the finish line. I was on the lead on the back straightaway and I wanted no part of the lead through the last section of turns and onto the front straight. I sat up and pulled off to the side and let Benny go by. I tucked back in line and thought I had enough. I got by Benny but Steve came by and caught the draft perfect. It was a great race and these guys rode awesome."
For Carlson, it was the same old story – close but no cigar – as that first-career AMA Pro Road Racing victory continues to prove frustratingly elusive.
"It was the second day coming on the front stretch in first and it ended up working out not so well," Carlson said. "Nonetheless, being on the podium two days in a row is an ultimate result and we moved up in the championship; it doesn't get much better than that. I just wished we would have knocked down Danny or something. But hey, it was great."
ChiliPepperRacing.com's Hayden Schultz narrowly beat Aerostar Global Suburban Motors' Nick Hansen for sixth. Meanwhile, Thrashed Bike Racing's David Estok finished eighth while Josh Chisum Racing/Bartel's Josh Chisum edged Bell Helmets/Suburban Motors Harley-Davidson's Brice Cooper to the flag by 0.068 seconds in their clash for ninth and tenth.
Saturday front-runner Ramden Rosli crashed out of the race during its opening half while Folsom Harley-Davidson's Gage McAllister Indy weekend disappointment continued as he was struck down by mechanical woes on Sunday.
Vance & Hines Harley-Davidson Series Race 2 results (top 10)
1. Steve Rapp
2. Danny Eslick
3. Benny Carlson
4. Kyle Wyman
5. Jeremy McWilliams
6. Hayden Shultz
7. Nick Hansen
8. David Estok
9. Josh Chisum
10. Brice Cooper
Vance & Hines Harley-Davidson Series point standings (top 10)
1. Danny Eslick (159)
2. Benny Carlson (143)
3. Tyler O'Hara (127)
4. Steve Rapp (119)
5. Kyle Wyman (108)
6. Gage McAllister (84)
7. Nick Hansen (82)
8. Hayden Schultz (80)
9. Josh Chisum (72)
10. Darren James (67)
Next Race:
All four AMA Pro Road Racing championships will be decided next month at the 2014 AMA Pro Road Racing season finale. The Kawasaki Devil's Showdown will take place on September 13-14 at New Jersey Motorsports Park in Millville, New Jersey.
Learn more That's a Rapp: Steve Rapp wins AMA Pro Vance & Hines Harley-Davidson Series Race 2 at Indianapolis on VANCE & HINES NEWS