Dirt Track Racing at the Industry Hills Expo Center
Live Dirt Track Racing! Featuring The Harley-Davidson X Games Qualifier, Vintage Tank Shift, Pull Start Mini Bikes, 3 Wheelers, Ladies, Vintage and more.
Admission is $20 // Kids under 12 FREE
Every admission get a ticket for the chance to win a 2019 Sportster 1200 at the race.
Industry Hills Expo Center | June 20th, 2019 from 2 – 10 PM
16200 Temple Ave, City of Industry, California 91744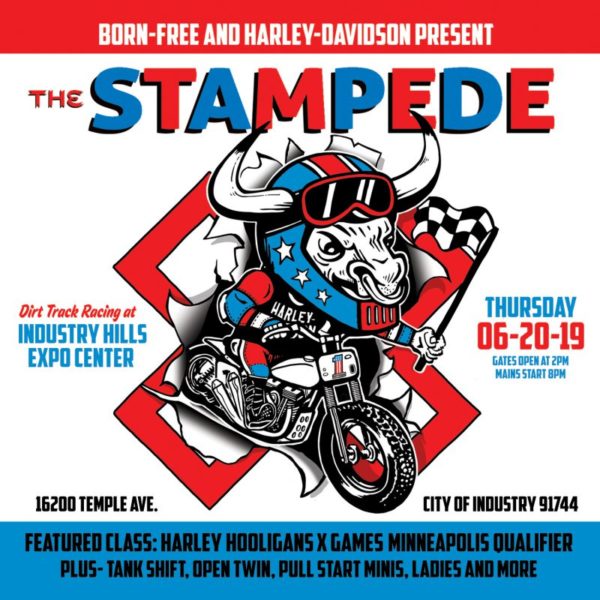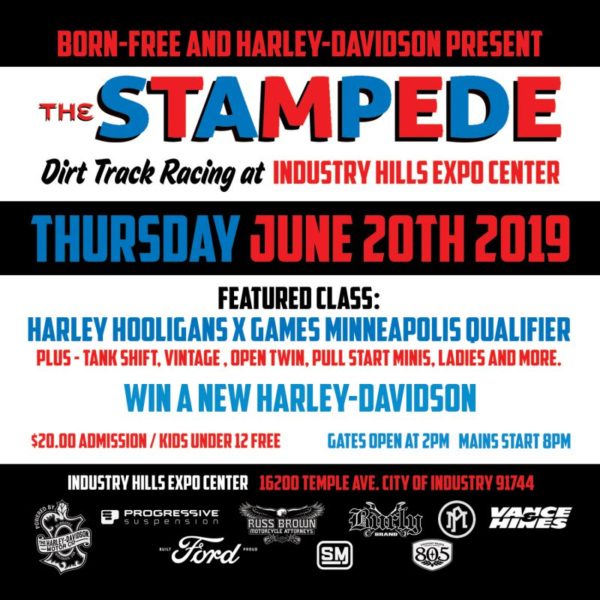 Harley-Davidson Hooligan Road to X Games Schedule
TIME
EVENT
6:00am
"Gates Open for Parking
Main Entrance drive up Frontage Road, Left on West Rd to "Guest" Parking."
8:00am – 10:00am
"On Site Registration – Located at Snack Bar/Restroom Building Between Guest Parking and Arena"
10:30am
Riders Meeting/inside the Arena on Bleachers
11:00am – 2:00pm
"Practice – 12 Groups of up to 10 riders at a time. Each group gets 3 practices (1 Free, 2 Timed)."
11:00am – 12:00pm
Free Practice
12:00pm – 1:00pm
"Timed Practice #1 – Riders are staged the same as their Practice Group, but split into 2 groups of 5 riders at a time."
1:00pm – 2:00pm
"Timed Practice #2 – Riders are staged the same as their Practice Group, but split into 2 groups of 5 riders at a time. Practice Ends. Race order for evening show is posted."
2:00pm
Gates Open
2:30pm – 6:30pm
Born Free Program
7:00pm – 7:59pm
"Round 1 – 12 Heats of 10 riders. Top 3 from each heat qualify for X Games Minneapolis and the Quarter Finals, the remaining 7 go to the LCQ's.
8:00pm
"Live Stream Begins/Intros Track Maintenance"
8:06pm – 9:05pm
"LCQ Races – 12 Heats of 7 riders. Top 1 from each heat qualify for X Games Minneapolis and the Quarter Finals. Remaining 6 are eliminated."
9:06pm – 9:16pm
Track Maintenance
9:17pm – 9:36pm
"Quarter Finals – 4 Heats of 12
Q1 – Top 6 advance to Semi 1
Q2 – Top 6 advance to Semi 1
Q3 – Top 6 advance to Semi 2
Q4 – Top 6 advance to Semi 2
9:37pm – 9:42pm
Track Maintenance
9:43pm – 9:52pm
"Semis – Two Heats of 12
Semi 1 – Top 6 advance
Semi 2 – Top 6 advance
9:53pm – 9:58pm
Stage Main (Bikes on the line/intros)
9:58pm – 10:00pm
Main Event
Learn more THE STAMPEDE on VANCE & HINES NEWS