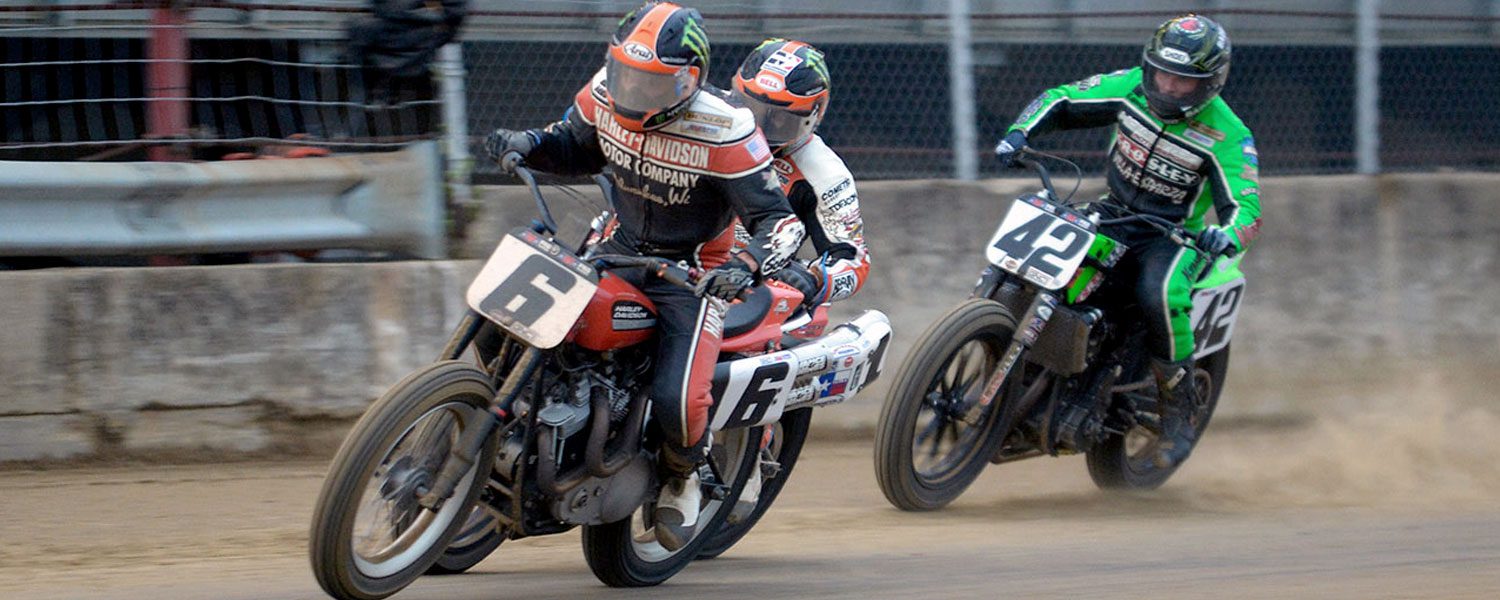 The world's best dirt track racers will take to their twin-cylinder motorcycles for the first time in 2016 when AMA Pro Flat Track debuts at Circuit of The Americas (COTA) on Saturday, April 9, during the Red Bull Grand Prix of The Americas race weekend.
Both the Harley-Davidson GNC1 presented by Vance & Hines and GNC2 classes will compete on a brand new and purpose-built half-mile track designed by seven-time Grand National Champion Chris Carr.
The AMA Pro Flat Track races will be run less than a quarter of a mile away from the main entrance to COTA's road racing circuit where both MotoGP and MotoAmerica will be competing over the weekend. Both the GNC1 and GNC2 classes will be showcased, introducing a new and exciting type of motorcycle racing to Red Bull Grand Prix fans after road racing qualifying concludes on Saturday afternoon.
"My team has been working tirelessly alongside AMA Pro Racing to bring this event to the fans," said Steve McLaughlin, Team SMI promoter. "Together, we have been able to bring all of the moving pieces together to create a unique experience for the motorcycle racing world and we're already receiving a lot of crossover support from the road racing paddock."
A full field of top GNC1 riders will be hoping to make history in Texas by becoming the first main event winner on the re-engineered COTA Half-Mile circuit. The list includes three-time and reigning GNC1 Champion Jared Mees, perennial title contender and X Games gold medalist Bryan Smith, ageless veteran Kenny Coolbeth, Jr., Saddlemen Rookie of The Year contender Davis Fisher and his Factory Harley-Davidson teammate Brad Baker, Jake Johnson, Sammy Halbert and many more.
In keeping with the Red Bull Grand Prix weekend's international flavor, motorcycles from three different continents will be represented in the AMA Pro Flat Track entries, including Harley-Davidson, Triumph, Ducati, Honda, Yamaha, Kawasaki and more.
Tickets for the inaugural event, with seating limited to the first 4,000 fans on a first come, first served basis, are now available. Pricing ranges from $55 for adults down to free admission for children 12 and under. A variety of ticket packages and special discounts will be available, and more information can be found at www.texasflattrack.com/tickets/.
For tickets and additional information on the event, please contact:
Team SMI
Toll free: 1-844-722-6453
For group sales, contact:
Circuit of The Americas Box Office
1-512-301-6600
For more information, please visit the event website at www.texasflattrack.com, on Facebook at www.facebook.com/texasflattrack/ and follow the Twitter account at @TexasFlatTrack.
Next Up:
The 2016 AMA Pro Flat Track season will once again kick off with a doubleheader at the DAYTONA Flat Track during Daytona's Bike Week festivities this weekend. The twin short track races will take place at the "World Center of Racing" on Thursday and Friday, March 10 and 11. For additional information and to purchase tickets, please visit https://www.daytonainternationalspeedway.com.
Learn more TICKETS NOW ON SALE FOR AMA PRO FLAT TRACK COTA HALF-MILE DURING THE RED BULL GRAND PRIX OF THE AMERICAS on VANCE & HINES NEWS